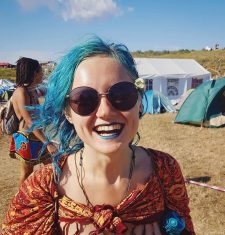 Anna Luīze Bērziņa
EVS volunteer
I come from Latvia and I think home is where your heart is. I spent most of my life in Latvia apart from doing my Erasmus semester abroad in Belgium in 2017. In 2018 I got my Bachelor degree in Sociology at the University of Latvia.
While I am deeply fascinated by research, I want to see it applied in real life. Ever since I went on my first youth exchange under Erasmus+ my perspective was changed on what is possible when motivated people come together. That was right after leaving my one year of studying Medicine and right before starting Sociology. That youth exchange, while imperfect because nothing ever is, helped me see my studies at the university in a different light. I approached each essay, research paper and presentation as a learning opportunity instead of just another task. I chose topics I found interesting and valuable, often concerning civic participation.
I wrote my course research paper on the collaboration experience of receiving organizations in European Voluntary Service in Latvia. Because when I find something interesting I want to know everything about it from different aspects, so I interviewed members from different receiving organizations and surveyed people who had done their EVS in Latvia in the last 3 years. The year after that I did my Bachelor thesis and again I chose a similar topic, but this time about the European Solidarity Corps and how it was being implemented in Latvia. I interviewed the main person responsible for it in the National Agency of Latvia and people who were doing their EVS under the new Programme at that time, and surveyed active young people about their knowledge of EU opportunities that are available to them.
And so the time has come for me to finally experience in practice what I have researched for quite some time and start my own EVS. I have volunteered in NGOs in Latvia before (Homo ecos:, Dzīvnieku brīvība), in an animal shelter and in a youth music center (Kinky Star) while living in Belgium. Doing my EVS with IYNF has been a dream of mine since I first had my training with them in 2016. Let the adventure begin!