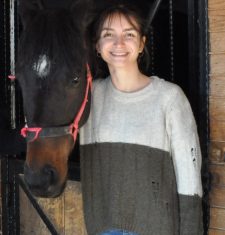 Esma Cakir
EVS Volunteer
Greetings from the woman who came from Turkey!
Born in February 1992 on a cold day in Turkey, who is writing this task after 27 years later in Czech Republic in Prague again on a cold day.
I graduated from department of statistics and I studied different topics in university and with some NGOs – from woman rights, refugees, social media analysis, to disadvantaged groups on the subject of society and economy. I was a part of international partnership group in a NGO. Ever since I went on my first project under Erasmus+ my viewpoint was changed because I saw people who have different ideas or views. So I decided to be a volunteer in a long-term project in another country – EVS was perfect for that.
I do independent research about "attitude of young people between the ages of 18-30 towards their peers sexual orientation in Turkey", I still continue to do it. I always wanted to connect my work to environment, nature, global warming, climate change etc. I want to know how are the people exactly thinking about these topics. And when these two things come together I met IYNF.
My dream is to live new experiences that maybe will change my perspective on life as well. So let's begin!
PS: ¿what do you do in your free time?