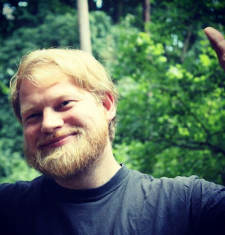 Falko Blumenthal
Vice-president
My involvement in IYNF started in 2016. The bold idea to "D-e-zign" youth involvement and engagement really got me. The network as a power hub and empowering actor is one of the most important roles of international activism today. Young people from Africa, Asia, and Europe come together, challenge each other, and gain capabilities and motivation. We come together from a broad background of activists and youth workers, socialists and environmentalists, mountaineers and backpackers. We meet in community centers, in forests, and – most importantly – in our self-organized and self-maintained Naturefriend houses all over the world.
I want to be useful and active for forests and mountains, for political empowering movements and cooperatives, for solidarity as educational and economical principle. And I really like Star Trek and Terry Pratchett.
On Bio: School in Germany and USA, university in Germany and Finland, work in Germany and Latvia. My focus at work are migrant rights and vocational training regulations.
"Educate youselves because we will need all your intelligence. Agitate because we will need all your enthusiasm. Organize because we will need all your strength." – Antonio Gramsci