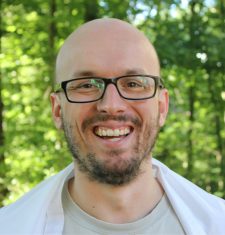 Ondřej Bradáč
Secretary General
Born in 1987 in Prague, Czech Republic. Graduated in Theoretical and Evolutionary Biology at Faculty of Natural Sciences, Charles University, Prague.
Through whole my life, thanks to and sometimes even despite my will and intentions, I have been involved with education of youth. Starting this odyssey in 2007 as a teacher at school for kids with behavioral disorders, through engagement with informal education and global developmental education in INEX-Association for voluntary activities and then education in relation to technological innovation in a company Profimedia, my path took me to International Young Naturfriends, where I started my job as SG in June 2017.
My "lifelong" (at least until then) oscillation between science and education was finally decided when I went to my first voluntary project (workcamp) to Slovenia in 2011. The whole experience was so paradigm shifting for me that I almost immediately started a long-term volunteering with INEX-SDA which led to my employment there and a change of course of my entire life. Through my three years with INEX-SDA, which I consider the most formative time of my life so far, we developed a system of follow-up volunteering for people returning from short-term projects, leading to way more sustainable approach to volunteering, and also created a platform called Volunteer´s Club which gave birth to many wonderful long-term volunteering projects as well as several new small NGOs of young people. The topical framework for most of the activities was active citizenship, sustainable development, and intercultural education, which are still fields that I am happy to be involved with and see them as crucial for better future for us all. The relation between volunteering and development of competences is what fascinates me the most about the experience I´ve had with education so far. One of my core beliefs is that taking part in voluntary activities is most beneficial to the development of the overall personality and can provide competence growth and experience, which is still mostly unrecognized by the overall society. That is also what drives me towards a hopefully good piece of work here at IYNF.
Besides those above described activities, which not only mean work for me but also coin the way I see life, I love to play music, think about music and try new musical instruments, travel and hike mountains, sport and most importantly read, with the focus on biology, psychology and questions of faith.
I am no big fan of personal mottos, but I strongly believe that every change that we want to see in the world, must first pass through our own heart, before it becomes externally visible, so if I should choose one, it would probably be Carl Gustav Jung´s: "Knowing your own darkness is the best method for dealing with darknesses of other people."