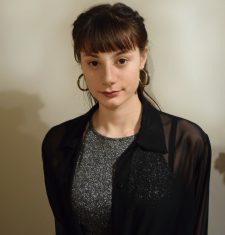 Valentina Várhelyi
Vice President
Vice President
+36308742843
I was born in 1998 to a naturefriend family in Budapest. My love and care for nature was planted in me with the values that my grandparents gifted to me while we were hiking together with a modern group of pioneers in the agglomeration. The essential equality and rightfulness of the woods evoke my aspiration for a similar society where logical and sustainable acts are key. My work as an international volunteer for IYNF started in 2016, a little before my 18th. Since then I saw many different corners of the world and was lucky enough to hear many different opinions and get to know really valuable viewpoints. I bring all the acquired knowledge back home to my organization TFSZ (Természetjáró Fiatalok Szövetsége).
At present days, I am a pupil of Hungarian University of Fine Arts. I strongly believe that contemporary art and culture has useful tools for spreading important messages and I am pursuing this idea in my curatorial practice. I hope that arts will help expressing not only our thoughts but also our feeling and emotions about the current notions and problems planet earth has to face.
I like the idea of comparing my current role in IYNF to the role of the compass in a hiker's hand. The compass does not provide the route for the trip as the map does and it is not there to lead the steps of the hiker. However, it always shows the direction of the end goal while leaving room for the explorers to discover and find new ways to reach their aim.
Please let me know if I can help with collaborations and projects.
---
Member of TFSZ
Berg Frei!