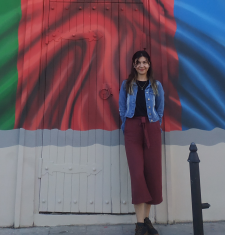 Khadija Aliyeva
ESC volunteer
I am from Baku – "city of winds", Azerbaijan – "land of fires".
I studied at the Azerbaijan University of Languages during 2008-2012. Since then, I have been working for that University in the Public Relations Department as a reporter and editor of the student's newspaper. I managed local projects in Azerbaijan, like "Beyond the boundaries", a project on rural teachers of Azerbaijan in 2019, "Show solidarity with street animals", a project supported by the youth organization of Naturefriends Azerbaijan in 2017, "Our dreams on drawings", a project (exhibition) with talented disabled people, financially supported by Azerbaijan Youth Foundation in 2014.
I participated in the international project "See a Game" Erasmus+ Project-Youth Exchange on youth career paths-employment, entrepreneurship, education, training in Kyiv, Ukraine in 2018.
I have been a member of the young Naturefriends of Azerbaijan since 2015. I attended different eco-projects organized by this organization.
Thanks to Azerbaijan Naturefriends I met with IYNF. I participated in the "D-e-zign it" project of International Young Naturefriends in Kavadarci, Macedonia in October 2016 for the first time. "D-e-zign it!" has been devoted to inspire participants to develop projects related to e-participation and apply their newly gained digital competences in their organizations. My second project with IYNF was Workcamp "Living Solidarity" in Hannover, Germany last year. It was tackling the meaning of solidarity with practical games in this project.
I feel pleasure for being on board of the IYNF office team. Being a part of IYNF can give me the opportunity of using civic responsibility to people across the world. Volunteering in a European country can help me to come up with ideas on how to improve my community management skills, as well as on how to contribute to the European communities with the indispensable values of my home country.
I think this volunteer project gives the chance to develop initiatives while contributing to a good cause. I have a chance to encounter people from different countries, backgrounds, and perspectives, all sections of life.
Additionally, living abroad helps me in comprehending a lot about myself and the great extent of my abilities. Furthermore, learning the new language, culture, community, contributing others, their works will be productive and interesting.