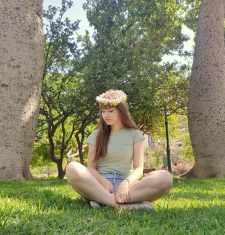 Maja Tešić
European Solidarity Corps Volunteer
European Solidarity Corps Volunteer
Hello there, my name is Maja Tešić, and I am just another young nature friend :)
I joined the IYNF team in April of 2022 as a European Solidarity Corps Volunteer and I get to work within the organisation in Prague for an entire year!
Ever since I was a child, I was very curious, ambitious and artistic. Being born and raised in Tuzla, Bosnia and Herzegovina, there was so much of life away from home for me to explore.
I enrolled into the English Language and Literature bachelor program which is when I became more and more interested in NGO work. I began traveling Europe to participate in various projects and training courses and I spent one semester in Osijek, Croatia and one semester in Valencia, Spain as an Erasmus+ exchange student.
During my time spent in Valencia, I got a chance to reconnect with nature. I was all alone in a foreign country in the middle of the first wave of COVID pandemic, and I turned to nature for inspiration, tranquillity and hope. It was then that I remembered that nature was always there for me as a friend and that this friendship was worth nurturing.
After graduating, I had one goal: to become an ESC volunteer and do something related to the environment, young people and art. Luckily, after waiting for a long time, I got a chance to work with IYNF which stands for all the things I learned to value in life: solidarity, peace, internationalism, self-improvement and nature.
I have a growing and never-ending list of interests, but if I had to name a few, I would say that I love anything art and music related, foreign languages, Eastern philosophy and anime and manga.