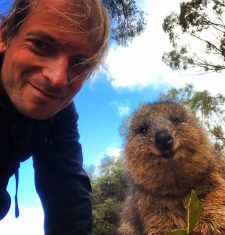 Michal Moravec
Office Coordinator
Being born and raised in Czech Republic, I made my first big life step when I moved to London as a teenager. This experience led me to broaden my views and made me crave for travel even more.
During my studies at university, I spent a year in Turkey as an exchange student and was able to travel and see the whole country and its beauties, removing my stereotypes that I had about people.
I have also moved to South Africa, an incredibly diverse country, where I have worked with youth from all backgrounds. It was amazing to see those bonds created between people from the opposite side of society. I am so glad that I have been a part of such an experience.
It was during my travels, when I became interested in capturing all those moments in still medium – photography, which became my passion. Apart from that, I enjoy sports, and even more, sports in nature. I have spent weeks and weeks hiking in the mountains, cycling across Europe, or just walking. All that with just a backpack on my back.
I have spent the last few years in Australia, connecting my passion for travel, photography and new cultural experience.
Now at IYNF, I can put all those pieces together, work with people with great values and learn from each other, as if there is something that I have learnt, it is that everyone has something important to share.