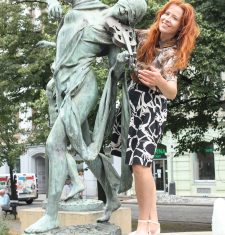 Patrycja Bilko
Project and Networking Coordinator
Project and Networking Coordinator
Joining IYNF is being a next stepping stone on the Alchemist's journey I have undertaken to rediscover the mystery of life and expend gifts, reveal nuggets of wisdom, fill me with breathtaking moments so that I can share with whom I meet on this way…
Since 2012 I have left my comfort zone (graduated in Poland) and have followed "signs from the universe" that have brought me to places like Turkey (doing ESC volunteering and becoming an ESL teacher), Indonesia (doing Darmasiswa scholarship in Sumatra island), Germany (captured by multicultural and artistic Berlin) and now to Prague.
My motivation to join and represent IYNF is rooted in my everlasting passion for spending time in nature from hiking to snorkeling, taking up a healthy, vegan lifestyle, being the advocate for those who are stripped of their voice with my journalistic expertise.
What I appreciate here are activities with youth that I can gain a new fresh perspective and get younger myself☺, shared values with IYNF (especially respect, equality and love&care for nature), IYNF objectives that I can enrich with skills: CONNECTING by building bridges of understanding as an anthropologist, a traveler as well as INSPIRING by lifting the human spirit up, encouraging, mentoring, storytelling, taking up new challenges.
Eager to expand like an eagle to lend a hand (a wing) to bring in a fruitful cooperation!