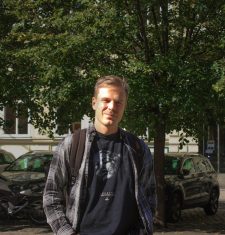 Viktor Koren
Project and Networking Coordinator
Project and Networking Coordinator
I was born and raised in Slovakia. Before I moved to Prague I was lucky enough to travel a bit and to find myself a home in Vancouver and beautiful British Columbia. The wilderness like that is far gone here in densely inhabited Europe.
I've gone through quite a few volunteer opportunities so far. Besides volunteering for a few festivals, cinemas and so on I did also volunteer for amazing school in a small village called Salasaca in Ecuador. See, you never know where these kinds of journeys can take you.
Last few years I spent mostly working "in" film, which is one of my obsessions. I just love this art form but movies are not just that! While working for the Ji.hlava International Documentary Film Festival where I spent a great two years it was also a lot about the message. We were trying to bring issues like ecology, human rights, equality, etc. to the young audience and we also talked about them on many levels.
Now I am starting another chapter with IYNF! I am excited about working with young people and hear their ideas. It's always amazing to meet people who care and are not afraid of making this world a better place. Even just by taking baby steps. Because that's how it's done! :)