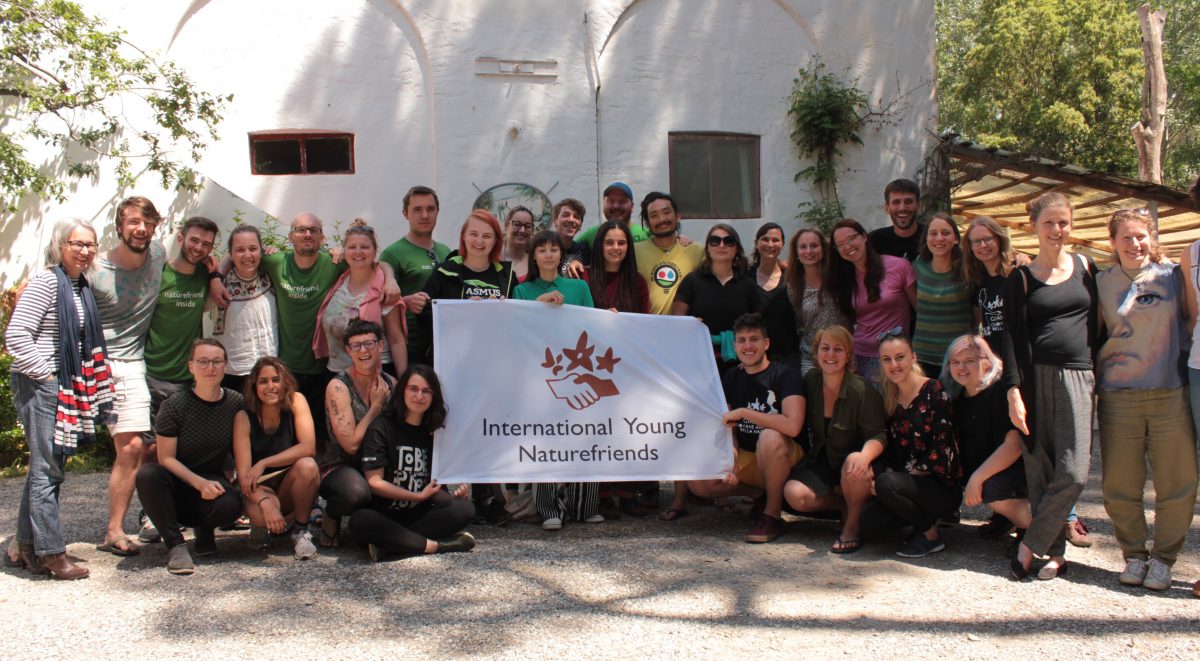 Reflexion of 'Start with yourself', 8-13th May, Cecina (Italy)
By Miriam Candelas, EVS volunteer
In a period where democracy is the more and more questioned and in risk with the increasing of extreme right-wing movements across Europe, IYNF decided to focus in 2018 on democracy and civic education. Under the name of Start With Yourself, the first training used the Betzavta method to tackle democracy related-topics from a personal point of view. This method was originally developed at the Adam Institute in Israel for political education. Later, it was internationally adopted in 1996, first in Germany at the Centre for Applied Political Research at the University of Munich then in other countries such as Switzerland and Northern Ireland. This non-formal education method was intriguing for most of the participants, included the ones who have experienced it before.
We were 30 young participants coming from different countries and with different backgrounds and expectations. The venue couldn't be more charming and special, at only a few meters from the sea, we were gathered in the oldest Naturefriends house in Italy, "Gran Pino", situated in Cecina.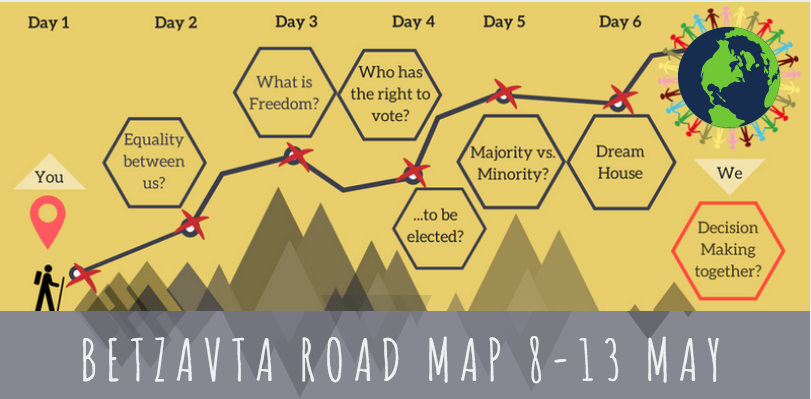 When designing the infographics for this training, Lisa and I visualized it like an up and down journey across mountains, without knowing what will be in front of us. We couldn't be more right: "What we did was a 5 day intense diving into ourselves and other people, guided by the principles and challenges designed for the Betzavta method. God, it was painful. I could feel frustration and pain growing slowly inside me and inside the group." (Natalia, participant, Poland).
During this week every participant experienced frustration, happiness, disappointment, joy, love…in a few words: it was an intense and powerful training showing core feelings of humanity.
All of us have their own definition of freedom, equality, minority and other words related to democracy. And most of us think it is not himself, who struggles with these cherish words. However, during this training, we could 'experience the words', and realized how much present they are in our daily lives and actions.
Day 1
The training started slowly, without long introduction, but simply jumping into the magic of Bezavta. We began with simple tasks to define abstract concepts such as equality and freedom, followed by more concrete questions: who has the right to vote or be elected.
"It seemed like a couple of middle-school level exercises – and it turned into soul-tormenting realizations, very much necessary for improvement. It made me question my own beliefs – but for a good reason. It made me question a lot of things, but also gave me some new power to relax while looking to solve them." (Natalia, participant, Poland)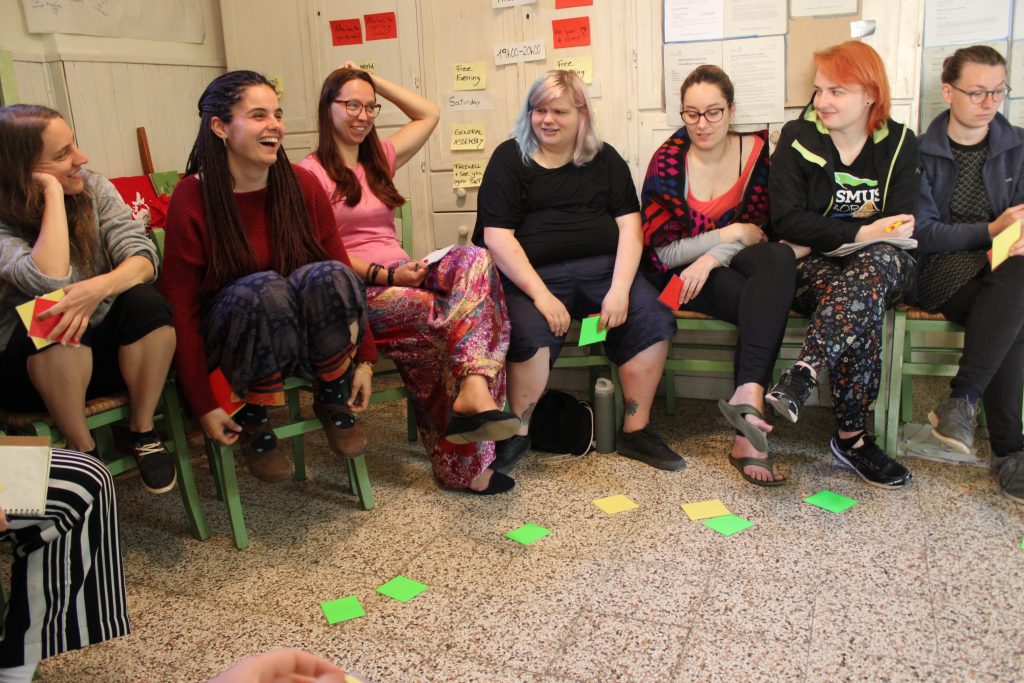 After the first sight, these activities seemed to be easy to solve, but the (long) reflection periods following the tasks showed up with the diversity of opinions and feelings. Supported with color cards, we expressed our degree of satisfaction with the process and result during these reflection sessions. I realized two main approaches people were using to fulfill these tasks: one of it was to keep close to reality, to our current society and system, and try to find the answers in this frame. The second one was more abstract and rebel, trying to imagine a new society or even a new world (Monkey Beach Island (glitter clouds know the answers of decision making) or Tenalp (alien have the superpower)…), therefore trying to escape the conditions we have. After this first day, the frustration between the participants already started to be real.
Day 2
The second day began with a new "simple" task: "Do we need a new rule?" Looking back, I am shocked to see how we were able to spend almost all the morning with only this task. Everyone had a voting card and the person with the most cards had the right to set up a new rule for the group. During the exercise, we experienced the voting system and started to realize how democracy works. Some people were fighting for their right to keep the vote, others gave their right immediately to a person they trusted without knowing his agenda.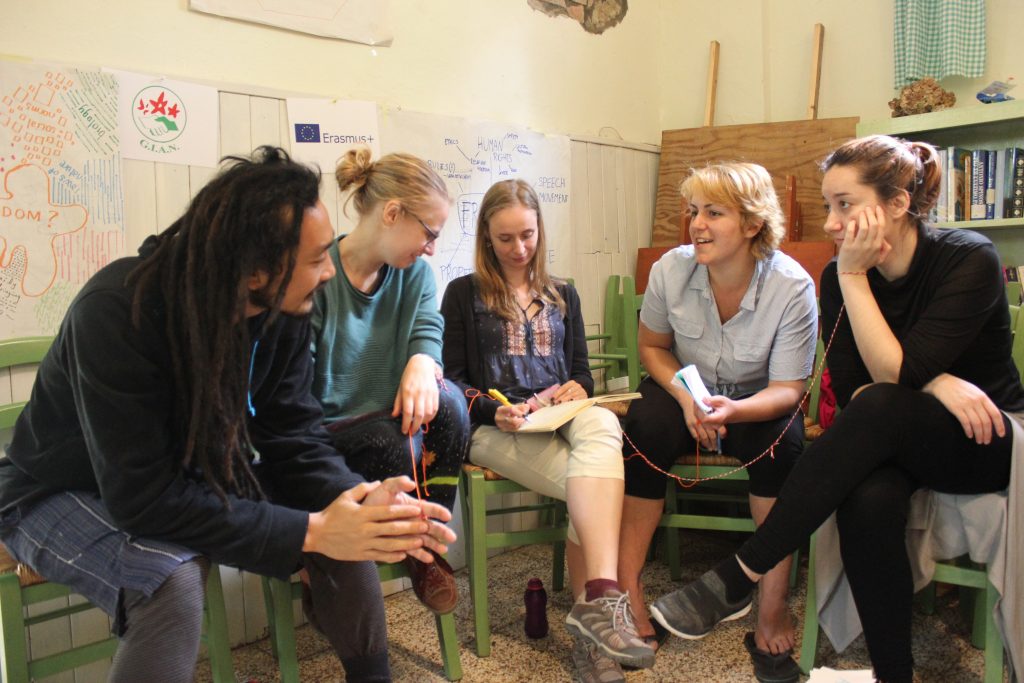 Last but not least of this morning, we experienced the limitations of freedom within a coffee break: in groups, people had to tie themselves to other participants and follow their personal needs as a team.
It can seem incredible, but we had a free afternoon already on the second day of training, that we all felt necessary, showing how demanding it was being part of this training. We were already under the "Bezavta magic".
Day 3
The next day was one of the most frustrating times for most of the participants: we had to decide on the implementation of our previously decided rule. This took us almost half of the morning. Then we discussed when the majority should decide in different situations, such as smoking in public areas or spending our money. During this third day, we also did an activity to deal with inclusion and exclusion, as well as explore the belonging to groups. Again, the frustration was in the air during the reflection periods. Almost all of us agreed that the discussions in small groups were more productive than the ones in the "big circle" of 30 people, where the debate and interactions were long and leading to multiple directions.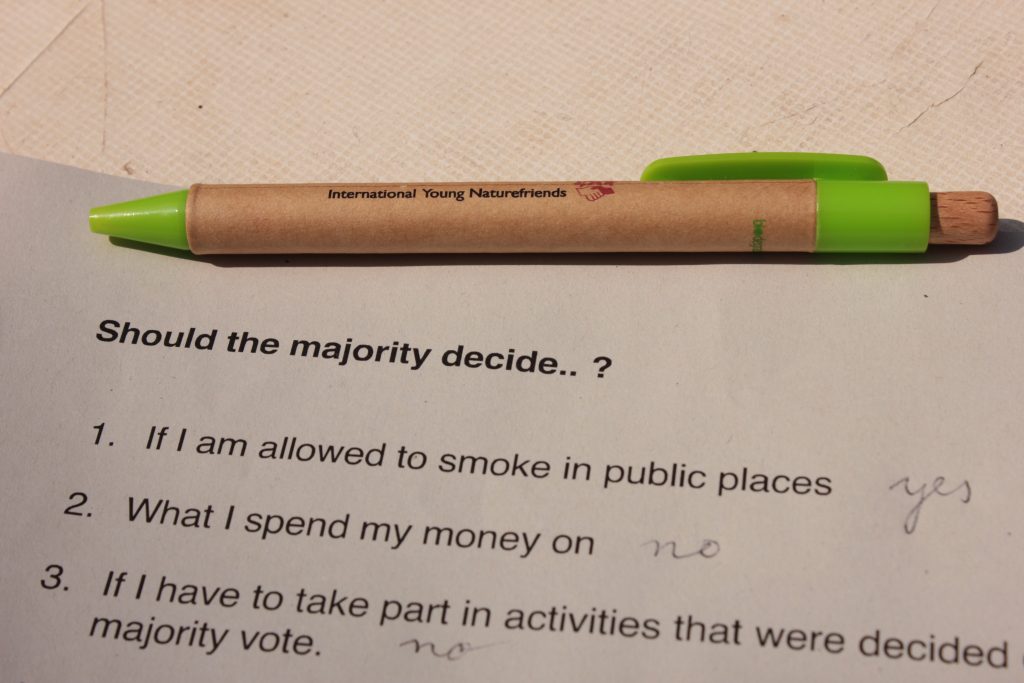 Day 4
The last day of activities, we designed our dream house in three levels: from the individual to the group perspective. We experienced again the concepts of inclusion, freedom, and equality and started to realize, that the abstract concepts, that we were talking and discussing on the first day, weren't that "abstract", but rather present in every action we do. To end the day, we experienced one of the more striking activities. We were divided into two groups to fulfill different tasks using chairs. Guess what happened next. After a week learning how to be more equal, inclusive and free, most of us fought for the chairs (our so-called resources) to solve the group task. This was a perfect end to this training, showing us that we are not always rational but also driven by our instincts, that may be peaceful for ones, but warrior for others.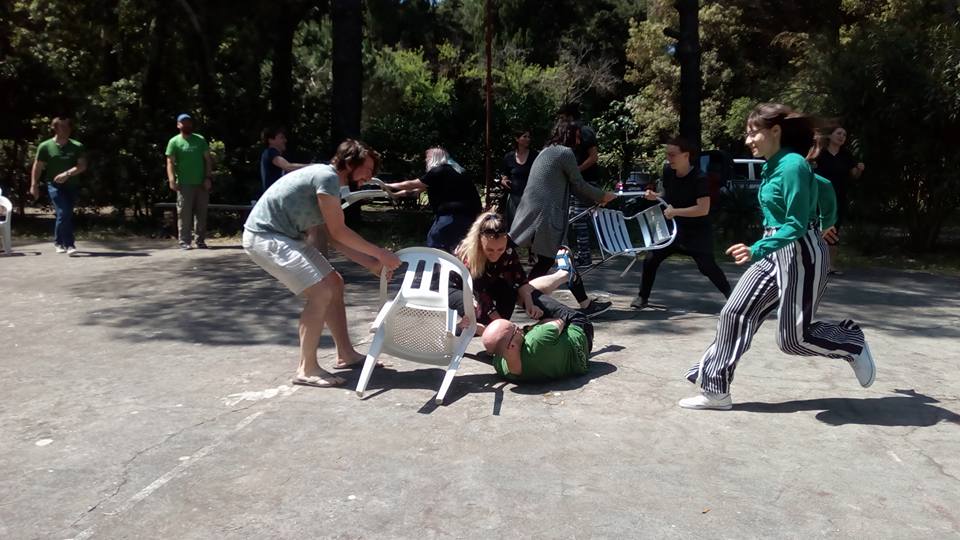 Day 5
The last activity day, we had an open session to finally ask questions to our lovely trainers about this curious Bezavta method. I would like to have some words to our trainers, that was an essential part of this process. They brought us a spiritual feeling and gave us space to develop and learn by ourselves, and most importantly they kept remembering us the importance of all kind of feelings, the ones we call wrongs such as frustration or disappointment and the good ones such as happiness. They were patiently guiding us during the sessions, but also friends outside, sharing a lot of moments with us, singing, playing 'mafia' (also known as "werewolf" or "Palermo at night"); or discussing and answering all our questions.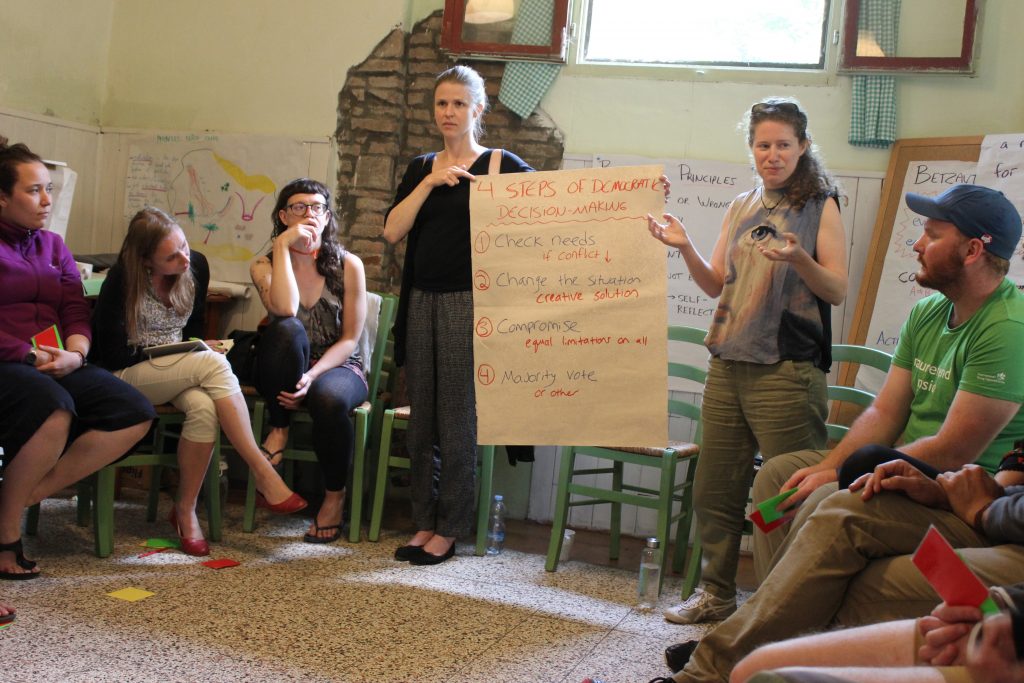 We maybe seemed a group with low diversity at the beginning, in terms of being open-minded, critical (political) thinking, awareness about sustainability and social problems…. but during this training, we realized, that diversity may concern a larger scope of characteristics, more close to the complexity of personalities, as well as internal ethical and moral matters like feeling included or excluded in certain situations.
From the start it was hard to see the connection between a method to reflect on democracy and personal development, but during this week we learnt how difficult it is to implement the words we all care about: inclusion, freedom, equality,…and also how frequent they are present in our daily life, in almost every decision we make, in every action (speaking in groups, …). Therefore, we were aware of the consequences of what that meant. I saw it like an awaking and discovery, that all those concepts we are thinking to respect always sometimes seem distant in the way that they are only affecting the behavior of others. Instead, they are also affecting us. I felt the frustration of the participants when they were realizing this, that for example, every action can be inclusive or exclusive or both at the same time, and that we are not always aware of it.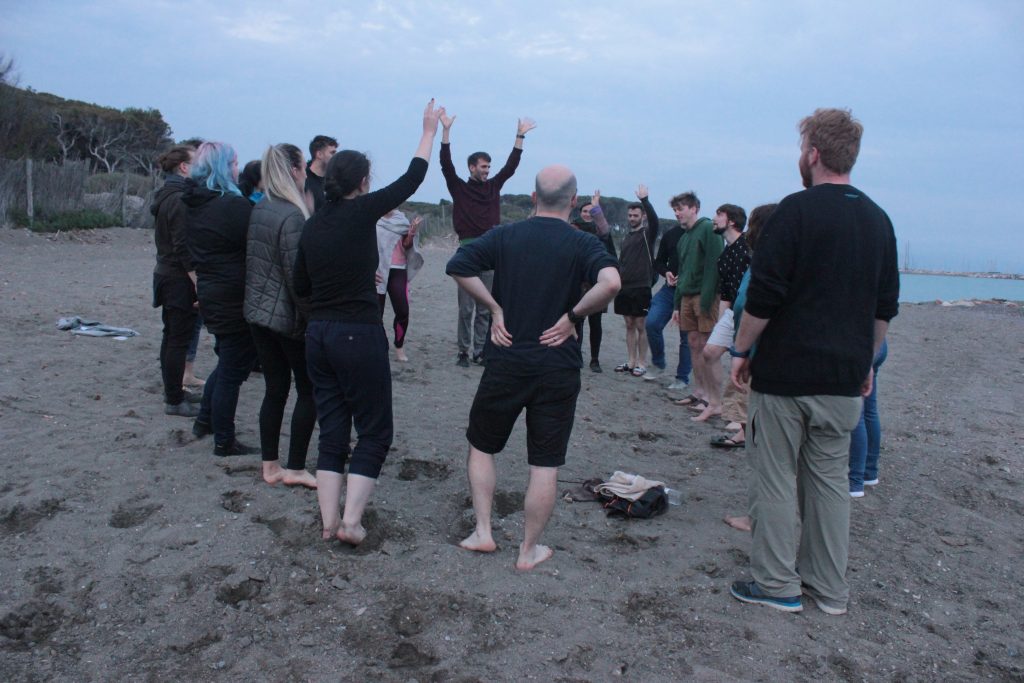 As the trainers said, the Betzavta method is not a process that lasts only a week, where you learn something and come back home and forget about this week. Betzavta is a starting point, a door opening to a new path for discovering yourself. For some of us, the process started at the beginning of the week, for others at the end, and others will need more time to discover what is changing inside them.
"It's a beautiful and sometimes lonely journey, but we are alone together!" (Tali, Trainer, Israel)
Day 6
Not in all of the non-formal education trainings or youth exchanges participants end up crying as it happened to many of us. Reflection sessions are usually used during this kind of trainings, where people can share their feelings and impressions about the day/activity. But here, something else happened, something deeper inside of each us, and that was reflected in the last reflection session. For me, it was the perfect image of what we experienced and discovered of ourselves during the week. The connection between each other, the love, trust, was tangible since the beginning, and it was increasing with the days. We created a safe atmosphere and made space for everyone, where we could be ourselves.
"It's difficult to build international communities that feel so much like families, without pretense and play, without a sense of competition and show off. In this case it was genuine and generous, and I know I will feel the same warm intensity with these people when we meet again…" (Natalia, participant, Poland)