Every year we welcome international volunteers who stay with us for 12 months. They support us in different tasks in the office, on events and projects, and also add their ideas, always according to individual interests and skills.
With us, you will have the freedom to develop yourself on an independent basis, receive guidance when you need it, and at the same time play a crucial role in our team!
What is the European Solidarity Corps program?
You can register for the European Solidarity Corps when you are 17 years old, but you cannot start a project until you are over 18. European Solidarity Corps projects will be available to people up to the age of 30 years old. Projects supported by the European Solidarity Corps can last from two to twelve months.
The project provides a long-term opportunity for young people to develop their key competencies and express their personal commitment through full-time voluntary work in a foreign country. The focus is put on solidarity, mutual understanding, and tolerance among young people while contributing to strengthening social cohesion and promoting active citizenship.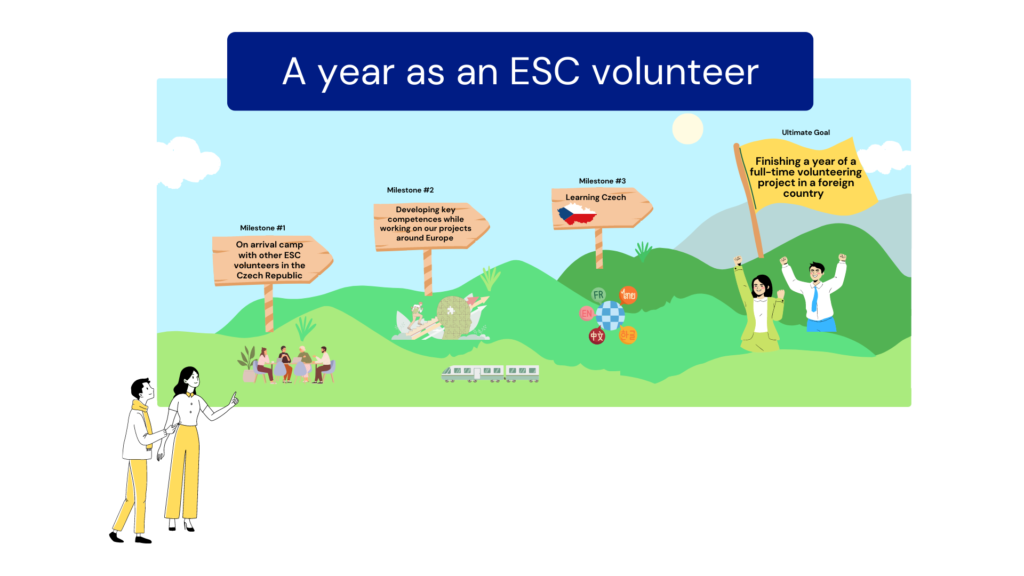 What is the European Solidarity Corps project in IYNF like?
You work 30-35 hours a week in an international office with other passionate, young people in the center of Prague, Czech Republic.
Your learning experience is put in the first place: experienced supervisors make sure that you benefit from the project and that it is adapted best to your needs
You have a chance to assist with a variety of tasks, according to your needs and interests: preparing informational campaigns, developing media channels, organizing educational activities, communicating with various organizational stakeholders
You have hands-on experience working in the headquarters of an international NGO
You have a chance to develop your own local or international project
You learn about a variety of topics in environmental education, sustainability, youth work, campaigning, social issues
You have an opportunity to travel to international educational activities in Europe
You take part in a Czech language course
You are introduced to various opportunities for volunteering and youth work in Prague
You have your costs covered, including accommodation, food, your travel to the Czech Republic, insurance, a language course, and pocket money. There is no participation fee
Find out more about the concept and philosophy of the European Solidarity Corps program.
Open vacancies will be announced on IYNF website, social media and in the IYNF newsletter Courier. To be the first person to be informed about an available vacancy, subscribe to IYNF newsletter Courier and follow our social media.
To find out more, you can also write to iynf@iynf.org.
This project is kindly supported by the European Solidarity Corps program.