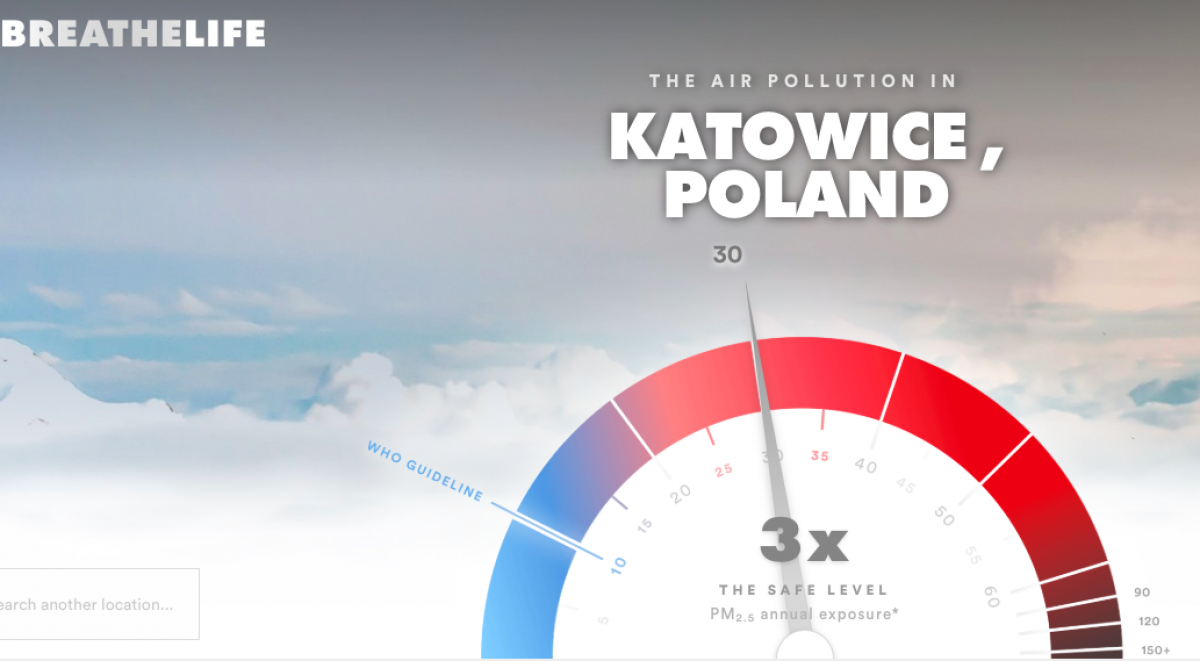 Do you remember the young girl from Sweden, that went on school strike for climate? She is a climate hero already and is attending a lot of events on raising awareness on climate change issues. Since 2016 she decided to not want to fly by plane anymore. We met her and she told us, that young people are underrepresented on the COP events.
Read Greta Thunberg's speech on COP24 here!
---
+++ IYNF schedule for day 3: Farmer's Day +++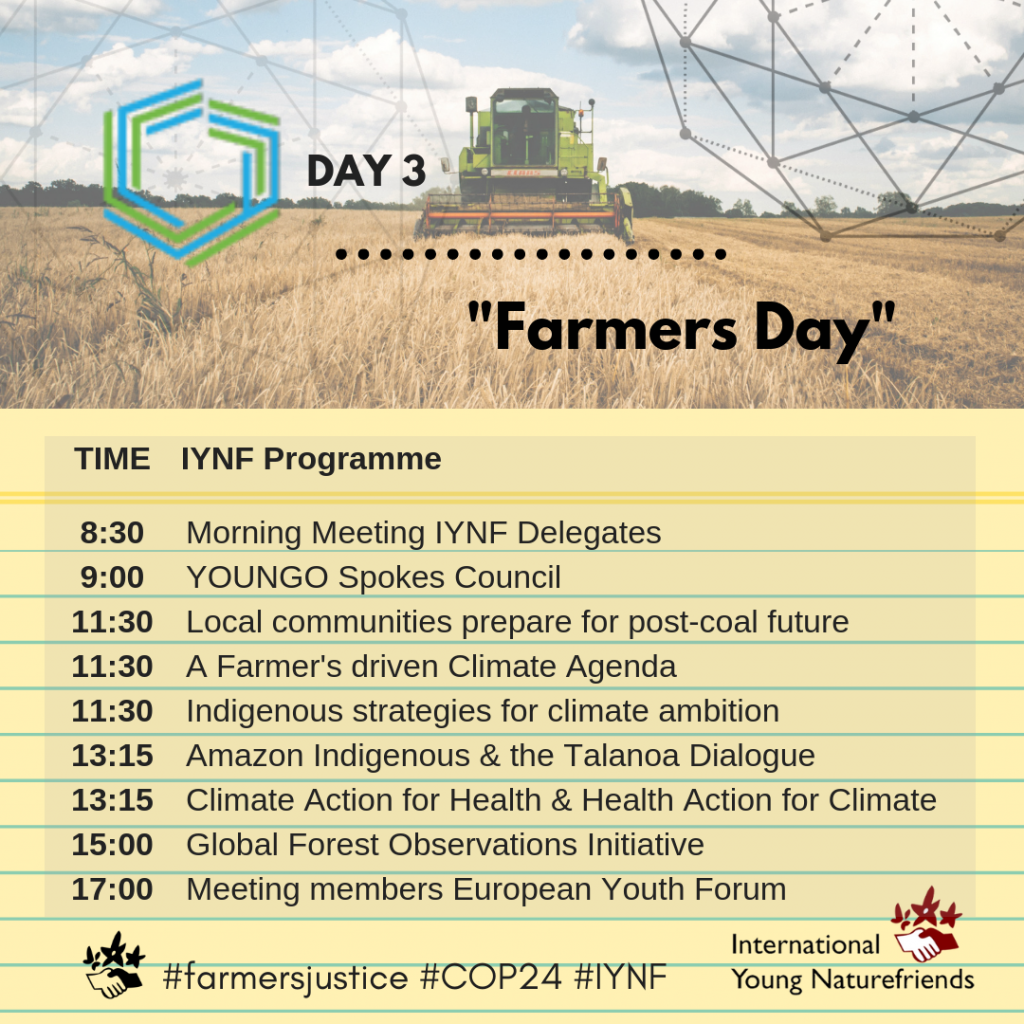 Highlights from the Day
11:15 – 13:00: Open workshop: Voices of Indigenous, Roma/Gypsy People and Central and Eastern Europeans on Climate Change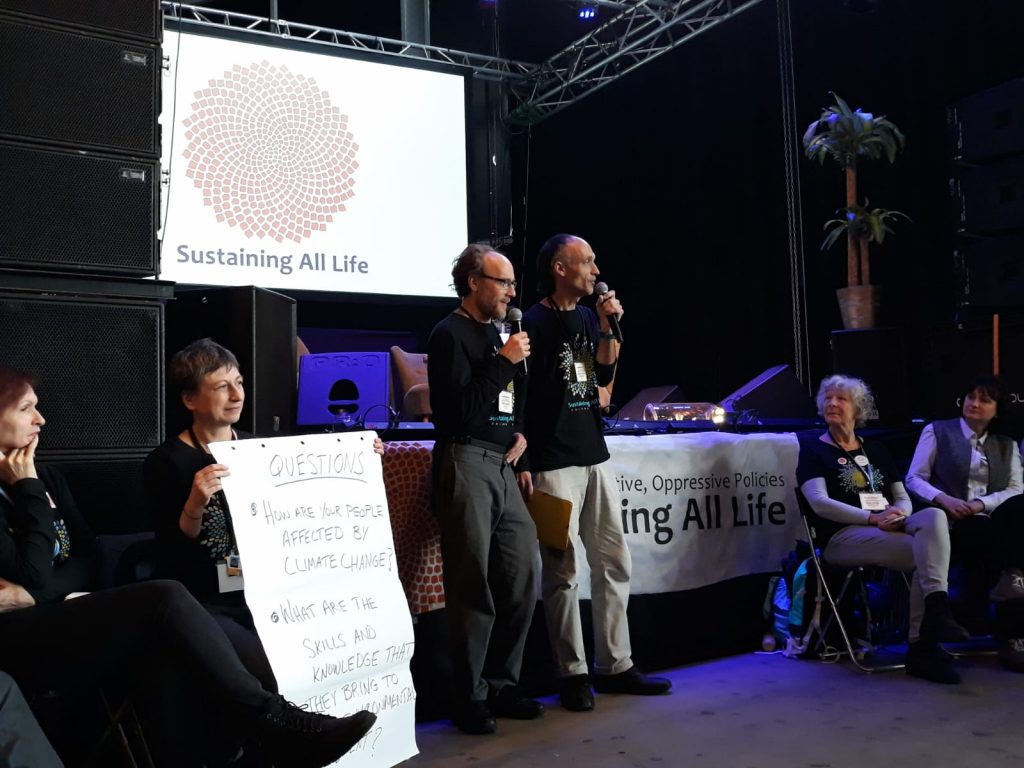 Organised by: The Reevaluation Foundation
Background: This workshop will reflect on how the oppression of Indigenous, Roma/Gypsy people and Central and Eastern Europeans limits the climate movement and why we should end these oppressions to stop climate change and why the voices of these people should be heard at COP24 and in the climate movement. Indigenous people know how to live in connection with the earth. Their communities are particularly affected by climate change. Roma/Gypsy and central European people have knowledge that is often ignored but could make a big difference to our environmental movements. The way of organizing their communities have been rejected and overtaken by the dominant economies and cultures.
Notes from IYNF delegates Sara Mucaj and Miriam Candelas:
We attended our first workshop held by "Sustaining all life" in the Climate Hub, outside the COP24 venue and therefore accessible to everyone. This workshop gave space to people to speak and listen, focused on minorities, such as indigenous, Roma and Central and East Europe people, whose voices are often not listened. With participants from many parts of the world including many Polish citizens interested in COP and climate, we spent time sharing and listening to our stories about climate change. Therefore, two questions have been asked:
How are your people affected by climate change?

What are the skills and knowledge that they bring to the environmental movement?
"We believe in the power of listening, which is not only a theoretical belief. We apply it to any possible opportunity. We do it for equal amounts of time, as its basic level. We also think in a bigger way: not listening to people can be very distructive. So when particular groups of people never get listen to, then we all lose something."
"Sustaining all life" is fighting to give equal speaking opportunities to everyone, what they claim as needed to bring everyone together to fight climate change in a successful way. We used different formats of listening with interventions of 2 min per person with always a simultaneous translation to another language in order to allow a better comprehension of what is being said. The participants belonging to a minority had the opportunity to talk in front of us while being filming and transmitting online. Our delegate Sara from Albania could share her story about water and plastic in her country. It was a powerful workshop that brings new and different approaches to deal with climate change
---
11:30 – 13:00: Local communities prepare for a post-coal future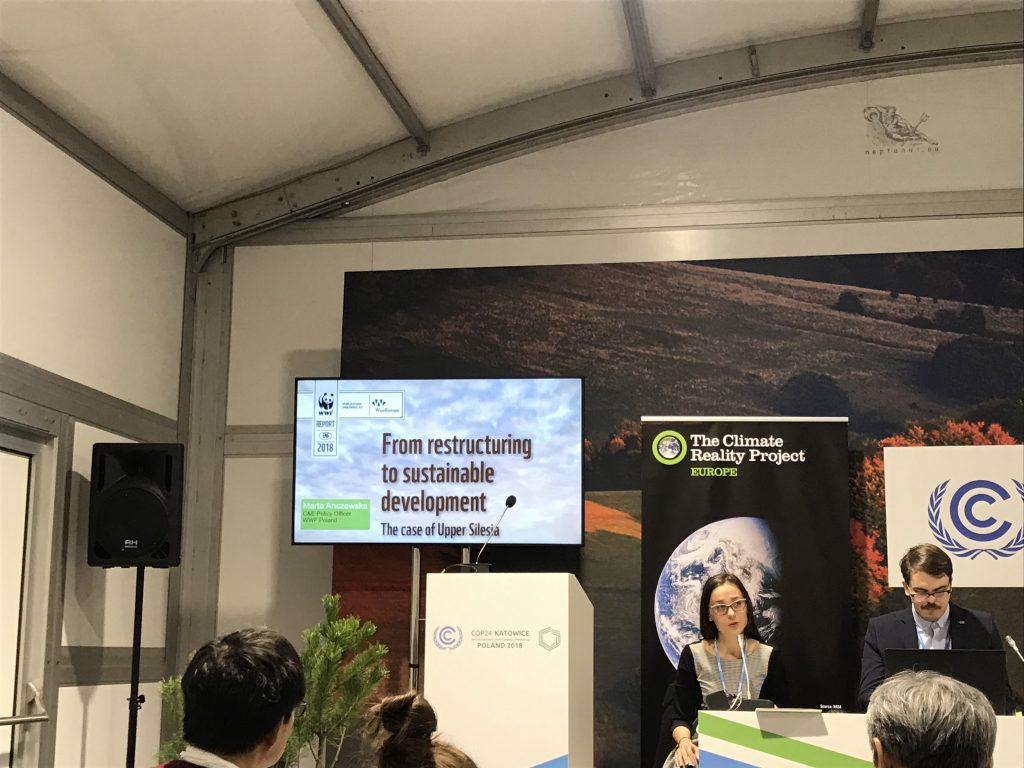 Speakers: Alexandru Mustata (Bankwatch) (moderator); Marta Anczewska (WWF Poland) Patryk Białas, Katowice City Council; Elsa Velichkova, mayor of Bobov Dol, Bulgaria; Alojz Vlcko, Prievidza municipality, Slovakia;
Background: Regions could shift from fossil-based energy to renewables, and citizens are making it happen. Learn more about the efforts of local communities towards a just transition of coal regions!
Communities on the frontlines of a post-coal future in Central and Eastern Europe
For decades, the coal mining sector has played a key role in the economic development of Central and Eastern European countries, ensuring an autonomous energy sufficiency and providing jobs. However, as Europe prepares the phaseout of coal, the transition to a post-coal future has been an intricate process, bringing new opportunities for the local communities but also dire consequences in some cases.
Click here to read the FULL article from Networking coordinator and IYNF delegate Henrique Gonçalves.
---
15:00 – 16.30:

Landscape Restoration for Climate Objectives. Synergies and Trade-Offs across SDGs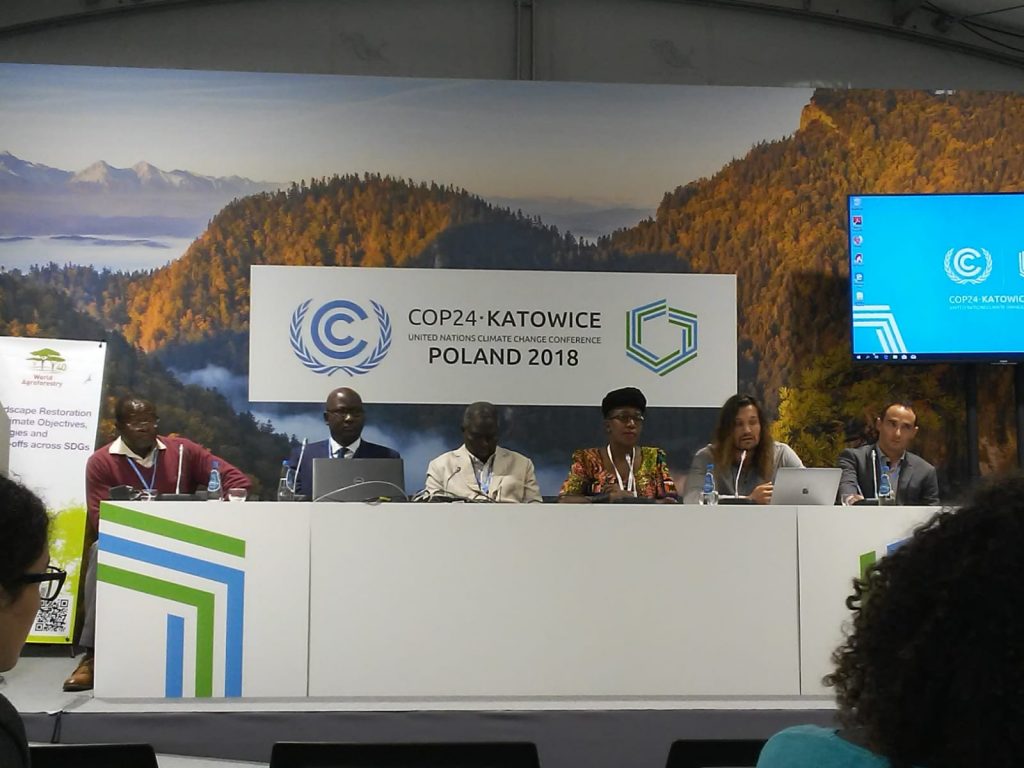 Speakers: World Agroforestry, Biodiversity; Representatives of local community projects in African countries
Background: Role of gender: more gender-inclusive projects have demonstrated better outcomes. A failure to address gender in climate actions can have detrimental effects both on women and on climate.
Notes from IYNF delegate Aurora Solano Righetti
Experience about a small county in Kenya
Arid and semi-arid land, lack of water, food insecurity. The first county in Kenya to set up a climate change fund (1% of their wealth). A small way to fund their adaptation activities. → re-afforestation → take care of the hilltops, let them regrow naturally. It has to be an integrated approach, involving different activities to adapt and mitigate. Tree-planting (also using fruit trees because they are more useful for farmers) so they had too many fruits and decided to build up a fruit processing factory.

Call upon the other countries to mainstream climate change in their development projects. Landscape restoration: they have given themselves a target of 18% of the landscape to be restored (by planting trees, etc..).
Experience of Gambia
Many reforestation projects. They have been planting one million trees a year → but most of them die, as local communities don't take care of them because they don't see them as useful. It is for climate but that is not seen by them a useful objective. However, now they have very generous grants to revegetate many hectares of land and grow trees, not only plant them. So, now they are looking at how to protect the trees they have planted? – prevent bushfires – engage local communities in business enterprises (they are going to have two business enterprises in each community).
Representatives of African countries ask organizations who own climate funds and finance projects to make the application process less difficult.

It's not just about planting trees, it's about allowing them to regenerate!

How do they assess the ecological needs of land?

Community participation? If it comes from the community who asks for it, then it is very effective and sustainable in time.
About the audience
The audience was enthusiast about the conference. But some highlighted it is necessary to take into account not only trees but the whole ecosystem in these types of projects.
---
15:00 – 16.30: 7 million unacceptable deaths. Special COP24 Health and Climate Change Report.
Background: The event provides a global state of knowledge on the interconnection between climate change and health issues and an overview of the initiatives and tools through which the public health community at country, regional and global level is currently supporting and scaling-up actions to implement PA.
Speakers: Moderation by Dr Maria Neira (WHO Director Public Health), Dr Diamid Campbell (WHO), Ovais Samad (Deputy Executive Secretary UNFCCC), Dr Joy St. John (WHO), Dan McDougall (CCAC), Tarek Ezrine (IFMSA, Tunisia)
Notes from IYNF delegate Lisa Hofmann:
This event emphasized increasing numbers of deaths through the causes of climate change, especially air pollution through carbon emissions. A video of the Lung Care Foundation India was screened:
The panellists pointed out, that the world experiences a "new age of health diseases" caused by climate damage. People need to be protected from that through building climate resisting health systems, which already was an issue on the COP23. Back then, the High-Level Presidency Event on Health, the Hon PM Bainimarama led a call for the World Health Organisation to develop this report on health and climate change to be delivered at COP24.
One of the authours points out, that governments on a national and subnational level have to remove barriers to build health resilience to climate change (e.g. via smart (safe and green) hospitals), deliver commitments to the "rights to health" into the Paris rulebook, following the reduction of carbon emissions, energy transition and addressing all polluters from different sectors. In the initial COP in 1992 health was already one of the three impacts of climate change.
"We should stop to talk about the costs and start to talk about the benefits when integrating health with climate change issues."
The Breathe Life campaign maps the air pollution around the world – some cities are positive, some negative examples of pollution. It is not just about showing the damage but also for a better future.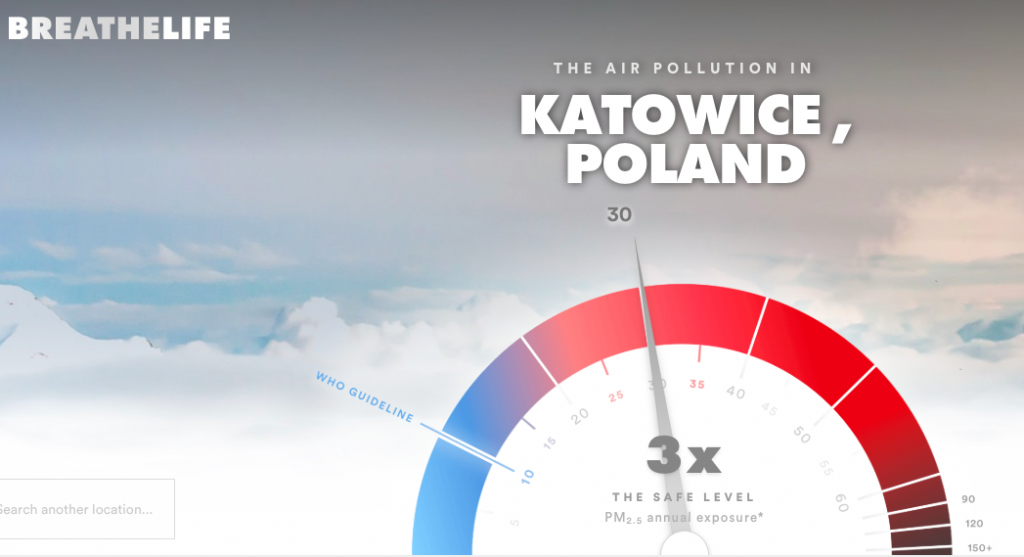 By Lisa Hofmann, on the COP24 in Katowice as a delegate for IYNF and the European Youth Forum (YFJ).