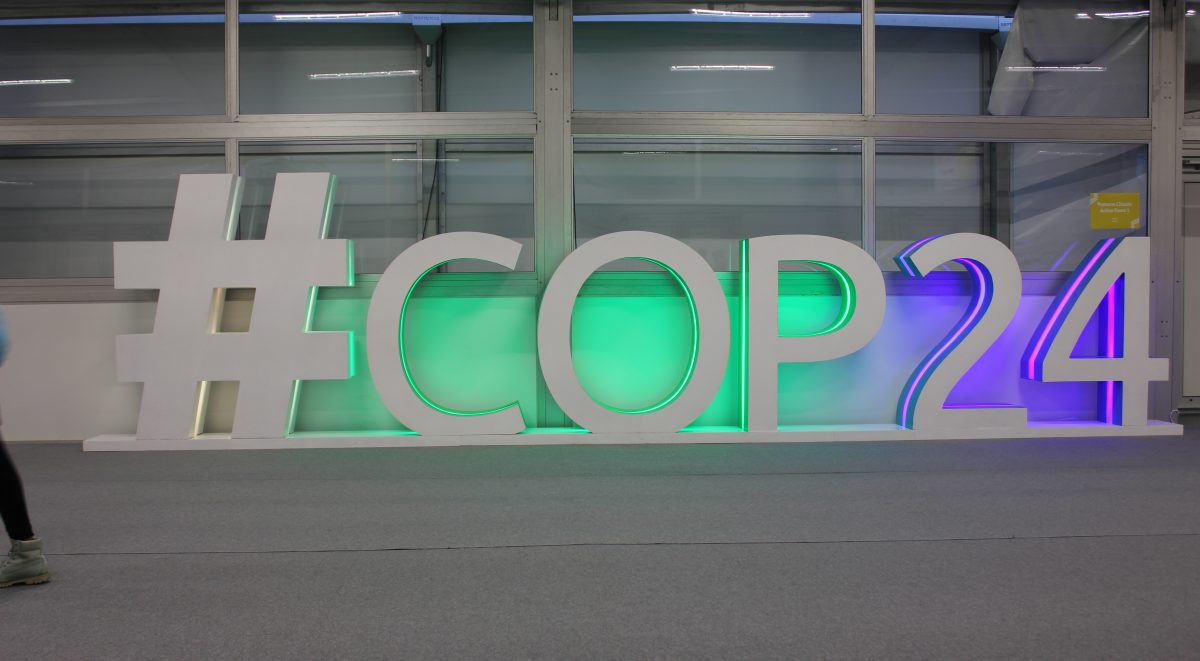 From 3rd to 14th December 13 IYNF delegates are joining the UN Climate Change Conference in Katowice, Poland, also known as COP (Conference of the Parties). This year is already the 24. edition of this global climate summit with the goal to decrease global warming and a dangerous anthropogenic disruption of the climate system.
Briefing on COP history
The secretariat of the United Nations Framework Convention on Climate Change (UNFCCC), which accompanies the implementation of the Convention, has its headquarters in Bonn. The most important obligation of the Convention is that all contracting parties should publish regular reports containing facts on the current greenhouse gas emissions and trends.
The UNFCCC was adopted in New York City on 9 May 1992 and signed by 154 states at the United Nations Conference on Environment and Development (UNCED) in Rio de Janeiro that same year. It came into force two years later. On 12 August 1996, the Secretariat of the Framework Convention on Climate Change moved to Bonn, Germany.
The 197 contracting Parties of the Convention meet annually for conferences, the UN Climate Conferences (also known as the "World Climate Summit"), which strive for concrete measures for climate protection.
Be the COP you want to see in the world
Our delegates have a staffed time table:
In the daily morning meeting the delegates update each other about the events they will join and which other actions evolved through communication with other organizations, mostly through mouth-to-mouth communication. The events on the COP24 are divided into high level events, that are mostly guided by the UNFCCC secretariat, side events, that are panel talks or workshops initiated by organisations. On the area are also exhibitions, pavilions with country representatives and several other hubs, e.g. Climate Action Hub inside and the Climate Hub outside the official area.
YOUNGO – Youth Constituency to the UNFCCC
Furthermore youth organisations are having informal meetings and actions, that are communicated beforehand via several channels such as the YOUNGO mailing list for example. YOUNGO is a collection of groups or individuals who identify themselves as youth. It does not have any paid staff, and all the housekeeping chores (communication between the UNFCCC secretariat and the constituency, managing its online resources, correspondence, introducing new members etc.) are carried out by a team of volunteers, the two focal points and the Bottom Lining team (BLT).
In working groups copied from the representation of civil society in the UNFCCC process young people build 9 constituencies, like women, indigenous, business and YOUNGO, which is the official youth constituency. Constituencies have a formal voice in the UNFCCC process and can deliver interventions (speeches).
IYNF delegates are joining daily working group meetings in the fields of "Agriculture", "Oceans", "Action on Climate Empowerment", "Mitigation", "Human Rights", "Women & Gender" and "IPCC".
Highlights from the Day
11:30 – 13:00: Global Climate Action Event (High Level)
Speakers: Mateusz Morawiecki (Prime Minister of Poland), António Guterres (UN Secretary General), Mae Jemison (1st Afro-American astronaut), Nicola Sturgeon (first Minister Schottland)
Background: The Global Climate Action High-Level event will offer a unique vision of how the world is affected by climate change and how different sectors are tackling the issue. It will highlight collaboration, synergies and progress between GCA stakeholders. The centerpiece/body of this event will take place in the form of a 'fireside-chat': moderated dialogues where two dynamic high-level speakers will be paired to explore specified topics – all embracing 'inclusive multilateralism'.
Notes from IYNF delegate Miriam Candelas (Spain):
The UN Secretary General is a believer of 'multilateralism" when he states: "Only global answers can solve global problems". He claimed, that policies need to be more ambitious and that the conditions in the Paris Agreement are not enough. Those people, who were betting in the green economy will be the winners in next years. More and more important decisions are being taken at a regional and local level, close to people, and not longer at the governmental level. That includes also innovative experiences.
I call local and regional bodies, people representing Civil society do not give up to do the transformations and pressure to governments to make sure we are not defeated.
---
11:30 – 13:00: Approaching the Point of No Return. What NDCs of major rainforest countries means for rainforests.
Speakers: Anggalia Putri Permatasari, Madani (Indonesia), Patricia Zupi, Rede de Cooperacao Amazonica (Brazil), Rocia Vasquez, Ambiente y Recursos Naturales (Peru), Milena Bernal Asociación Ambiente y Sociedad (Colombia), Rainforest Foundation Norway
Background: The event will present an analysis of the ambition for ending deforestation and protecting indigenous peoples' rights in the NDC (National Development Goals) of six major rainforest countries – Brazil, Indonesia, Peru, Colombia, Democratic Republic of Congo (DRC), Myanmar – and discuss how this ambition can be enhanced. A report will be evaluate the current ambition level in the national climate policies of these countries for the LULUCF sector (Land-Use, Land-Use Change and Forestry) between 2020 and 2030.
Notes from IYNF delegate Lisa Hofmann (Germany):
The report shows, what the NDCs tell us about the future of the rainforests in the reviewed countries and whether they are in line with the needs to reach not more than 1,5 degrees. Special emphasis is put on the recognition and role of indigenous peoples and local communities in the NDCs.
What is needed for 1,5?
– tropical forest countries need to: halt deforestation by 2030, halt forest degradation by 2030, restore degraded forests and peat-land, increase the recognition of the land rights of the indigenous peoples – incl. land rights, food security
– radical changes in agricultural practices
– capacity can be expected from these countries, mitigation has to happen there as well, the countries must also increase financial action to solve problems
Outcomes
Indonesia: Only country, that recognizes forests as a separate target in its NDCs.
Brazil: 14% increase of deforestation since 2017. Ambition to decrease emissions, but ongoing deforestation through agribusiness lobby. New President, Michel Temer, aims to merge the positions of environmental and agribusiness ministries. Increasing environmental crimes.
Peru: estimation that 71-77% of reductions will be in LULUCF sector
DRC: NDC leads to a 50% increase in LULUCF emissions compared to 2010 and refers to plans for reforestation, afforestation and sustainable forest management
Colombia: target it to reduce emissions from 20-30% by 2030 compared to BAU (Business-As-Usual). BAU is a 50% increase in emissions compared to 2010.
Myanmar: refers to different mitigation measures in the forest, that can lead to preservation restricting indigenous peoples and local communities living the forests
---
15:00-18:00: Unpacking the new scientific knowledge and key findings in the IPCC Special Report on Global Warming of 1,5˙C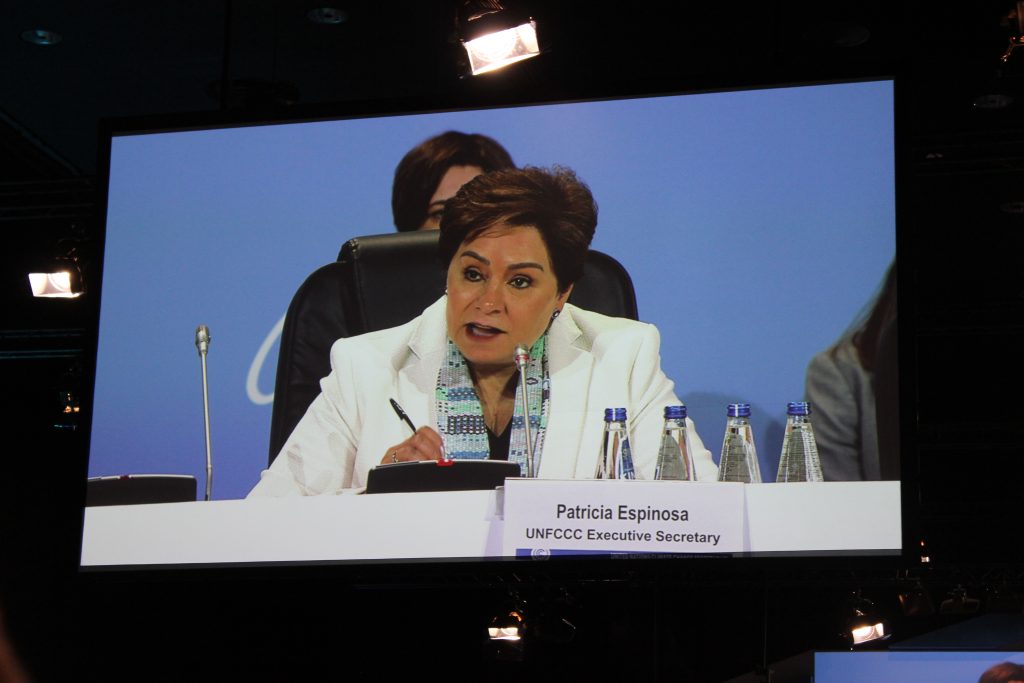 Speakers: Paul Watkinson (SBSTA Chair), Hoesung Lee (IPCC Chair), Patricia Espinosa (UNFCCC Executive General), Valérie Masson-Delmotte & Panmao Zhai (WGI Co Chairs), Jim Skea (WGIII Co Chair), Hans-Otto Pörtner & Debra Roberts (WGII Co Chairs)
Background: The event focuses on unpacking the new scientific concepts and definitions used in the IPCC (Intergovernmental Panel on Climate Change) report and hence generate a better understanding of the key scientific findings of the report. It may also allow for identifying research gaps and clarifying the uncertainties associated with specific findings.
Notes from IYNF delegate Aurora Solano Righetti (Gian-Gìo, Italy):
The IPCC report is like a summary from 6000 studies analyzed by 133 authors from 40 countries, targets policy makers and draws a landmark in collective understanding. The Norway oil and gas company, EQUINOR, is aligning to the
report. It is mostly showing data on the difference of the temperature rise of either 1,5˙C or 2˙C. The sea level for example would be 10 centimeters lower with the Paris Agreement conditions of 1,5˙C global warming. Hoesung Lee points out the need for the carbon dioxide removal and store it in geological or ocean reservoirs. This would be necessary due to a need to stay in a specified limit of emissions.
The less we will need to rely on those kinds of removal, the less we will need to leave the problem to our children. There is still a window of action.
However, there is a knowledge gap of the report regarding economic costs of the two scenaries, that are not covered. The IPCC shows regional impact points in the means of the temperature comparison, but doesn't show countries, that are struggeling already nowadays under high temperatures, that are exceeding 1,5˙C (e.g. Saudi Arabia, South Africa).
By Lisa Hofmann, on the COP24 in Katowice as a delegate for IYNF and the European Youth Forum (YFJ).