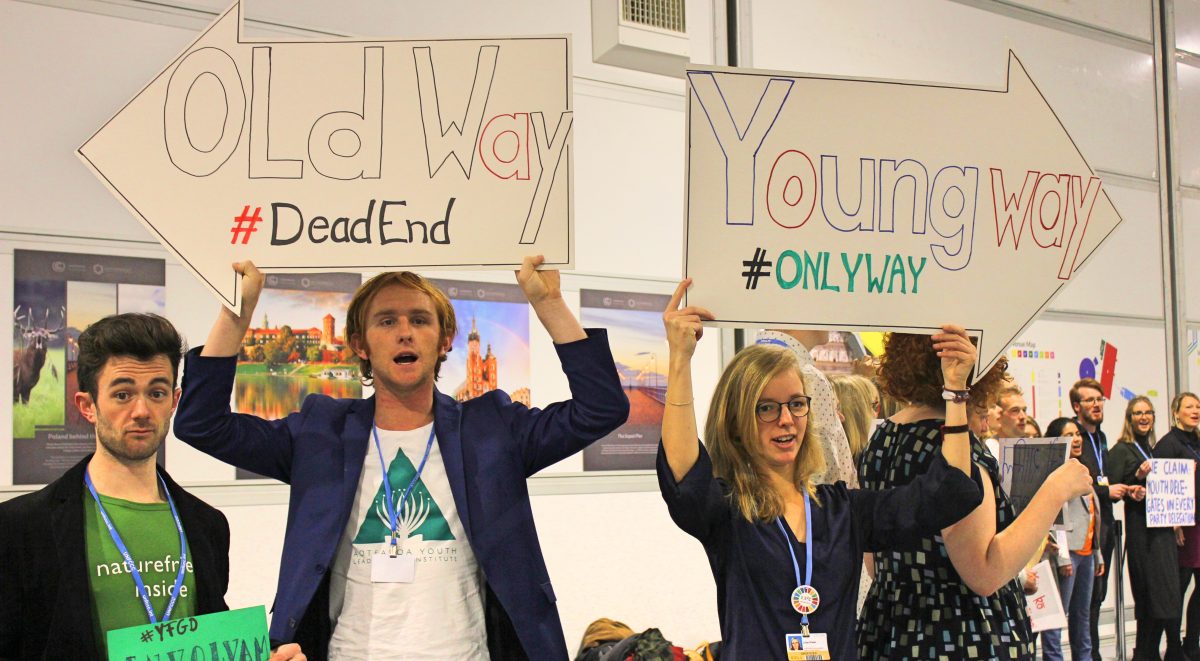 About young people raising their voice; Brazil's dark times regarding climate policies; the progress within the Talanoa Dialogue launched at COP23; bilateral meetings with UN Envoy on Youth; a Village of Hope and the 30th anniversary of the IPCC.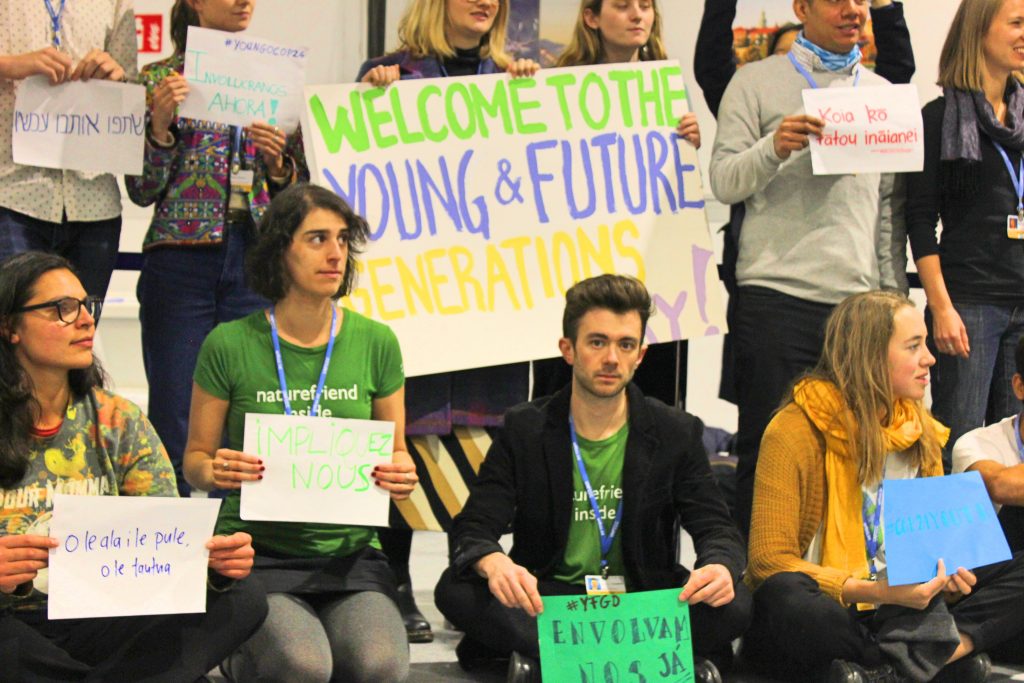 Because youth is underrepresented and not involved in the decision-making process of the COP negotiations the YOUNGO working group for Action on Climate Empowerment organized an action for increasing the visibility and power of young people attending COP24. "Which way? Young way!" they claimed in the entrance hall of the area, together with self-made banners and posters showing the demand "Involve us now!" in several languages. Also, IYNF delegates took part in the event and created artwork. The action was documented by journalists from Reuters, CNN and BBC.
---
+++ IYNF schedule for Day 4 (Thursday, 6.12.2018): Young and Future Generations Day +++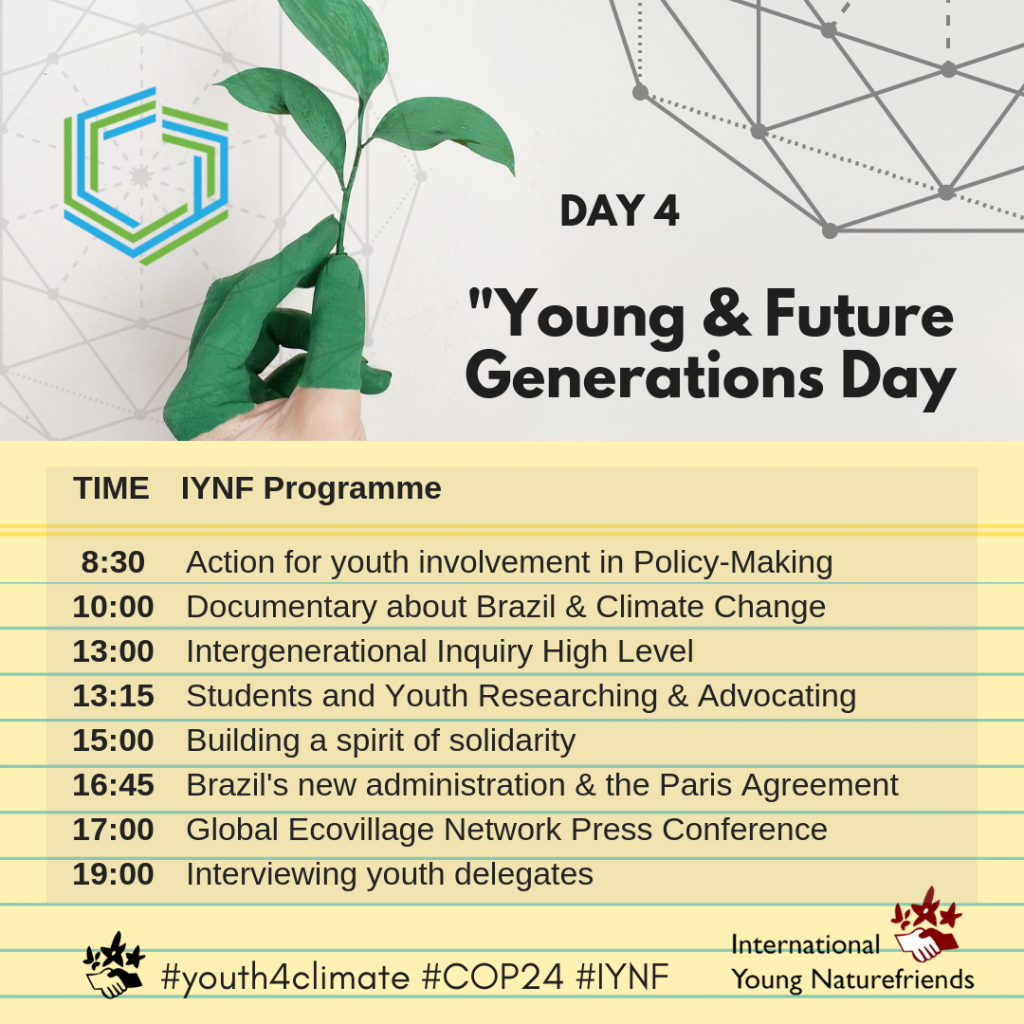 Highlights of the Day
10:00 – 12:00: Documentary movie "Tomorrow has come – the drama of Brazilians impacted by climate change"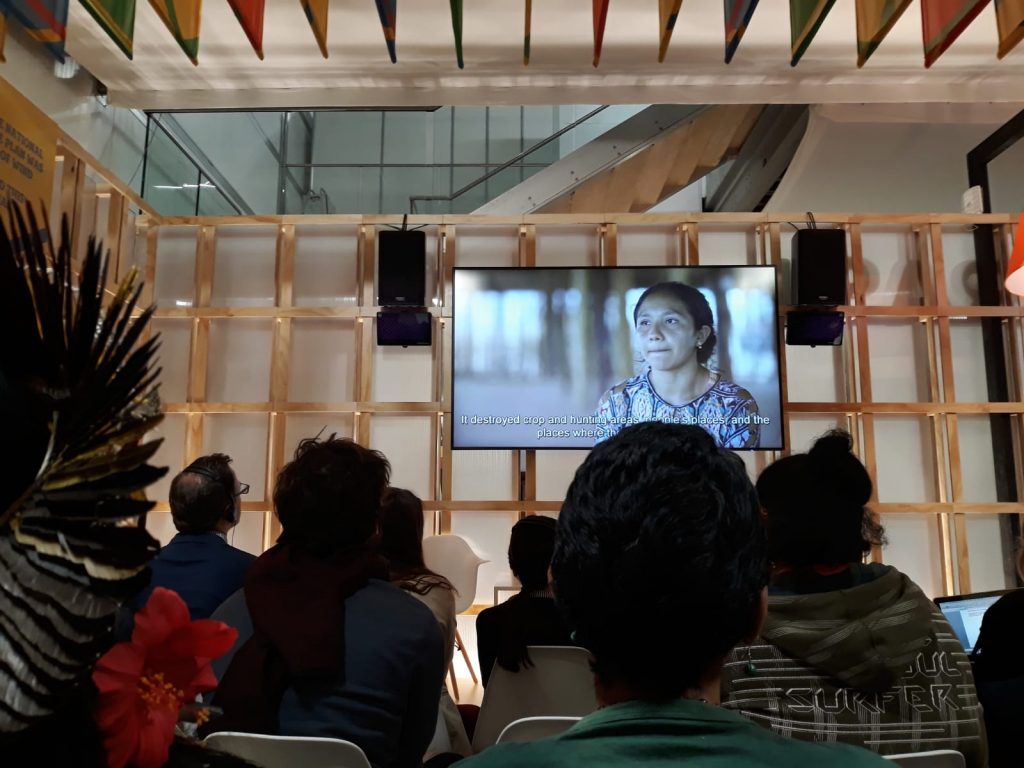 Speakers: Nara Baré – (Coiabi – Coordination of Indigenous Organizations of the Brazilian Amazon), Paloma Costa (Engajamundo), Carlos Rittl (Observatório do Clima)
Background: The central ductus of the event is how important the preservation of the Amazon is to contain climate change? "Tomorrow has come – the drama of Brazilians impacted by climate change" already gives you an idea of what it is: to show that the impacts of the climate have already reached all Brazilians, whether in the city or the countryside, and that keeping the Amazon on its feet is fundamental not only for those who live there. We have chosen six emblematic cases in five states to show the urgency of the debate. The film also includes two unpublished opinions that reveal the impacts of deforestation on the climate, and thus on agricultural production, water supply in the country, gas emissions, fires, among others.
Notes from IYNF delegate Miriam Candelas:
We attended a documentary screened in the Brazilian pavilion about the current consequences climate change is provocating in Brazil. From severe droughts and floods to storms and fires, Brazil is suffering these extreme events since 2009. The documentary covers different regions and landscapes of Brazil, such as Santa Catarina or Krikati indigenous lands, showing how people are experiencing and fighting climate change. The whole picture is terrifying, in just a few years we have lost 20% of Amazonas forest; storms, floods and fires are being stronger and more often.
After the documentary screen an Indigenous delegate and a Brazilian scientific gave an inspiring and powerful speech showing their resistance against climate change:
"We are doing good things for everyone, we are protecting our homes, we are protecting nature". She also remembers that they didn't choose borders and that Brazil was not discovered but invaded. "The fascist speech of our new government only gave us more strength to resist and fight! We are no terrorist, we are always going to resist because we are indigenous and women".
---
13:00 – 14:00: Village of Hope
Background: The Rockies Institute (TRI) will be heading a multi-faceted media presentation on the process for braiding indigenous and scientific expert knowledge on adaption. The session will present highlights from the Village of Hope that brought IPCC scientists together with indigenous knowledge experts on climate adaption. The sessions will also consider their next project which aims to address wildfires
Speakers: Dr Karl Von Orsdol (Senior Fellow), Laura Lynes (President of TRI, video chat), Dr Samuel Igshaan (video chat)
Notes from IYNF delegate Sara Muçaj:
The TRI is a non-profit organization based in Canada. It focuses on creating a dialogue and share knowledge between the indigenous stakeholders and non-indigenous communities, in particular scientists, in a respectful and meaningful way. It is about stories, shared to understand the impact of climate change. Indigenous communities have adapted to cc in the last decades, but it is getting harder and harder as time goes by and the phenomena continue. As we know, they honour their relationship with nature as its belongers, but on the other hand prayers, songs and rituals are not important among scientists. IPCC requires pre-reviewed literature regarding data, but still, they were very opened to the idea of an exchange.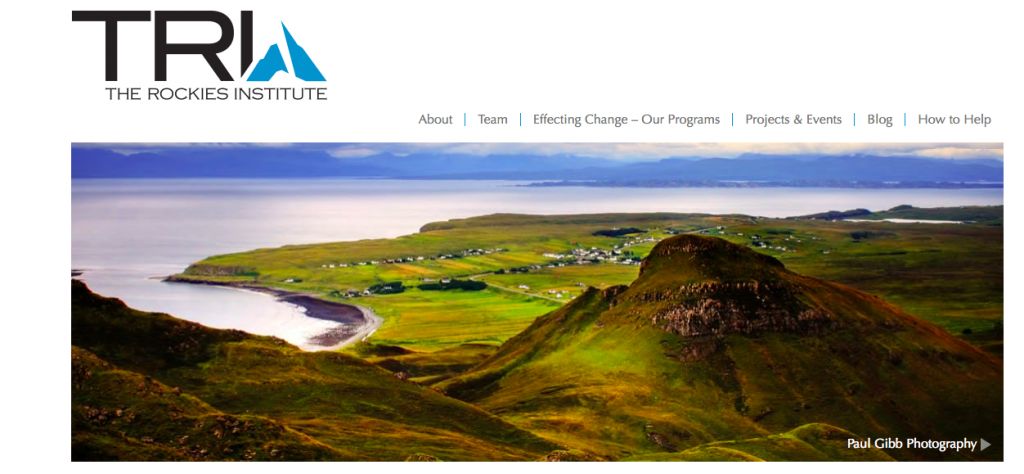 An indigenous girl in a video presentation about her participation in one of the Village of Hope session emphasized how colonized education is segmented.
When we think of education, we think of math, history, English. There is a lot of context people have lost, guiding them to disrespect our Earth. We need to go back to our roots.
In phase 2 of their work plan, they direct their attention to specific issues, such as wildfires.
Karl Von Orsdol talked in particular about 'The Nama Tribe Project' in South Africa, in the town of Khuboes, based on community conservancy (in collaboration with ARC-INR & The South African National Parks (SANParks)). The latest is working with TRI to conduct research based on questionaries and interviews with people from the community. It is interesting to see how the participants of the project have transited from a moment of complete disinterest on cc in the very beginning of the project, to a total interest during its realization. They say they need to be equipped with tools so that they can be able to adapt to cc themselves.
There is also a video of a villager explaining that 'It normally rained at Easter Time. The eastern wind is much more intense recently and causes much more damage'.
The keywords about the environment in this town are: rain, wind, desertification.
---
16:00 – 17:00: Bilateral meeting with UN Envoy on Youth Jayathma Wickramanayake
Speakers: The UN Envoy, UNFCCC Secretariat, YOUNGO members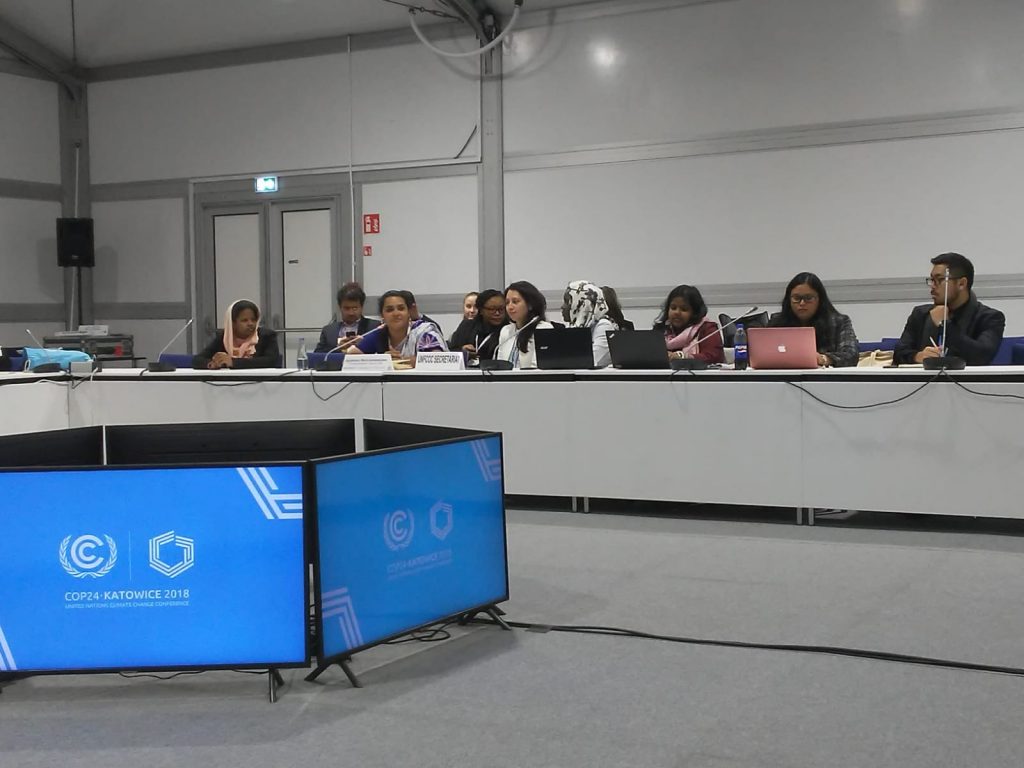 Notes from IYNF delegate Aurora Solano Righetti:
The meeting was not exactly organized in a conference-style. It was more an exchange many young delegates from the global south and global north with the Jayathma. She is very young (28 years old) and comes from Sri Lanka. She has been appointed for this role due to her previous great involvement in a local organisation promoting women rights and their access to politics. She explained more about what she does in the office, aldo highlighting the fact that she does not have many resources and that she actually fundraises for her salary and for those of the 10 people working with her. It might seem quite strange but, according to her and to YOUNGO delegates, it is actually true. I could see everybody in the room admires her and likes the way she is doing her job. She advocates for youth to have a much more important role in the UN and she gave us advice about how to promote our activities and projects. The meeting was very smooth and natural and she declared to be available for any request we might have.
By Lisa Hofmann, delegate for IYNF and European Youth Forum at COP24.