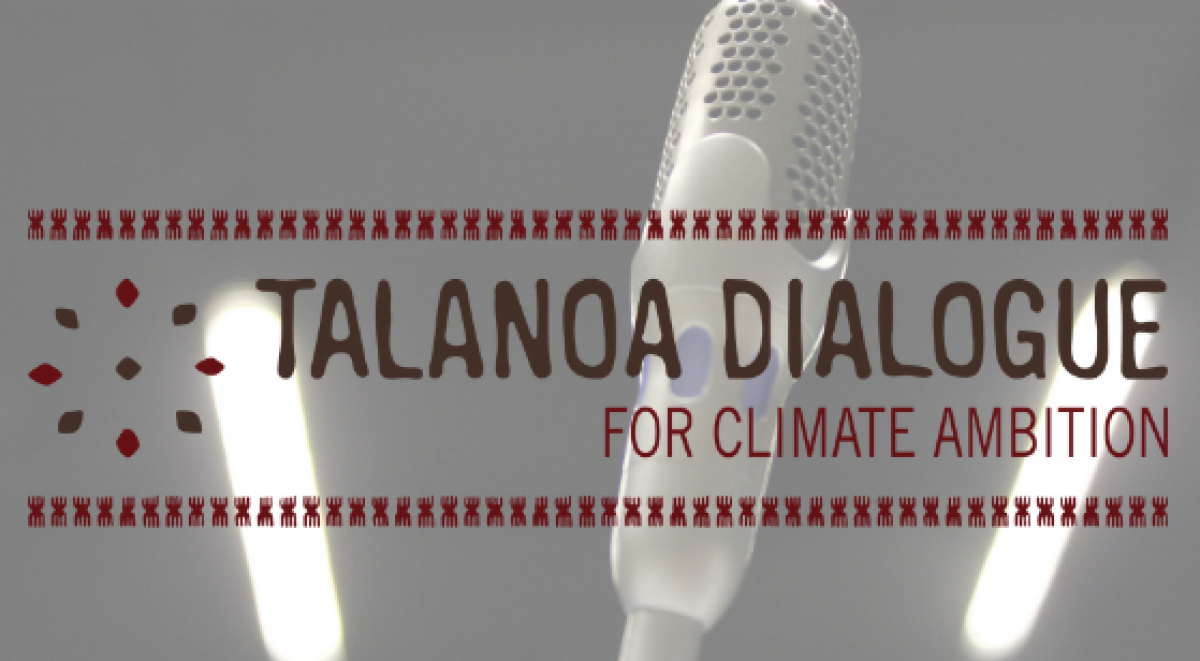 Wrap-up Meeting of the Preparatory Phase
A high-level event at the COP24 to finish the preparational framework of the Talanoa Dialogue structure used in further COP.
"Talanoa is a traditional word used in Fiji and across the Pacific to reflect a process of inclusive, participatory and transparent dialogue. The purpose of Talanoa is to share stories, build empathy and to make wise decisions for the collective good. The process of Talanoa involves the sharing of ideas, skills and experience through storytelling.
During the process, participants build trust and advance knowledge through empathy and understanding. Blaming others and making critical observations are inconsistent with building mutual trust and respect, and therefore inconsistent with the Talanoa concept. Talanoa fosters stability and inclusiveness in dialogue, by creating a safe space that embraces mutual respect for a platform for decision making for a greater good." (UNFCCC)
---
Speakers: UNFCCC Secretariat; Fijian Presidency; Governmental representatives (parties); Non-governmental representatives (NGOs)
Chile: Talanoa dialogue has been a very interesting experience, especially as it is an inspirational methodology of facilitative dialogue. We hope we will see a clear completion of the mandate and this process will be fruitful for the negotiations.
Maldives: Hopes countries build momentum towards updated INDCs communicated by 2020

Chile: Believes that the dialogue is a vehicle for achieving increased ambitions.
EU: Is thanking the president and Fiji for the framework. Sees dialogue as key preparation to create awareness and political momentum. Talanoa EU event held in June, several member states have held their own events. Finds that reports reflect good commitments from state and non-state actors. EU is aligned with most of the conclusions. Almost completed legislative work to cut emissions in all sectors by 2030 (?). Will support international capacity building. Committed towards a just transition. Deeply concerned by 1.5 C report. Current NDCs would double emissions. Bar set high for everyone to act, sense of urgency. Hopes next week's dialogue spurs momentum. Hopes all parties come prepared with evidence to show their progress. The outcome document should underline urgency and be based on the 1.5 C report and point to concrete actions and steps and underline the co-benefits. Will give a clear direction for investments towards a long-term strategy.
China: (speaking in Chinese!) believe that their long-term goal was clearly proposed in Paris. Have not changed their long-term goals during the Talanoa dialogue. About 1.5 C report, find it necessary to attach importance to pre-2020 actions, thinks is also important as part of Talanoa. Thinks the support to developing countries should also be included in 2020. Transition to a low-carbon economy is done without talking about flows from developed to developing countries. No mention of capacity building towards developing countries. Should not diminish distributed responsibilities. China supports 1.5 C report – scientists have studied 1.5 vs 2, they told China that it is not impossible to get to 1.5 C, said it's up to governments to decide whether they can achieve it. Thinks IPCC is composed of experts who can provide economic social impacts and scenarios, but they do not have sufficient info on the 2030 agenda for sustainable development. This lack of info won't help governments make wise choices. Thinks we should use reason while making real choices.
Australia: Heard stories of non-state actors taking innovative actions. Held their own Talanoa event – heard from experts about investments, NGOs.
Botswana: speaking on behalf of the African

group. Welcomed the predatory phase, helps understand other parties. Similar dialogues at national levels – non-state actors participated in discussions. The direction is clear and the road is consistent across all African parties. Implementation of responses will require enhanced support towards developing countries. Rising vulnerability in African countries – 1.5 C report. Energy, urban dev, land use, industry – opportunities and challenges. The current level of resources is insufficient. Need to be cognizant of the current geopolitical situation in some countries means other countries have to step in. Hopes IPCC will raise the ambition of developed countries to support developing countries. Gaps in 1,5 C report – falls short of recommendations and responses. Does not mention equity, hopes will be brought on board. Expects conclusions from Talanoa dialogue.

India: Found the Talanoa process constructive, helped bridge gaps. Need to take a look at the mandate for Talanoa dialogue – to be held among parties in 2018, will be holding it in the second week. Presidents of COP 23 and COP 24 will provide updates. See a clear linkage between pre-2020 stock-take and the Talanoa – needs to feed into the process – raising of ambitions, gaps in finance and emissions. Follow-up action on decisions of countries, removal of conditionality, review of targets, developing countries need to be supported – hopes Talanoa will be able to indicate where we stand. 1.5 C report shows the urgency of action and urgency of support – thinks needs of developing countries not accounted for the report. Predictability of finance is something developing countries look forward to – helps plan projects. New collective goal for mobilizing resources needs to be set in motion – existing mobilization goal has not been met. Some parties have been cushioning the terms of the Paris Agreement. Hopes there is a clear picture post-2020 of what finance is available.
Norway: Lots of activities taken place locally – NGOs convened a Talanoa in the parliament, underscoring the effectiveness of working together. The 1.5 C report is the heart of the dialogue – shows the 1.5 C has to be the aim. Talanoa needs to go beyond Katowice – strong political ambition needs to be shown.
Kiribati: Very concerned by the 1.5 C report.
Nigeria: Full support for Botswana's statement. Presents an opportunity to clarify our positions. The ecosystem has a lot to contribute towards raising ambitions.
Iran: GHG concentration 400 ppm in 2018 was compared to pre-industrial levels in the 1.5 C report. In addition to political will, we need inclusiveness and multi-lateral ism. Need to remove unjustified sanctions to transfer necessary technology.
Marshall Islands: Strongly supports the Maldives. Very concerned, facing an existential threat.
Grenada: Supports other islands. GHG still on the rise – points to need to strong action by all (Govts + private sector), adjust capacities, financial flows, technology. Central message – 1.5 C still possible, we need political will. Hopes will lead to new INDCs in 2020. Dialogue should continue beyond COP24. New INDCs should have increased ambition getting us towards 1.5 C. Output should include – decision acknowledging Talanoa dialogue has worked, a call to action from the president.
Nepal: Observations – need to mobilize stakeholders.
Response to China: 1.5 C report speaks of global emissions rather than individual countries. A pre-2020 report will be delivered next week.
Civil society: 60 Talanoa events in 40 countries organized by local and regional governments, bringing together all aspects of govt. 60% were held in the global south. Cities and regionals government need to be involved at every level. Mayor of the capital of Honduras commits to continuing Talanoa. Have the commitment to ensure a better future.
Civil society (Philippines): Injustice is becoming the new normal – not cause the climate crisis but have faced consequences (cyclones). Only climate justice can address the climate crisis.

Farmers (India): Farmers need to be enabled – the impact of changing climate is very real. Want dialogue to turn into action.
Indigenous peoples: Need to heed alarm. 1.5 C report confirms need to reach Paris agreements asap. Indigenous peoples have lessons on living in harmony with nature. Lives on the line. Want to develop concrete solutions to ecological solutions.

Business and industry: Meeting Paris will require ongoing dialogue. Business is committed to the Paris Agreement – wants climate change to be high on the political agenda. Want a robust rule book adopted by all parties showing political will. Must address transparency and effective market mechanism, and just transition. Calls to take business experience and partner with them to raise ambition on the NDCs.
Research org: Report highlights that 1.5 C is possible. Need for more peer-reviewed literature on developing countries, marginalized communities, more bottom-up approaches. Avoid using gaps to delay action now. Expand engagement with researchers and policymakers.
Trade unions: hopes talk will translate into action for increased ambition. Just transition is key. Only if we leave no one behind will there be enough support. Hope strengthening NDCs is done with all stakeholders at the table.
Women and gender: Right to expression without intimidation from the state is ensured. Request to consult with the People's movement. 1.5 C report needs transformative action. 2018 has been a disastrous year. Hopes Talanoa dialogue leaves no rights behind.
Youth (YOUNGO): Global warming of 3 C is no option. School walkouts in Australia. Talanoa is promising because it is inclusive. 50% of the population is young people. Demand a seat at every table – claim our right to be part of the solution. Need an official call to action.
IPCC: Looks to maximize synergies and minimize trade-offs to have inclusive advances towards 1.5 C. Hard to achieve 1.5 C world unless SDGs on cities in developing countries are met – the geography where our youth now interacts in a personal and human way. Emphasis on the political will to make choices towards which path we will end up taking. e.g. fill knowledge gaps on adaptation and limits to adaptation. Enhancing climate literacy is essential to building capacity for adaption. Include education and social learning in your increased ambitions. Special report of 1.5 C is just the first report – 7 more to go!
By Aurora Solano Righetti, IYNF delegate at COP24.