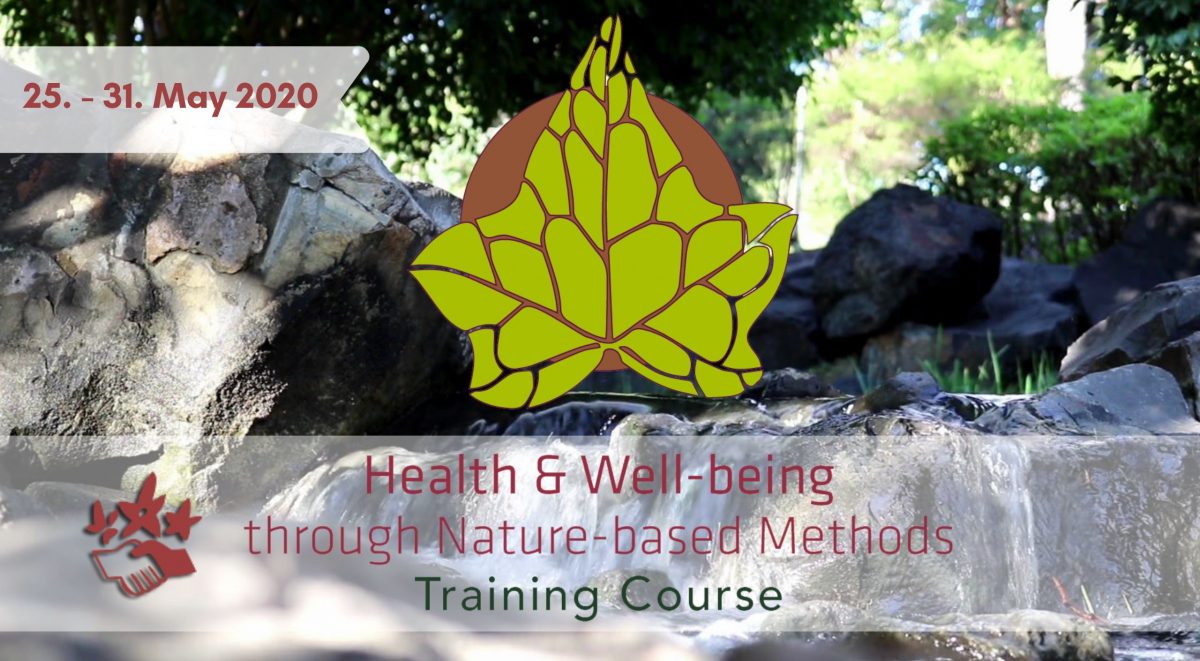 Training Course
Health & Well-being through Nature-Based Methods
(25th – 31st May 2020*, Czech Republic)
*Activity postponed to May 2021 according to the statement below

+++
Due to the Corona (Covid-19) pandemic outbreak the project team is providing a statement in the bottom

+++
Our bodies are no less a part of this planet than the trees, the mountains, or any existing creature. Yet, instead of feeling intimately connected to this planet, we often find ourselves feeling a deep sense of separation.
Science has come to prove the interconnectedness of human beings and the natural environment through its positive effects on the mental, physiological, and spiritual aspects of the person. Ancient wisdom provides guidance on how we may reclaim our connection to Earth.
Europe needs young leaders who are capable of handling both the challenges presented by their generation and those occurring in their personal lives. This can be learned with a focus on connection to nature, improving personal well-being, and developing a sense of community. (HWNM project team)
In fact, in ancient times, there was a great sense of spiritual connection with the natural world. This way of being was so fundamental to ancient cultures that it had no name, it simply was.
If we can rediscover our connectedness to nature and approach it holistically, we can activate new perspectives, solutions and tools to create authentic and sustainable changes in our personal lives and in our communities.
---
Feel the invitation to join this activity and contribute to deepening the quality of youth work by experiencing methods of outdoor education, self-awareness and intercultural understanding, and develop innovative educational tools based on personal and community needs.
---
Learning experiences
The training course will combine three thematic spheres for enabling participants to work on deeper personal levels in youth work: nature-based methods (holistic thinking), community building (intercultural understanding), and experiential learning (developing educational tools).
Therefore, the programme is rooted in using rituals, ceremonies, ancient wisdom, and ecocentrism (human as equal part of nature; opposite is anthropocentrism) and expertise from the local organisation in Czech Republic. The activities will be inspired by the Wheel of Life, group dynamics, intention clarification and focus, natural elements, Way of Council, Rites of Passage, and creativity. All this will support self-reflecting, integration and adopting healthy habits and growth.
The experience from the training course will afterwards be transferred to the different local communities of participants and a blog and an e-manual will be published, as a way to share with other youth workers and educators about the methods and tools, so they can be experienced with many other communities.
This activity will support participants to:
Increase knowledge and skills in the field of environmental education.
Deliver knowledge about holistic thinking and healthy lifestyles.
Develop attitudes towards nature-based youth work, open communication, ceremonies and rites of passage and how it can be included in contemporary educational and experiential activities.
Develop competences to recognize young people's strong and weak sides, and be open to their vulnerability and personal development.
Create a space for intercultural awareness by sharing stories about ancient wisdom and symbols from different cultures.
Create innovative educational tools for self-discovery based on ecocentrism.
Practical info
For whom?
Residents in the following countries:

Czech Republic, Italy, Germany, Macedonia, Romania, Spain, Portugal and Austria

. This list represents the countries of the partner organisations involved in this project.

Youth workers or people committed to

become active youth leaders (no age limit)

.

People who

feel connected to the topics of the project

and have a strong and relevant motivation for joining the process. The motivation should be a blend of personal and professional factors.
People willing to commit fully as participants in the training course and in the preparatory and follow-up activities, including

developing initiatives in their communities

.
Part of a

Naturefriends

organisation or willing to engage in the network following the training.
Where and when?
Vila Sklenářka (Czech Republic)
25th – 31st May 2020 (travel days included)
About the venue:
"Vila Sklenářka" is a seminar center situated in a rural and remote area that offers a great environment for nature-based education with "a focus on personal growth and self awareness". The venue is barrier-free and offers several options for accommodation indoor and outdoor. It also hosts Forest.Ink, the local group experienced in the topics of the training course.
How much does it cost?
Food and accommodation are

100% covered

.
Travel costs covered by Erasmus + programme up to 180 euro for participants coming from Czech Republic, Germany and Austria, 275 euro for participants coming from Italy, Macedonia, Romania and Spain and 360 euro for participants coming from Portugal.
Participation fee (solidarity contribution) on a sliding-scale from 40€ to 80€, depending on what is available for each person at the moment. The higher contributions will create opportunities for others, in the spirit of community.
If you have economical constraints covering the course fee, please contact us to find a solution.
Travel rules
According to IYNF's Travel Policy you are asked to choose the most sustainable way of transportation, and funding rules from Erasmus+ require 2nd/economy class tickets. For flights and traveling by car prior approval of the project team will be needed.
How to apply?
The application will be available from October 2020.
If you have any questions, please write to the project team at TC_HWNM@iynf.org
---
+++ Coronavirus (COVID-19) +++
Statement of the Project Team
Dear interested parties and applicants of this project,
As an international youth organization, IYNF has an exemplary responsibility to prevent or at least delay the spread of the Coronavirus (COVID-19). The delay in the wave of illnesses in particular will play a crucial role in ensuring that all those at risk can receive good medical care and that healthcare will be maintained safely. It is an act of solidarity towards vulnerable people in our society to do everything possible to contain the virus.
The project team from this training course therefore points out that we can currently give no guarantee that the project will be carried out in the specified period (May 25-31. 2020).
As a project funded by the European Commission, the project team has been required to adhere to the safety measures associated with preventing the spread of the disease and to take all necessary steps that require that everyone's health comes first. The first measure that we are subject to is the national regulations on entry and exit restrictions of some countries represented in this project (especially Italy and the Czech Republic, at the moment). According to the current status (March 12), these countries provide for a national quarantine until mid-April. This means that people are prevented from entering and leaving during this period. Another limitation is compliance with security measures by the European Commission. Apress release from February 26 states:
It is for the participating organizations and individuals to decide on the course of action to take in the light of national travel advice and repatriation schemes. The National Agencies will monitor closely, in cooperation with the participating organization, if the area of ​​the planned mobility can be considered safe by the time of travel for the entire duration of the mobility or project activity.
Given the circumstances of more and more countries closing their borders, the project team is considering postponing the activity towards an unpredicted time (preferably to the second half of 2020; but this decision is subject to the developments of the viral pandemic and the European Union Programmes Agency plan).
Nevertheless, you are able to apply for this training to have a chance to be considered as one of the participants for the time when the training will take place.
We decided to postpone the application deadline until April 10, 11:59 pm CET!
The project team will keep you updated about the development of the measures associated with the spread of the virus and will publish the latest information from the European Commission and the Czech National Agency here and on Facebook – in the HWNM project event and on the IYNF Facebook page..
In the meantime we wish you all and your families safety and lots of strength to go through this process. We believe that humanity can only grow together from this exceptional situation.
Berg frei!
Project Team
Health and Well-being through Nature-based Methods
---
This project is kindly supported by the Erasmus+ programme of the European Union.