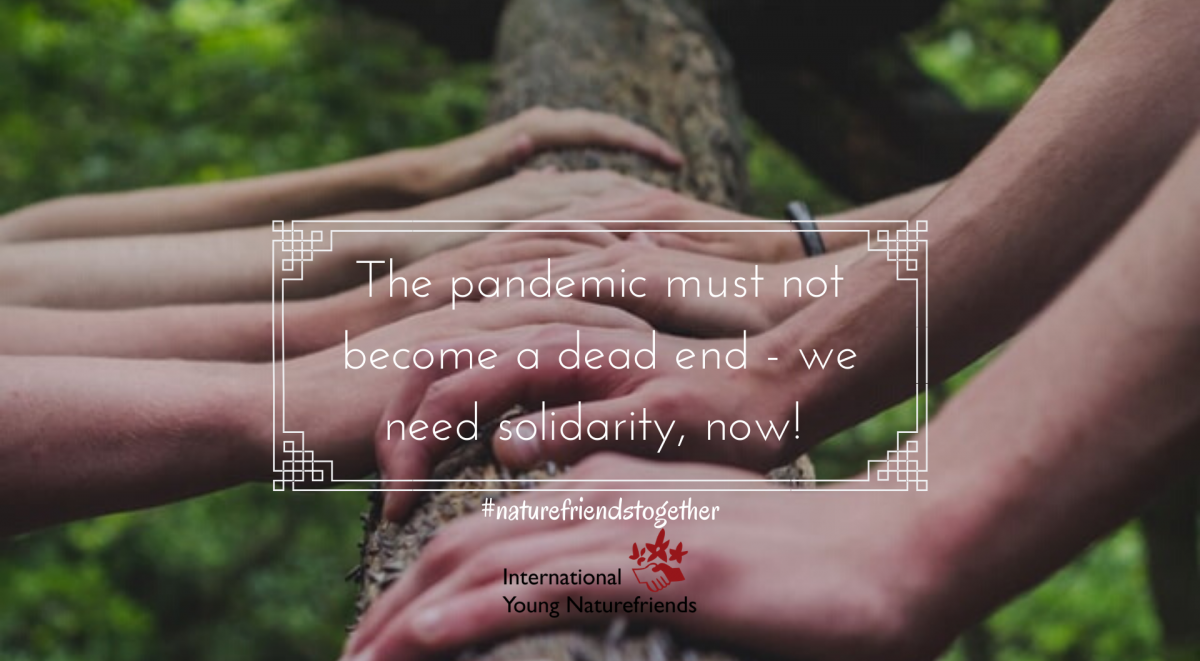 As one of the major European youth organisations International Young Naturefriends (IYNF) outlines in this political position paper: How are we handling the current situation and what are the consequences out of the COVID-19 pandemic?
Already for 45 years IYNF has committed to the values of solidarity, democracy, sustainability and equality. These are the values that connect and inspire around 120.000 young Naturefriends worldwide. With our values in mind, we take a clear stand on the measures and the effects they have on society as a whole.
We see that the measures taken in Europe to limit the COVID-19 pandemic are necessary and we fully support them even though they hit us hard as an international youth organisation. We and our members were forced to cancel many activities, structural meetings, spring and summer camps as well as youth exchanges this year and postpone them to a later date. To stay connected with each other we make use of online tools, to implement conferences and launch webinars. As a sign of taking responsible action it was a matter of principle for us to cancel our activities, regardless of government recommendation. We call on the EU and its member states to recognize and take the values of solidarity, democracy, sustainability and equality into account when preparing the necessary steps to dealing with the pandemic.
Solidarity
We and our member organisations showed solidarity through cancelling our activities. These activities were planned by young people with a lot of volunteer and full-time work, and we created alternative networking opportunities and activities such as webinars.
In many EU member states, it is currently forbidden to meet in clubs or other leisure facilities. This measure brings not only extensive loss of activities, but also social distance, which can have an impact on the mental health of young people in particular. We therefore call for the restrictions to be lifted as soon as possible and for democratic values such as freedom of assembly and freedom of movement in the EU to be restored.
Due to the reasonable restrictions for international and national organisations it is not possible for the staff to meet in person. Having online meetings can replace the board and statutory meetings this year in an appropriate way. Thus, we also call for a flexible organisation of the procedure for NGOs in decision-making legislature. According to this, NGOs should be able to take statutory decisions until further notice by telephone or video conference.
We would particularly like to speak out for the concerns of refugees who are considered a risk group in the COVID-19 pandemic and who are not treated equally on the basis of security measures. As a result, refugees are additionally stigmatized and marginalized. As the pandemic shows us, we are all stuck together. It must be possible to protect all people regardless of their personal circumstances. We demand from EU and national governments to follow Portugal's example and grant refugees citizen rights. Apart from that we demand ongoing public information flow on the situation in refugee camps; extra financial funds for charity and volunteering organisations which help to maintain livable infrastructures in refugee camps; and support for accommodation and basic food distribution as well as access to hot water, soap and medical support for refugees. But most importantly we call on the EU to evacuate refugee camps and to distribute them fairly to all member states.
The Naturefriends houses that are run by our members around the world are affected the most by the current restrictions. Some of these houses are educational institutions for young people with employees, which are currently not allowed to be visited. As a result, they have to struggle with far-reaching consequences, such as short-time work and income freezes. We therefore call on the governments of the EU member states to find a solution in solidarity and to introduce direct financial support with at least 90% salary payment or explore the possibility of introducing basic income. Otherwise the pandemic can become a dead end for some people, which we must not allow. That is why we need solidarity, now!
Environment
While there is no end in sight to the COVID-19 pandemic, EU citizens are afraid and concerned about their own health and that of their families. The living conditions of many people have changed drastically and some are at the limits of their existence. The political answer to the consequences of the crisis must be to address the urgency of the health, social and economic situation. This answer must be directed towards an improved resilience of the economy with regard to crisis and the well-being of people and nature. Further research has shown that people in more polluted areas are also more affected by the COVID-19 pandemic. Therefore, we call on the EU and the national governments to look forward and take over a holistic approach to leadership right now by incorporating sustainability into all their decisions.
Youth Work
Closed borders, travel warnings, curfews and exit restrictions due to the COVID-19 pandemic currently pose major challenges for international youth work. Next to the many cancellations of physical meetings participants and volunteers abroad are sometimes returned to their home countries and then end up in difficult conditions. These consequences can cause stress, job loss and isolation among young people. It is particularly these young people who are actively helping to shape the future. Once we are able to continue our youth work, it will be needed more than ever. We should learn from this crisis that we all take part of and create the necessary infrastructure for a more sustainable youth work.
Youth work is the basis for personal development of young people whether at national or international level. Young people need these spaces in order to learn and develop their personality freely. Therefore, organised youth work has been a firm component of the Naturefriends movement for 125 years. Youth work is one of the areas which is often disregarded in the discussion about help during the pandemic. This is fatal, because we need to invest in future generations. We call on the EU and its member states to maintain funding for youth work and to cover all unexpected costs (such as cancellations) without increasing possible own contributions, as well as to extend the duration of projects.
We demand full solidarity and support from the EU and the national governments. Help us and do not let the pandemic become a dead end. Show solidarity, now!