---
Khadija, Marica and Francesco, as ESC volunteers in the IYNF office, participated in the "On-Arrival Training Course" which took place from 5th to 8th February 2021 from 10:00 to 12:00 and then 14:00 to 16:30 by the Centre for International Cooperation in Education (Czech National Agency for Erasmus+ Youth and European Solidarity Corps).
---
14 young, ESC volunteers, working in different corners of Czech Republic from Azerbaijan, Croatia, Czech Republic, Denmark, Finland, Germany, Italy, Latvia, Serbia, Spain and Turkey met in an online space to spend four days together and explore volunteering experience through on-arrival training of European Solidarity Corps volunteers. The coordinators, who covered the topics in a flexible and enthusiastic way, were Katerina Martinkova and Honza Kolarg from Czech Republic and Robert Furiel from Slovakia. Marketa Benesova, representative of the National Agency replied to the volunteers' questions about the European Solidarity Corps and the volunteering period.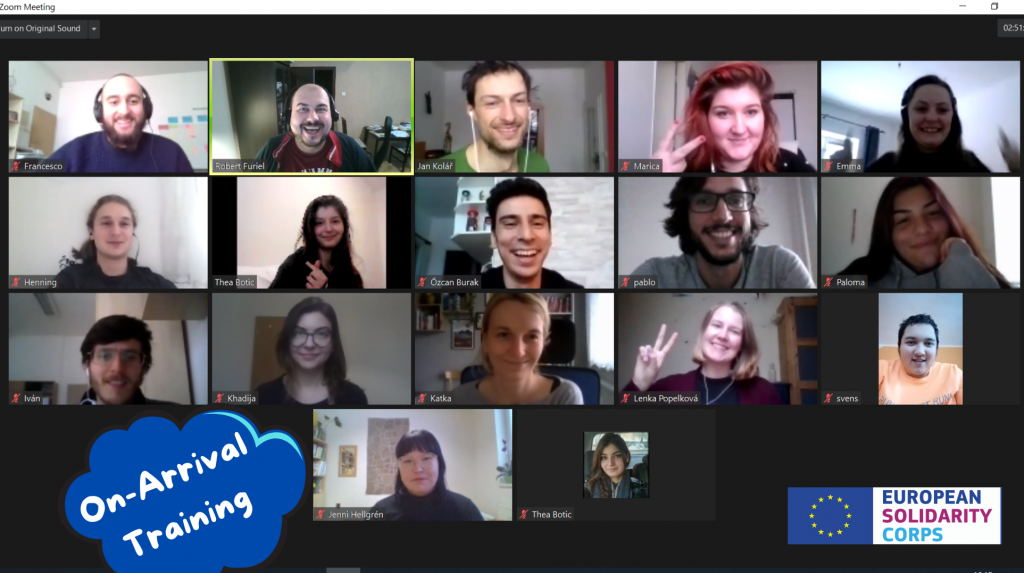 The main objective of the on-arrival training was to introduce the volunteers to the Czech Republic, preparing them for the service period and the ESC experience. On-arrival training helps the volunteers adapt to cultural and personal challenges. It allows volunteers to get to know each-other and to build a network. Volunteers should also receive guidance on conflict prevention and crisis management. – In the text below you can learn how was this experience for each IYNF ESC volunteer and their impressions.


Khadija Aliyeva, ESC volunteer
"Each day there was an optional "morning wake-up" session from 9.45 am and some days we were offered an optional evening programme. "Kolya" was one of the suggestions for the evening programme, and I really enjoyed watching it. "Kolya" is a 1996 Czech drama film about a man whose life is reshaped in an unexpected way. The film was directed by Jan Svěrák and stars his father, Zdeněk Svěrák, who also wrote the script from a story by Pavel Taussig. This movie earned critical acclaim and won the Academy Award for Best Foreign Language Film and Golden Globe Award for Best Foreign Language Film.
During these days we exchanged our first impressions of the country, culture, language, as well as work and other experiences, presented and explained the current projects we are working on. There was also a chance to get to know each other well through various group activities and managed to meet the best ESC friends.
The on-arrival training was one of the best experiences during the ESC as we got information about the Czech realities, European Solidarity Corps, support in Corona times, and tools needed to have a successful ESC experience in Czech Republic. We did some workshops and activities, shared our passions, talents, hobbies and we even had the chance to explore the local communities and the goals for personal development Topics were addressed through a variety of methods such as discussions in large and small groups, reflection and assessment individually as well as in pairs or groups, theoretical input and simulations."


Marica Farini, ESC volunteer
"Before starting the On-Arrival training, I didn't know what to expect. I thought it would have been something boring with people keep talking and talking without involving the other volunteers. Instead, it resulted to be exactly the opposite. However, everything was extremely difficult because of the COVID pandemic situation which didn't allow the facilitators to set up the meeting in person. In spite of this, I enjoyed doing some games to meet the volunteers, such as when we had to find 5 things in common or the one where we had to present the talent we had. I discovered very interesting hobbies and cultural facts about different people coming from all over the world. For instance, I watched a guy playing the ukulele, which was something I have never heard about before. Additionally, another aspect of the training that I really liked was the workshop about the Czech traditions, held by one of the facilitators.
During this workshop, I learned about Czech National holidays, food, and history which made me feel more involved in the culture and traditions of this country. Then, I also appreciated the creation of a sheet where we could put all our contacts in order to meet again and I'm definitely sure I will meet with some of the guys in the future, not sure if in Prague or somewhere else in Czech Republic. Of course, if the COVID pandemic allows us to do it. Overall, I enjoyed the on-arrival training since it has been a very good way not only to meet new people who are doing the same thing as I but also a helpful means to be informed about what is going on in Czech Republic, its culture and traditions."


Francesco Mangiarini, ESC volunteer
"The four days of On-Arrival Training were really informative and helpful, the tools used by the facilitators helped us have a clearer vision on our ESC volunteering project and clarify all of its technicalities. On top of this, we also got the chance to meet other volunteers who are now in the Czech Republic and create a nice and friendly group that I am confident will stay together and support its members until some of the restrictions are lifted and we are able to safely see each other and enjoy some free time in company.
The non-formal education approach used by the facilitators of the National Agency allowed every one of us to participate actively to the training and contribute with our own knowledge and suggestions, while making activities friendly and fun as well as useful. The training was held online via Zoom and despite some little technical problems, all the activities were smooth, and the other tools used (Google Drive, Google Docs and Google JamBoard) worked well and added a graphic aid to the oral nature of the activities. After last week's experience I am really looking forward to the mid-term training in June, which, although the Zoom experience was in general a positive one, I hope will be held in person instead of online. In conclusion, after the On-Arrival Training I feel more knowledgeable, prepared and excited for my volunteering year, knowing that I have all the tools I need to solve any problems that I should face."