About one billion pieces of clothes are lying in our wardrobes without being worn. Even more are thrown away every year, about 29 kg per person!
But what to do with those clothes that are just boring after some time?
On 22nd April was Earth Day, a day to reflect on our behaviour and a day we of IYNF chose to show you some cool ways to give new value to your old t-shirts, sweaters and cotton bags!
With our PIMP YOUR SHIRT Workshop!
The topic of this year was "Trees for the Earth" – we asked the participants to be creative and think of what that could mean for their shirts. Everyone was creative – and here is the result: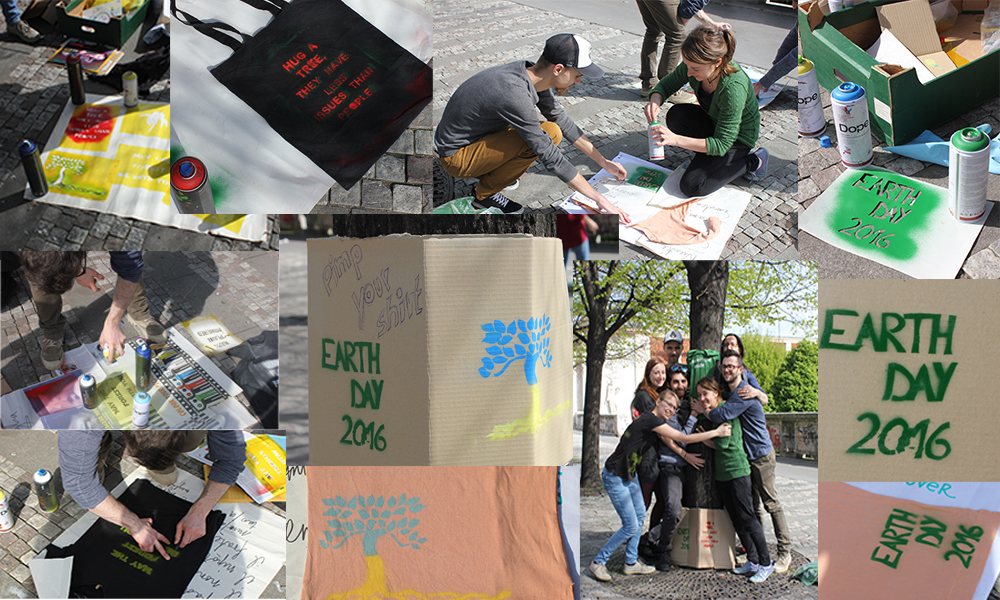 But what exactly is Earth Day?
The first Earth Day took place on 22nd April 1970 in America as a demonstration for a healthy, sustainable environment. 20 million Americans protested against pollution, waste of resources and loss of wilderness.
Since then the Earth Day Network has been working to become one of the biggest environmental movements in the world.
Now, 46 years later and coming close to its 50th anniversary the Network has started a big campaign aiming to plant 7.8 billion trees until 2020.
Earth Day is more than one day, every day we should work for our planet Earth and make it a good place to live in. The 22nd April is a day to raise awareness and we used this opportunity, but we want to encourage you also to think of ways how you can contribute to this aim and to visit the homepage of  Earth Day Network.