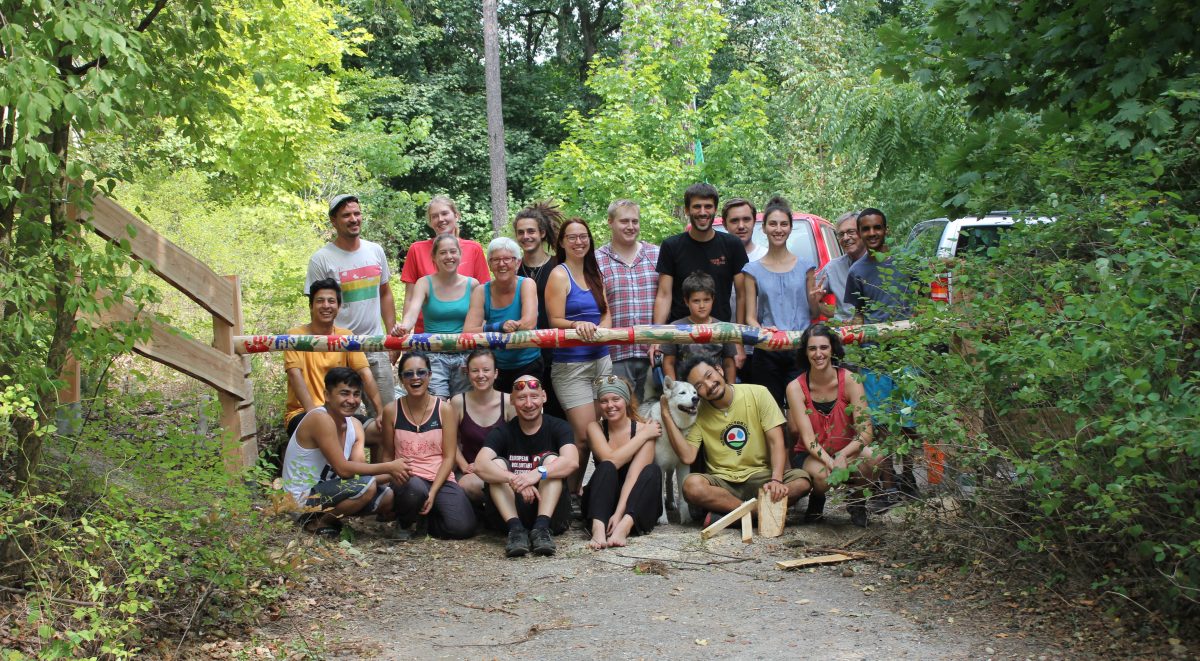 By Miriam Candelas, EVS volunteer
This has been one of the best activities I ever attended with IYNF. During a week, theory became practice. After addressing concepts such as inclusion, migration and solidarity last year and part of this, we could finally put in practise these words. From the 22nd to the 30th July, a group of 28 people coming from different countries and backgrounds, included some refugees living in Germany, worked together to help in different repairs of the Naturefriends house of Nierderrad in Frankfurt.
Not all of us speaking English and German, we overcame language barriers and just a few days were enough to start friendship among us. Under extreme weather conditions (around 37ºC), laughs, jokes and good mood were always present. We could experience the power of intercultural and border-free of smiles.
Participants arrived slowly during Sunday, coming from Georgia, Turkey, Japan, Russia, Germany, Spain, Poland, Latvia, Syria, Afghanistan and Eritrea. Playing some name games and icebreakers, the laughs already started. After the long trips for most of us, we went early to bed to rest and be ready for the next days.
I think this week we built something more than just a fence. We have created a multi-cultural team where guys from completely different corners of the world can speak common language and understand each other and where there is a place for migrants and refugees – Natalia, participant from Russia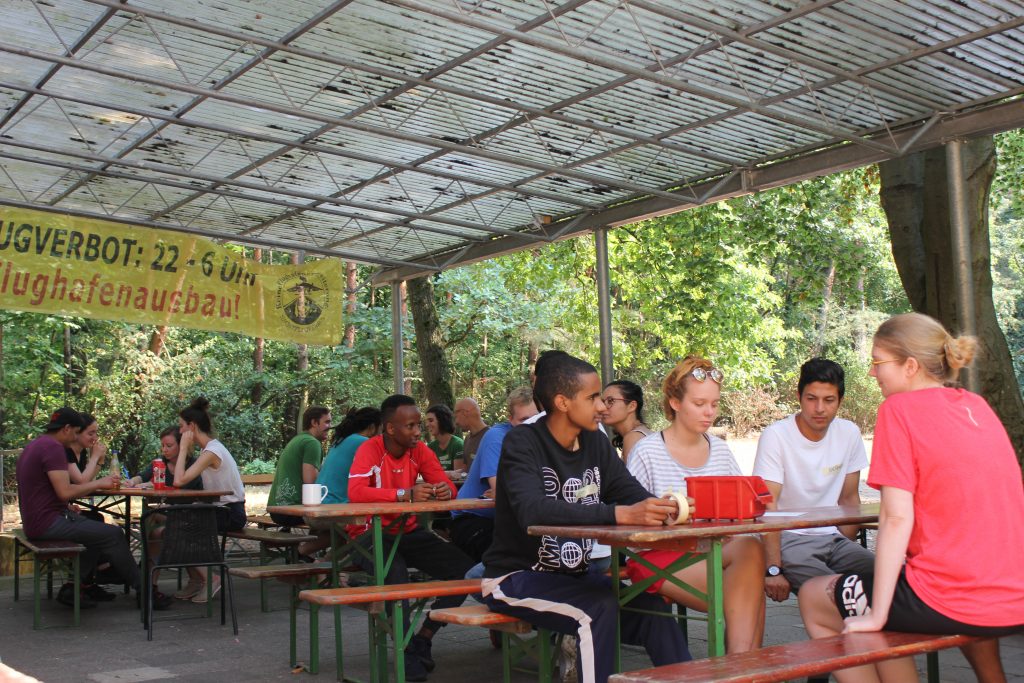 On Monday we started with team building games that helped us to build trust between each others and also established some common rules for the week including: enjoy, be in the moment, respect others and be language open among others. We all signed these rules in order to follow it during the week. After discovering some inputs about IYNF and safety rules, we finally started the physical work with one of the funniest moment: the demolition of the old fence and pizza oven! The high level of energy could be felt, because everyone was fast and working really hard. Felix, our constructor guide, was surprised about our work rhythm.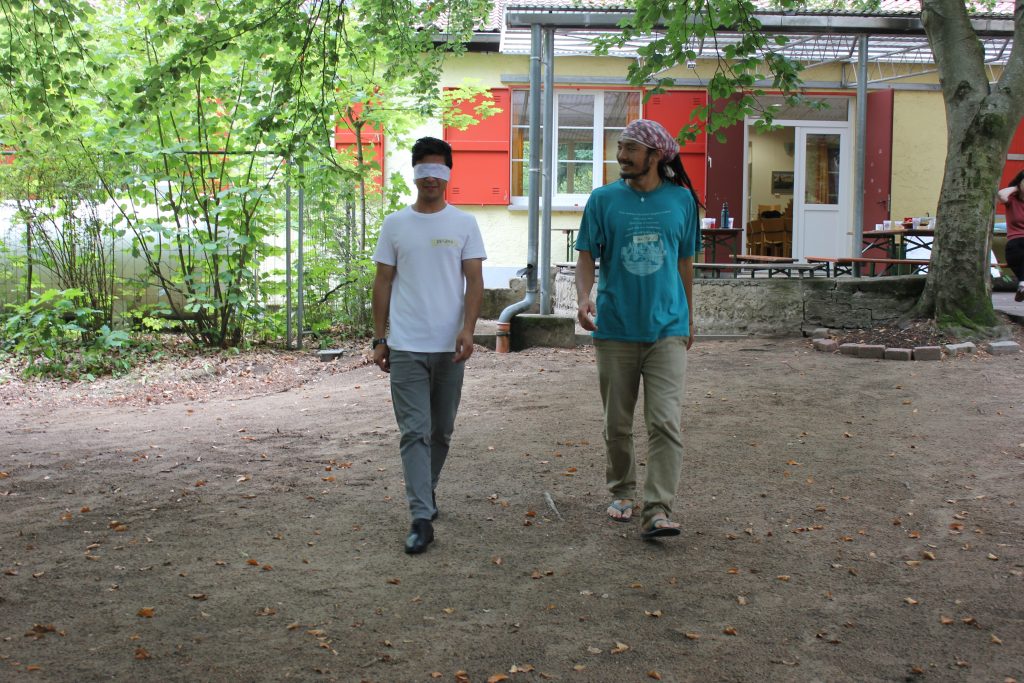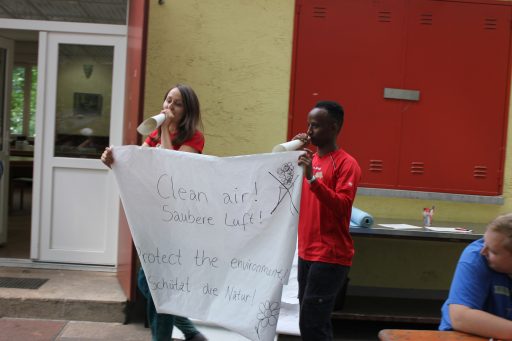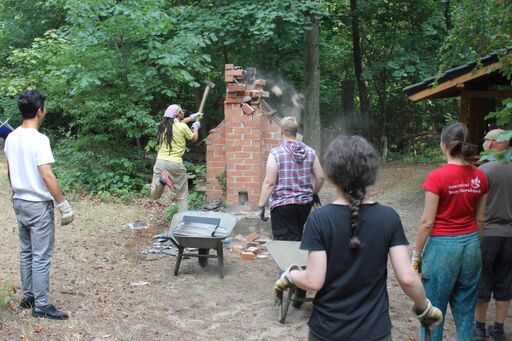 The next days we kept working hard and advancing fast. Every day we had the opportunity to choose which kind of work we would like to do: setting the fence, preparing cement, cleaning the area, painting the Naturefriends logo. This allowed us to see different steps of the work and changing from harder to smoother jobs when it was necessary. Hopefully, most of the time we were working under the trees, where we could enjoy some shadow and lower temperatures. We used signs and mixed words in different languages to communicate and understood each other. Thus, taking multiple breaks for drink and eat, we advanced at determined pace.
We also had the visit from our donors, and some of them even helped us with the work and participated in our games!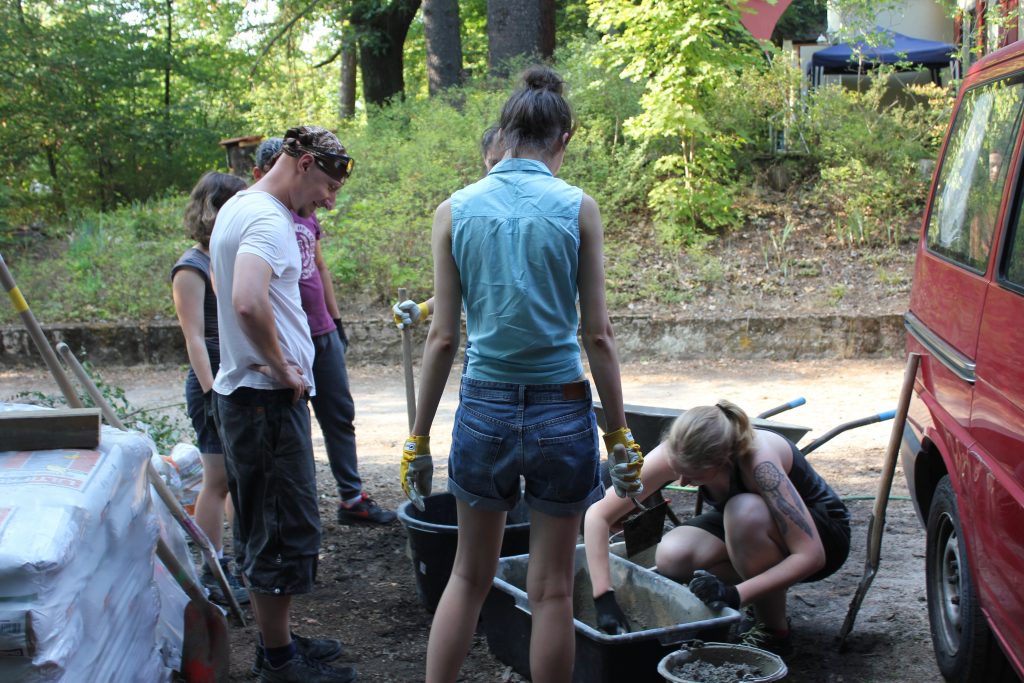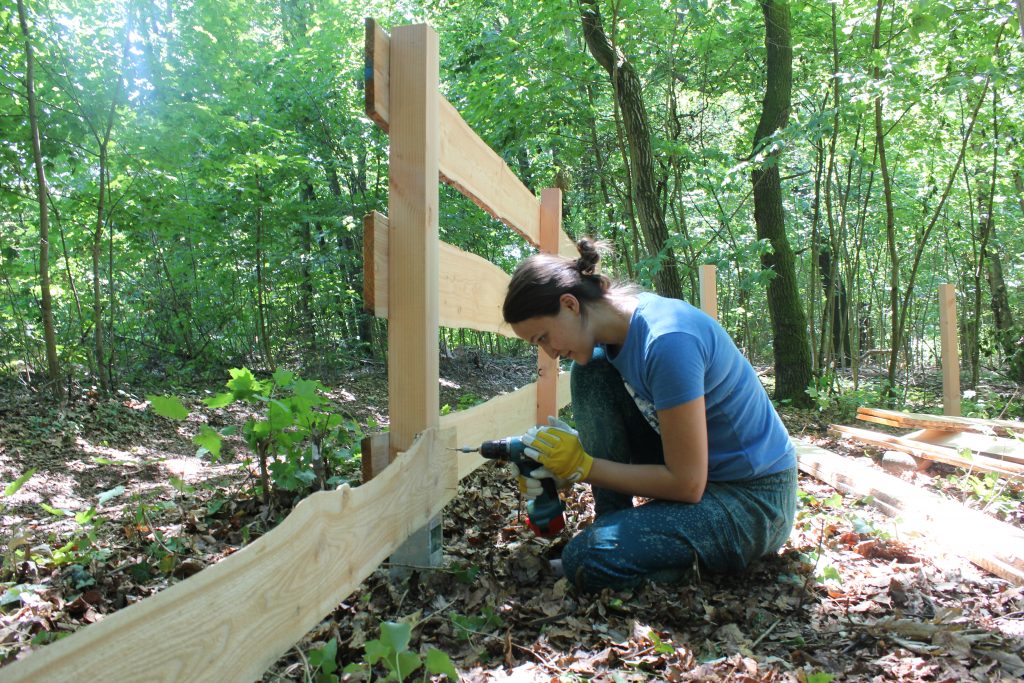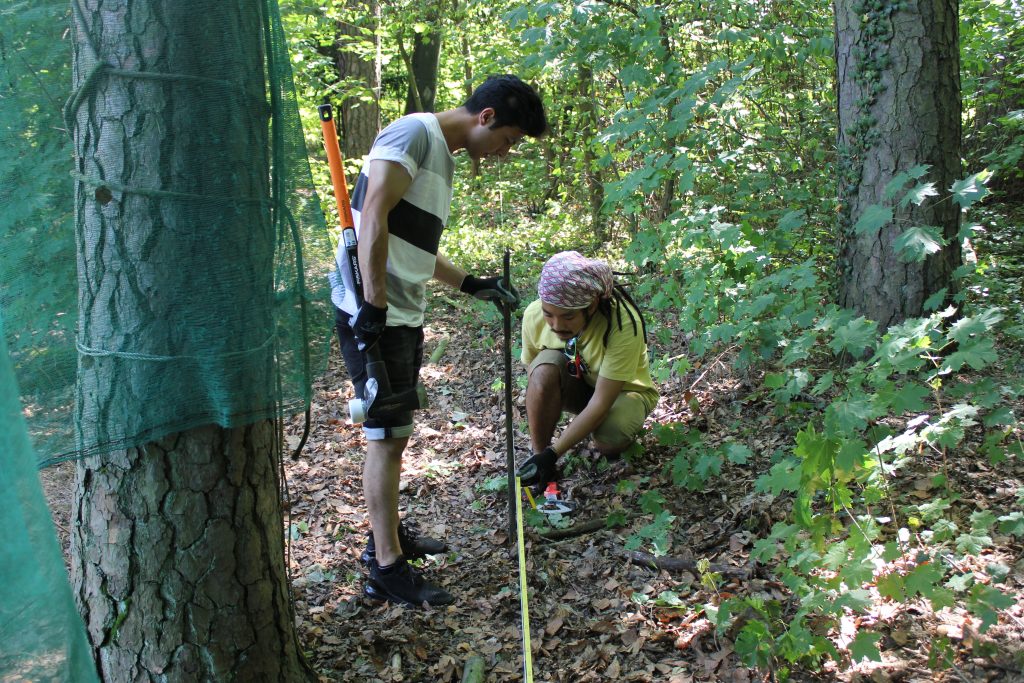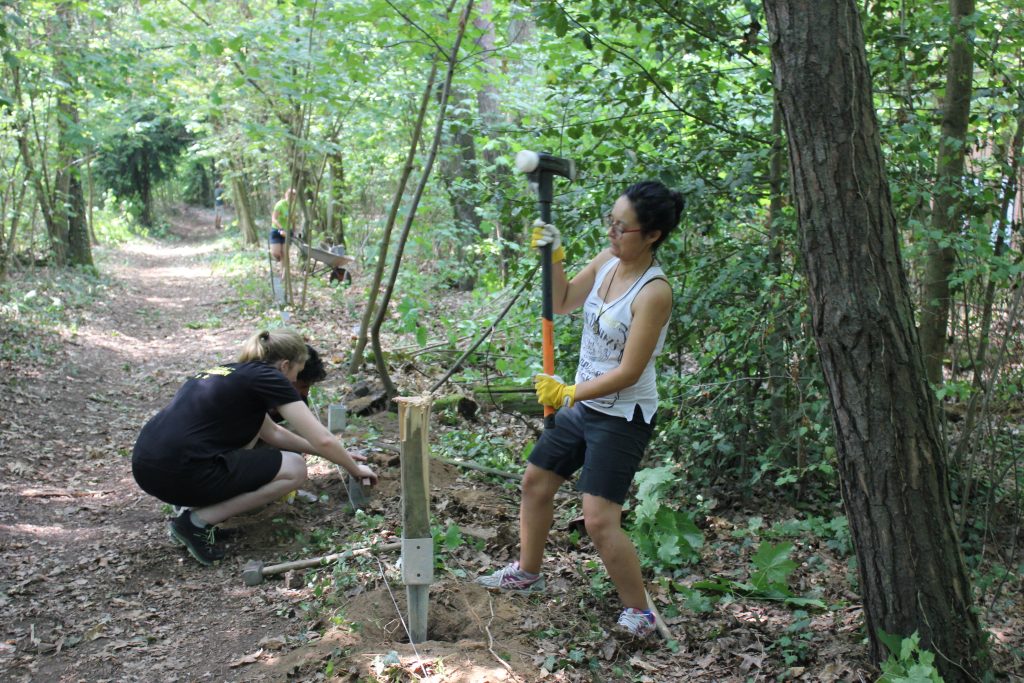 Next to work, a lot of things were also happening. We had the chance to visit an old Nazi and deportation prison, watched a documentary "The opposite of Grey" about local actions in Germany and enjoy summer festivals close to the river in Frankfurt. After visioning the documentary, an open space to share volunteering experiences followed, with discussion holding until almost midnight. Furthermore, during the breaks and evenings, we played football table, UNO cards and other games that allowed us to approached us and decreasing language or cultural barriers, letting us to know us better.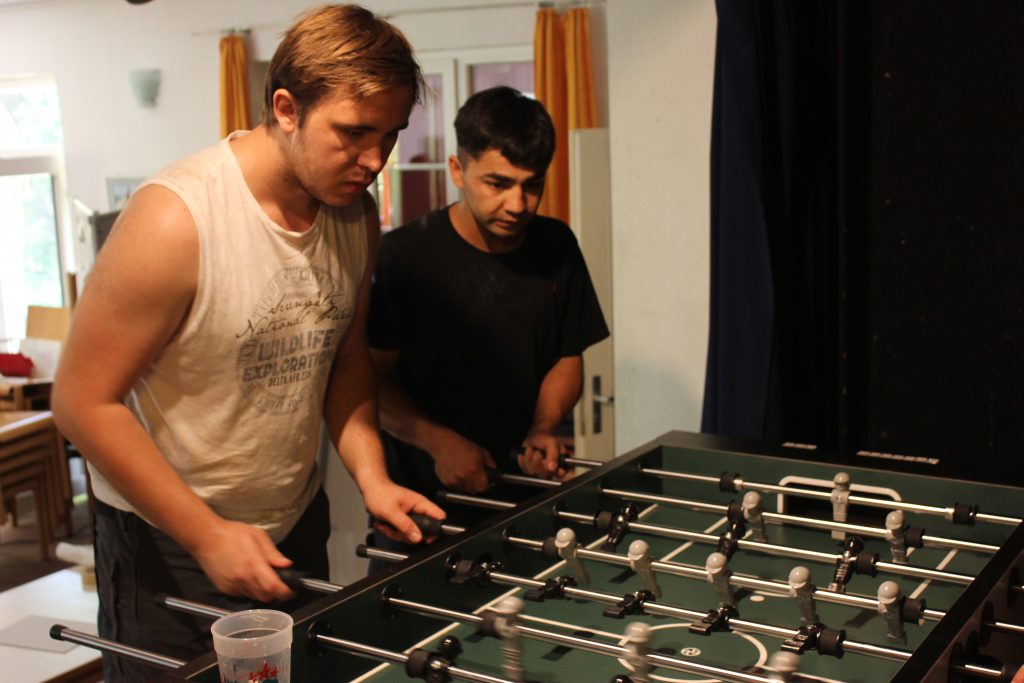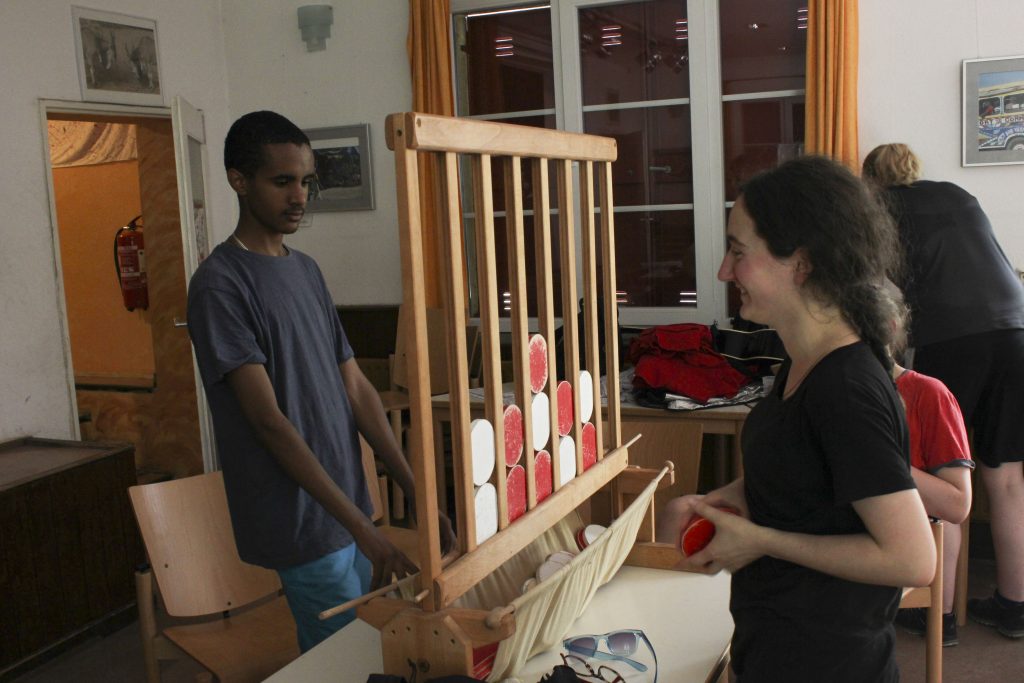 By the end of the week the tiredness was visible in all of us, but we kept active until the end! On Saturday we finished the "fench" (as Felix pronounce fence!) We decorated the wood entrance putting our hands colored in green, blue or red (colors standing for IYNF values). The evening we had the intercultural evening that started already during the dinner with some dishes coming from Spain, Frankfurt or Afghanistan. Later we danced typical dances from different countries, included Russia, Japan, Turkey and Afghanistan. Finally, accompanied by some members of Frankfurt Naturefriends, we sang and played the guitar.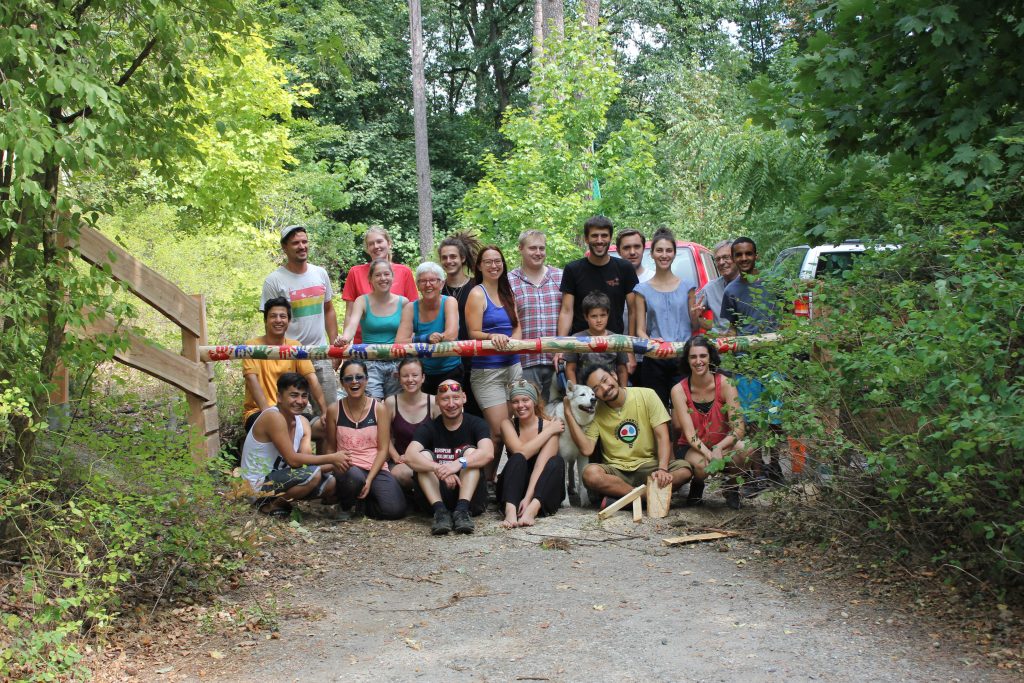 On Sunday we had a free morning. Some of us rested , while others visited the botanical garden. During the afternoon we had the reflexion session, which showed that all the participants were happy with the workcamp and the work done! On our last night, we played and had fun together once more.
One word also for our lovely kitchen team formed by Maria, Masha and Chris, that were cooking delicious food and taking care of us all the time.
The workcamp turned out to be just amazing. A great reason to get out of the comfort zone, learn to communicate with representatives of other countries and nationalities and create something with your hands – Natalia, participant from Russia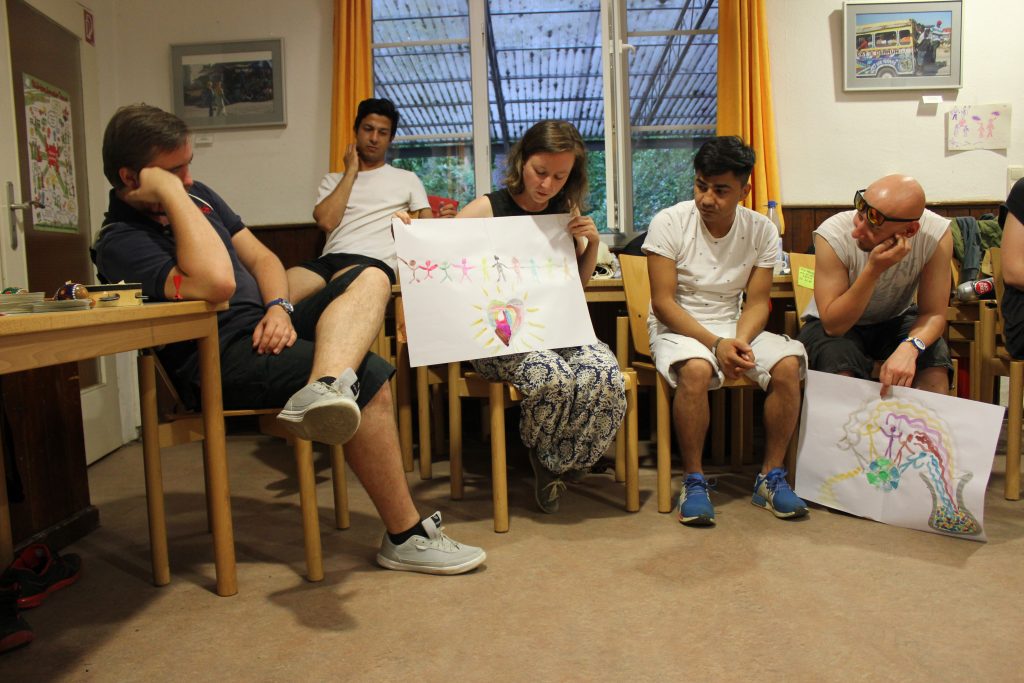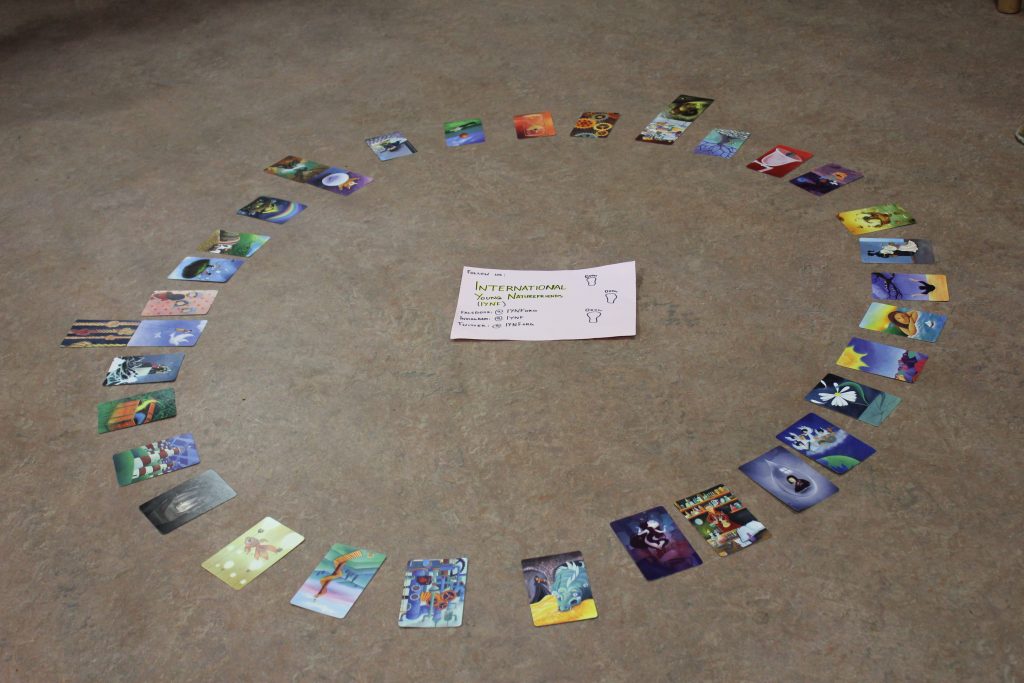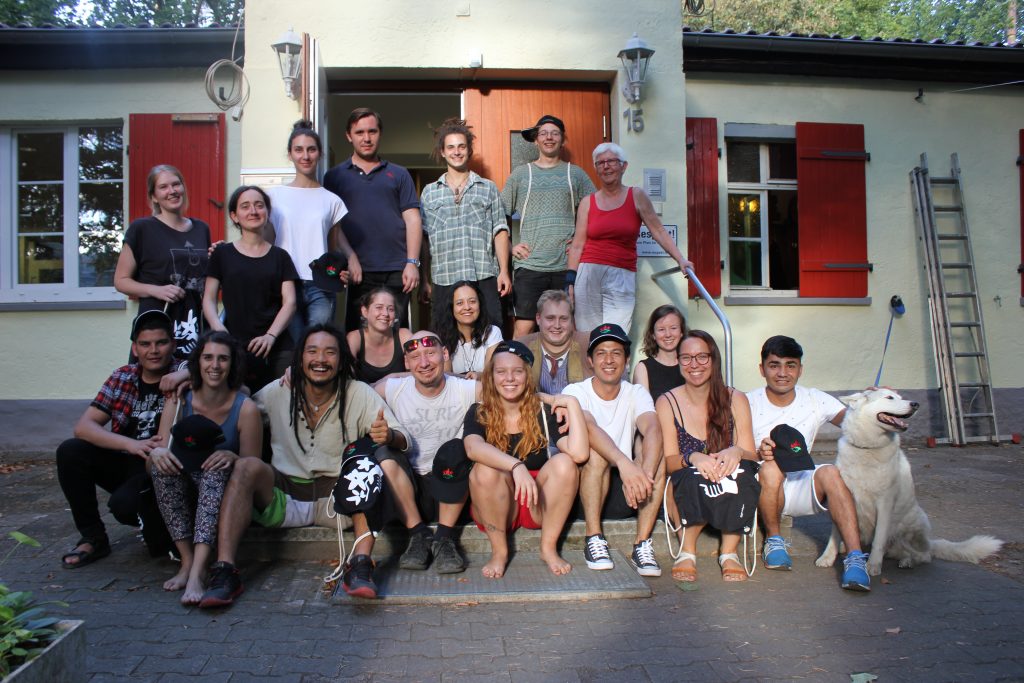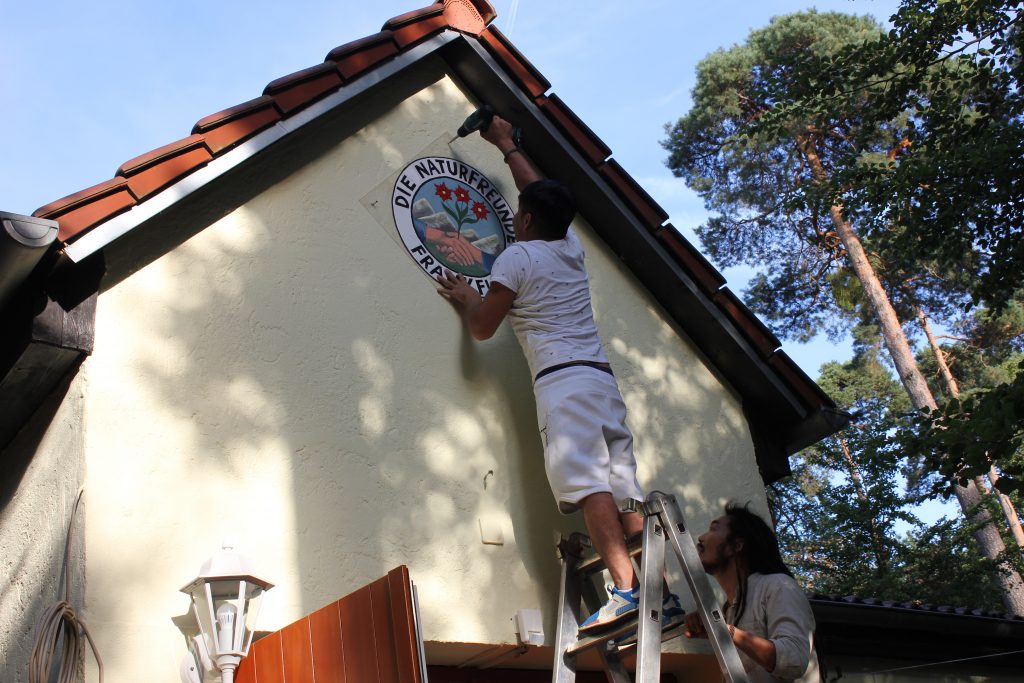 This project was kindly supported by the 'European Youth Initiative Fund' of the UNHCR and European Youth Forum.
---
My impressions on the workcamp
By Nataliya Askerova, participant from Russia

I have been studying the topic of the German migration policy for already three years. This summer I have decided to take part in the process of refugees' integration myself and it is for this reason that I applied for participation in the workcamp 'Hand in Hand'.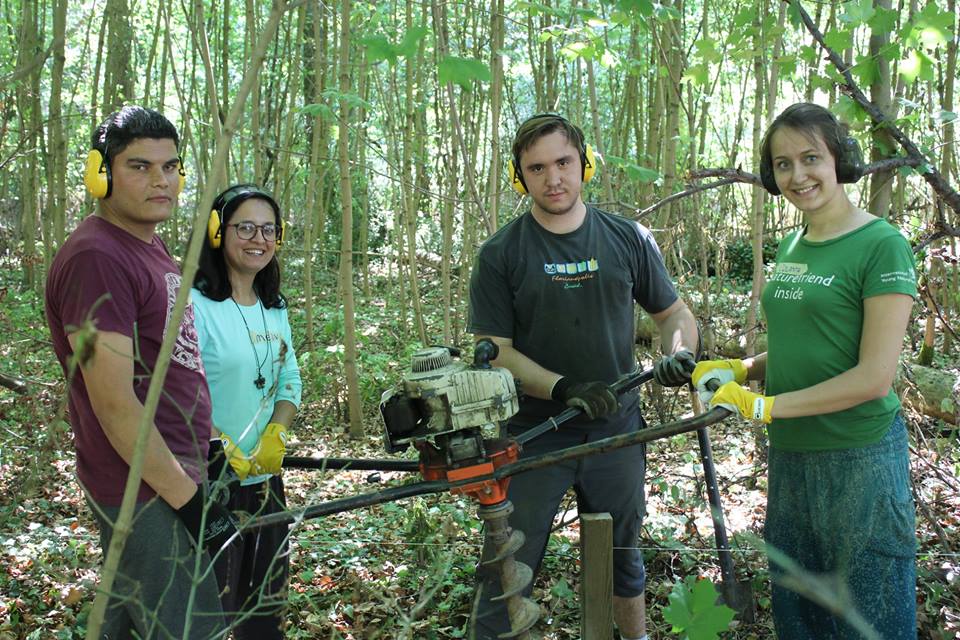 During the project I had an opportunity to work in a multicultural team, which means I got acquainted with international volunteers from around the globe – from Spain, Hungary, Poland, Japan, Russia, Czech Republic, Latvia, Turkey and Germany.
Together with the local refugees we worked on creating a better infrastructure around the Naturefriends house Niederrad in Frankfurt (Germany). Every day we had different construction activities such as preparing concrete mix, painting or screw driving, which we implemented hand in hand. It was particularly interesting for me to improve my knowledge of both English and German languages because some participants spoke only one language and needed some sentences to be translated for them. A week later we succeeded to understand each other regardless of the language we speak.
Besides our building work, we had a lot of team-building games and intercultural activities. During an intercultural dinner all the participants could taste different ethnic foods. During our free time, we managed to visit a summer festival in the centre of Frankfurt and saw how the local youth entertains itself.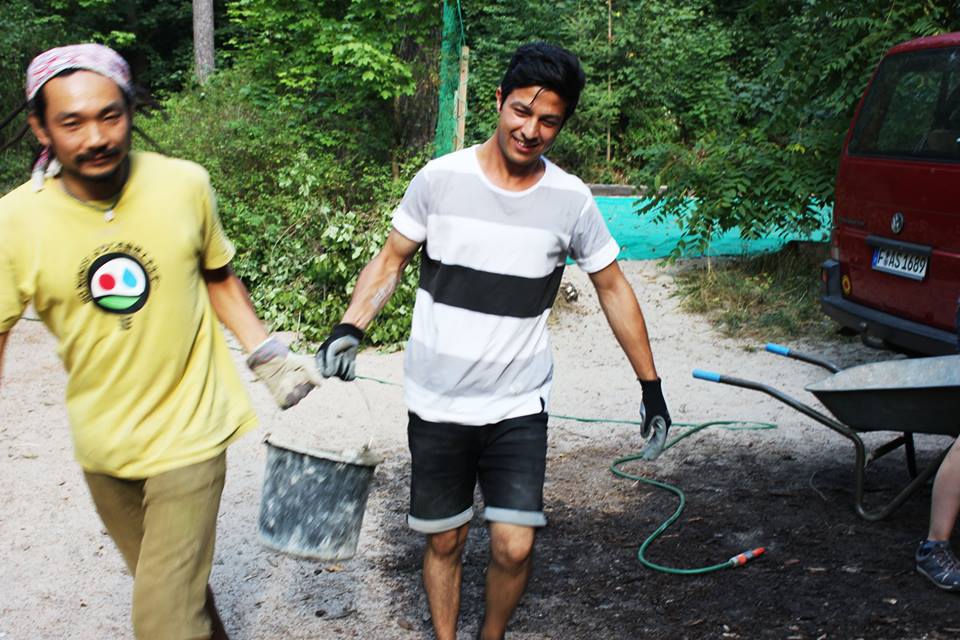 In the evening we played different table games or went to the city centre to chill out together.
The results of our collaborative work were a new fence, renovated territory around the house and a painted IYNF symbol. However, as far as I see it, we have managed to create something much better than a renovated infrastructure – we have learnt how to overcome language and cultural barriers, to work jointly in a single multicultural team and speak a common language. And this is the most important result of the workcamp.
I hope, in future there will be even more projects like this, where representatives of different nationalities could work together with migrants in order to make they process of integration smoother and less challenged and help them become an organic part of a new society.
(German version)
Meine Eindrücke vom Workcamp 'Hand in Hand'
Drei Jahre lang habe ich mich in meiner Forschung mit dem Thema Flüchtlingspolitik Deutschlands beschäftigt. Diesen Sommer habe ich entschieden, am Prozess der Integration von Flüchtlingen in die Gesellschaft selbst teilzunehmen. Aus diesem Grund habe ich meinen Teilnahmeantrag für das Workcamp 'Hand in Hand' im Naturfreundehaus Niederrad in Frankfurt mit Freude gestellt.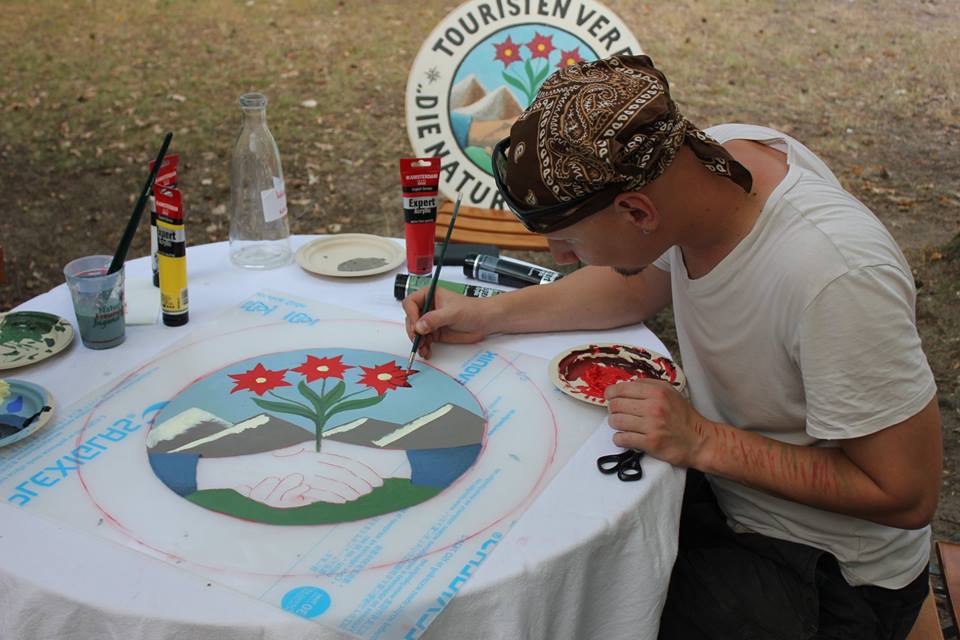 Während dieses Projekts wurde ich in einem multikulturellen Team aufgenommen und konnte Freiwillige aus allen Ländern der Welt treffen – aus Spanien, Ungarn, Polen, Japan, Russland, Tschechien, Lettland, Türkei und Deutschland. Wir hatten die Möglichkeit, zusammen mit den lokalen Flüchtlingen in einem Team zu arbeiten und etwas aufzubauen. Jeden Tag hatten wir viele Bauaktivitäten wie Betonmischung, Verschraubung oder Malen, die wir Hand in Hand bewältigten. Für mich war es besonders interessant, nicht nur Englischkenntnisse, sondern auch Deutschkenntnisse zu trainieren, weil manche Leute nur eine Sprache konnten, brauchten sie deswegen eine Übersetzung. Nach einer Woche unserer Zusammenarbeit gelang es uns, sich in jeder Sprache zu verstehen.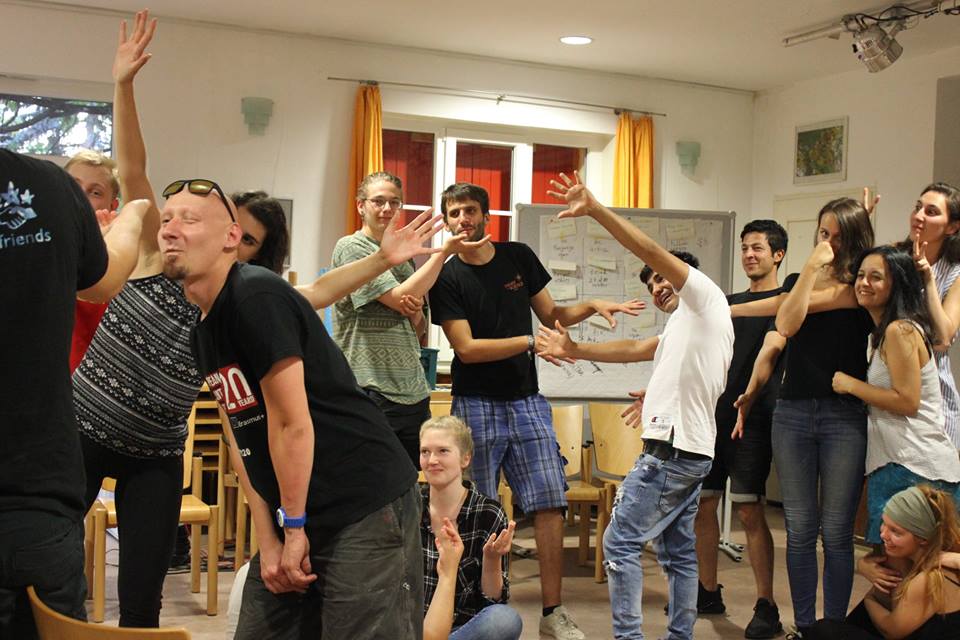 Neben den Bauarbeiten hatten wir täglich eine Reihe von Teambuilding-Aktivitäten sowie Praxis der interkulturellen Kommunikation. Während eines interkulturellen Abendessens konnten alle Teilnehmer nationale Gerichte verschiedener Länder und Völker probieren. In der Freizeit haben wir auch ein Sommerfest im Zentrum von Frankfurt besucht und selbst gesehen, wie sich die lokale Jugend unterhalten lässt. Abends spielten wir am meisten Brettspiele, die uns viel Spaß machten, oder machten gemeinsame Spaziergänge durch die Innenstadt.
Die Ergebnisse unserer gemeinsamen Arbeit waren ein neuer Zaun, ein umgrenztes Gebiet um das Haus herum und ein gemaltes Emblem von IYNF. Aber aus meiner Sicht, haben wir etwas mehr als eine Infrastruktur aufzubauen geschaffen – wir haben es gelernt, sprachliche und kulturelle Barrieren zu überwinden, in einem interkulturellen Team einig zu arbeiten und eine gemeinsame Sprache zu verstehen und zu sprechen. Und das ist das wichtigste Ergebnis dieses Projekts.
Ich hoffe, dass in Zukunft viele ähnliche Projekte organisiert werden, wo die Vertreter unterschiedlicher Nationalitäten dazu zusammenarbeiten könnten, Migranten und Flüchtlingen reibungslos in die Gesellschaft zu integrieren.