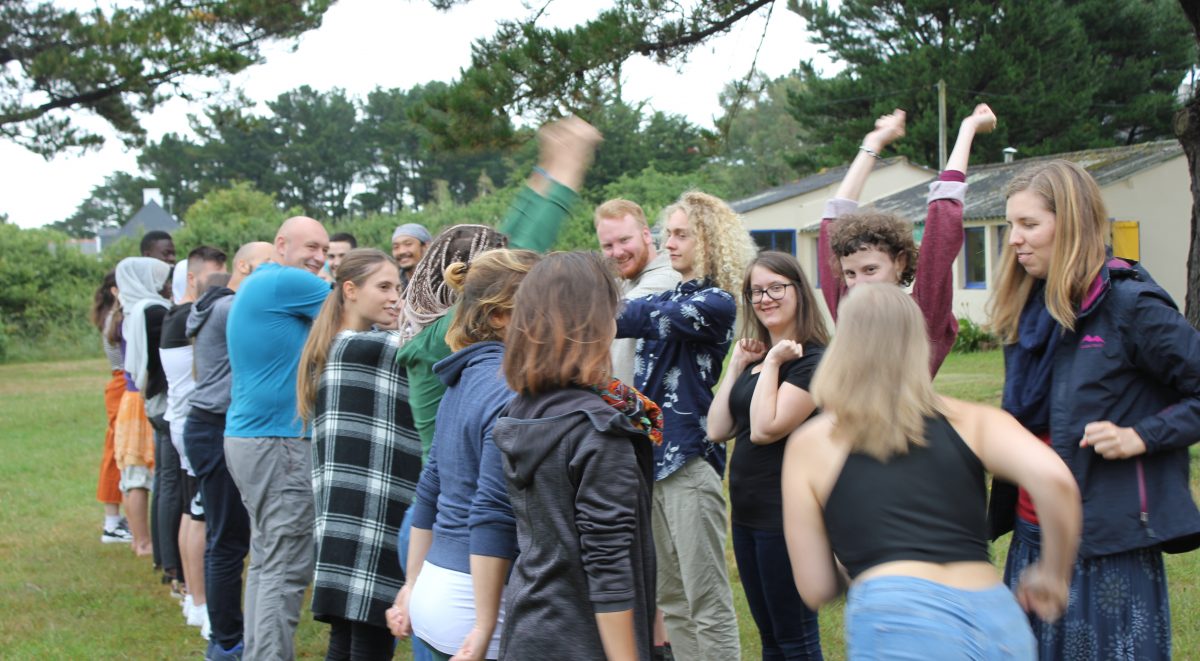 By EVS volunteer Anna Luīze Bērziņa
June 23. was a special day, a day when in Naturefriends house Le Loguy in Penestin gathered 35 young activists to work on their project ideas. While the road to get there wasn't the easiest one, the reward was instantly apparent – a beautiful white beach with seashells and very few tourists – definition of a small paradise.
As one of the people both preparing and participating in this training, I arrived early and left late, making me one of the few people to see the flow in this charming space. It was my first time personally to stay in a Naturefriends house and I was blown away by how self managed it was and how welcoming Naturefriends were. Before the activity started something unexpected happened – a french Naturefriends guest approached me to teach his knowledge of Tibetan movements and way of life that flowed through conscious and relaxed breathing as if being a tree. This connection to nature already the first day of being there was awe-inspiring and with this feeling we can start the week of Structures of Activism.
The training course "Structures of Activism" was constructed in a way to make individual project ideas grow authentically through connecting with the other participants. First few days were mainly devoted to teambuilding and inspiration that transformed into defined teams and concrete projects. I was delighted to see my own small idea be recognized as valuable by others and them wanting to implement it with me. One of my biggest takeaways was that the original dream idea doesn't matter as much as the people who join you. First follower is more important than the leader, only through following there can be a movement even if the idea changes. My idea changed and grew and you know what – it is our idea now! I am grateful for the people who joined me in making our project called Sustainable Activism. The project aims to build resilience, promote good practices and also identify and remove bad practices on the individual and collective level in terms self- and community-care in an activist group. As well as normalize addressing and dealing with mental health and toxicity on a personal and collective level. I saw many ideas change and people finding their way among others. But I can't neglect the courage some displayed in sticking to their original idea as they were so passionate about it even if others didn't join.
Throughout this intense week of continuous teambuilding and project development the nature around Penestin never ceased to amaze me with morning and evening walks, seeing jellyfish bigger than a tote bag and best of all – skinny dipping among bioluminescent plankton. It had been a dream of mine to see glow in the dark plankton since I saw it in a movie, but thought it was well edited and enhanced. I was mistaken – it is glorious in real life and that is still an understatement.
A highlight of this training was the opportunity to get IYNF funding for the projects developed there. It was empowering to see projects come to life and others supporting you with kind words, feedback and investing in your project. There are no excuses to not make it happen! I also want to thank not only the authors of the ideas, but also the trainers. I appreciated the way they approached us as equals during the whole training course. Being on time was not stressed, but silently nudged with a sign or a whisper saying "5 minutes" rather than a shout across the room. I feel like this kept the group focused on the task at hand rather than switching to fear for time. Not to mention the amazing chemistry between the trainers felt at all times as they didn't miss a beat when switching from one trainer to the next between activities.
The ultimate culmination of the training was not the awaited funding ceremony, but rather the final evaluation of the whole training course where we got tiny bags of seeds for us to plant and to see them grow just like our ideas had grown into concrete projects in a matter of a week… And then we ran to the beach to throw around Holi colours all over each other!
Being one of the last people staying in Le Loguy from the training, it was a pleasant journey to see how much life participants of Structures of Activism brought there. Reminding me of the possibility of intergenerational solidarity that took place in Le Loguy with IYNF and Naturefriends International side by side.
P.s. The Holi colours were natural colours based on potato starch.