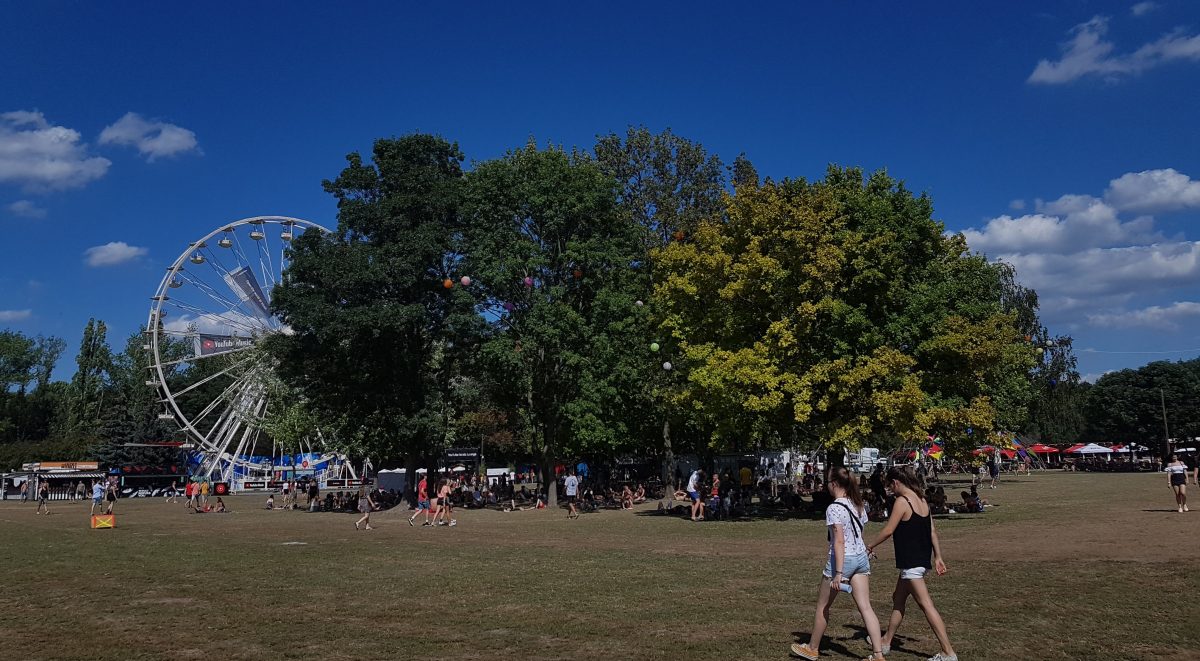 By Anna Luīze Bērziņa, EVS volunteer
3 years have passed since IYNF went to Sziget and it sure has grown since then. Sziget is now recognized even more as a music festival that hosts big artists like Ed Sheeran, Florence + The Machine, Martin Garrix, Foo Fighters, Macklemore, The 1975, Twenty One Pilots and many more.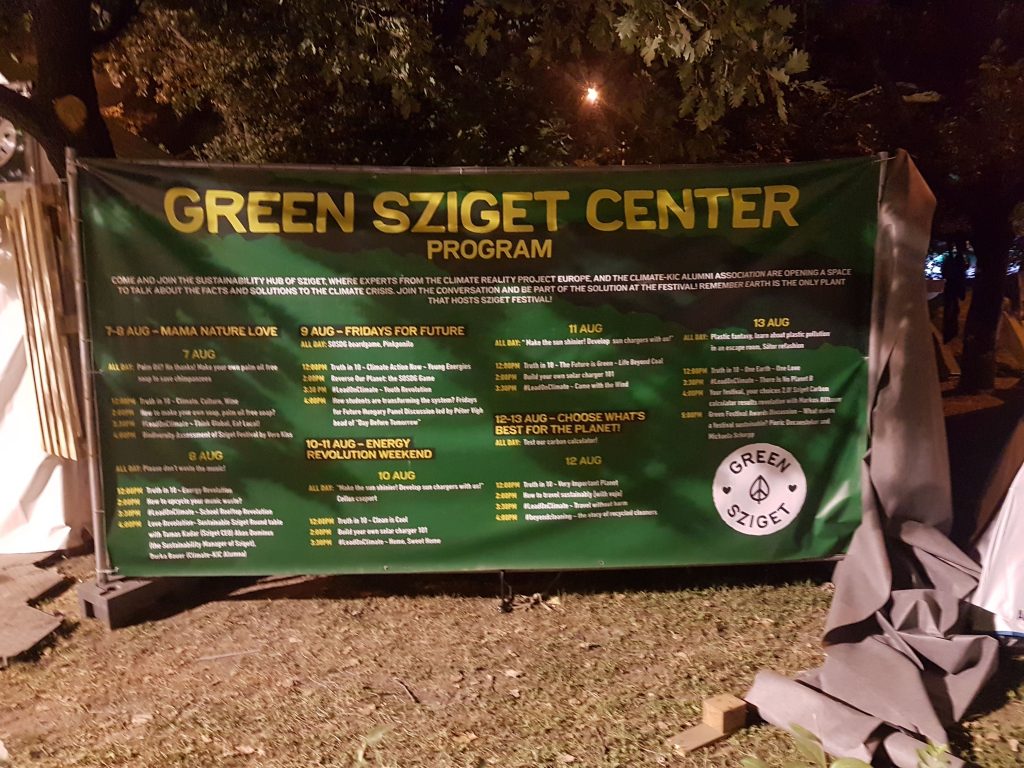 This year they have made a lot of effort to be more environmentally friendly, like, more recycling places, hosting climate activist talks, offering places to green organizations like us etc. You can check that out more here about the green initiatives at Sziget https://szigetfestival.com/en-int/greensziget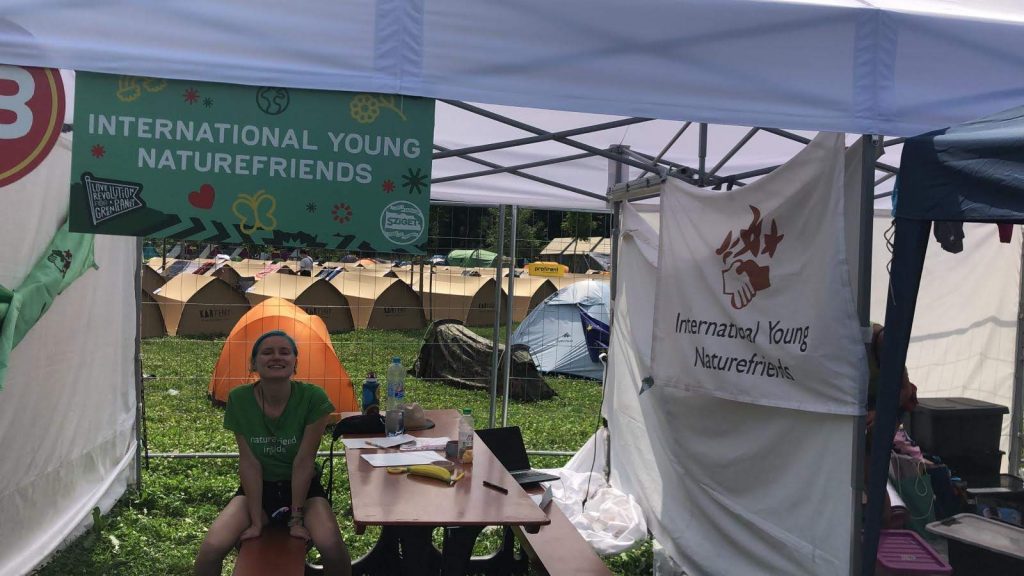 Organizing this activity was one of the tasks of our EVS volunteer Anna Luize, who researched what is most needed in this festival to reduce its waste. One of the biggest problems the festival stated on the news beforehand was cigarette butts. Portable ashtrays are common sense in hippy festivals, but in Sziget this is the first year they were available even though we never saw them in reality. Thankfully there is no need to purchase such things as you can make one easy-peasy-lemon-squeezy on your own by using just a tetrapak. And if you don't smoke – it can be a water resistant wallet!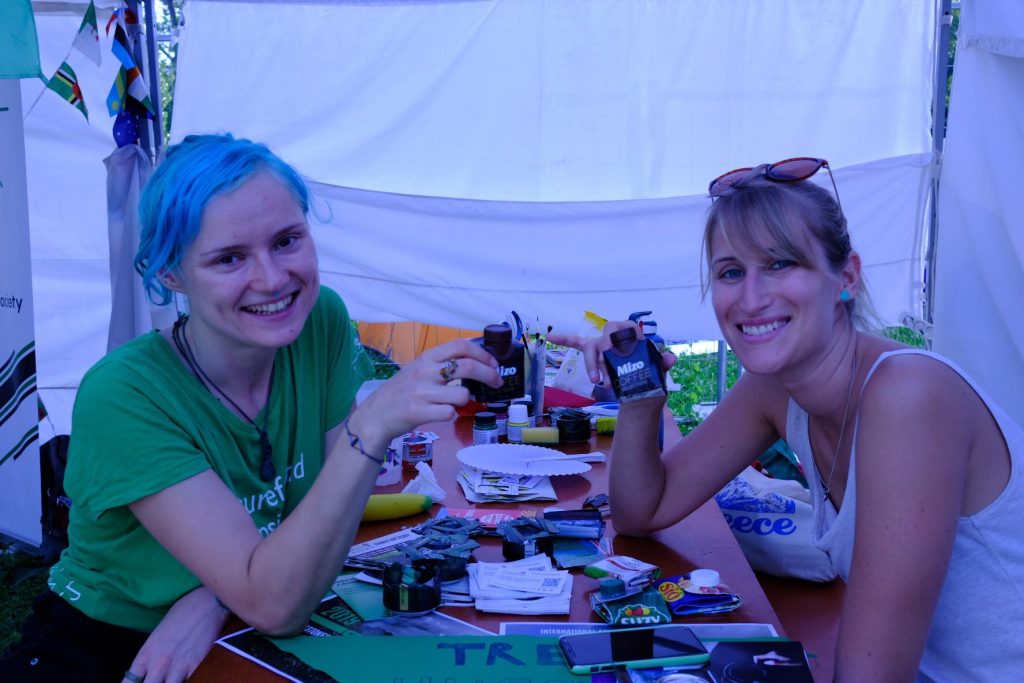 Upon arriving at the festival we realized that there is more trash than expected. Sziget Festival is trying to reduce its waste by selling hard plastic reusable cups that can be exchanged to clean ones at the bar. In addition to that though there were a LOT of beer cans that were being stepped on after each concert. But IYNF wasn't just complaining – we upcycled cans into stationary ashtrays, small trash bins or a general containers.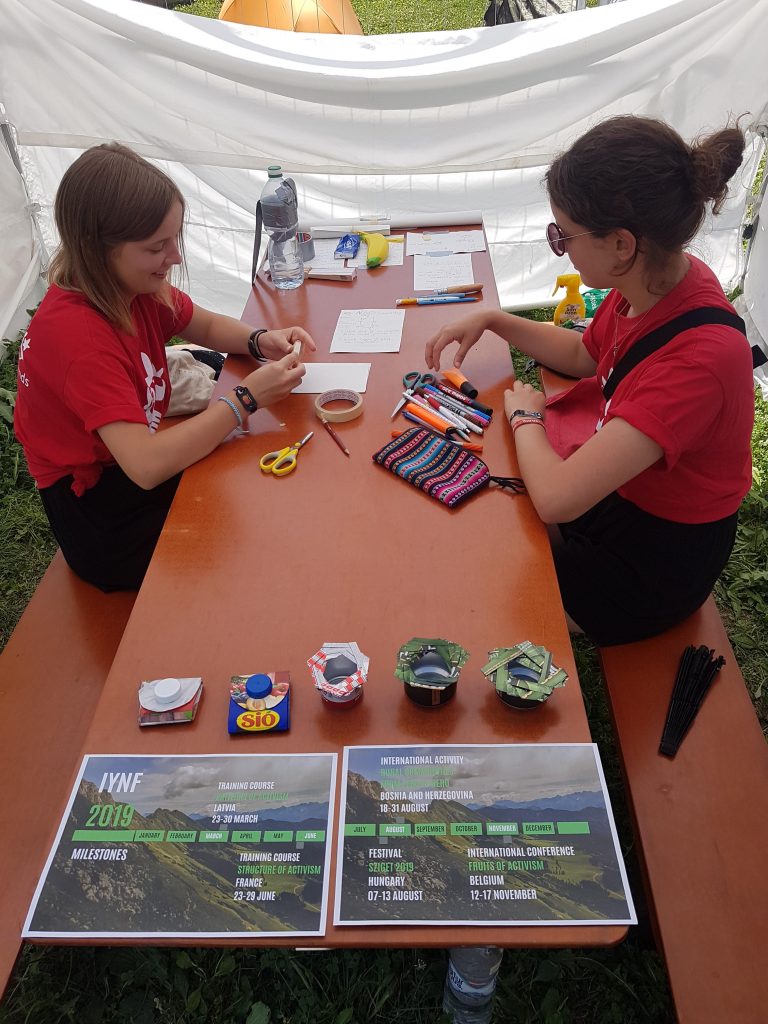 IYNF also wanted to educate the festival visitors about their daily impact and especially their transportation to a festival like this. So our creative Secretary General Sina Franz made an interactive exhibition with IYNF's infographics. And as expected – a lot of people flew to Budapest, but there were also a lot of people taking a bus or train from different parts of Europe as well as Hungarians from Budapest who just used local public transport.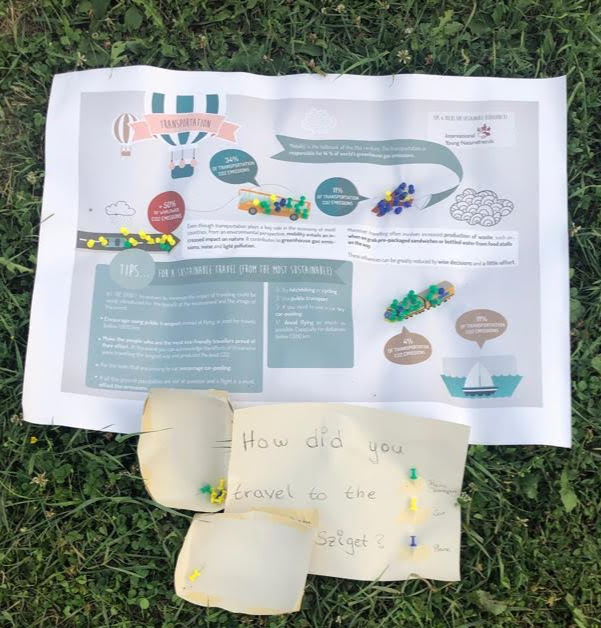 Our EVS volunteer Esma Çakır and Financial Coordinator Anna Mayfat joined us later in the event with colours to decorate festival outfits and a Kahoot! Quiz to test the knowledge of festival visitors about their environmental impact. Needless to say, no one beat Anna's score.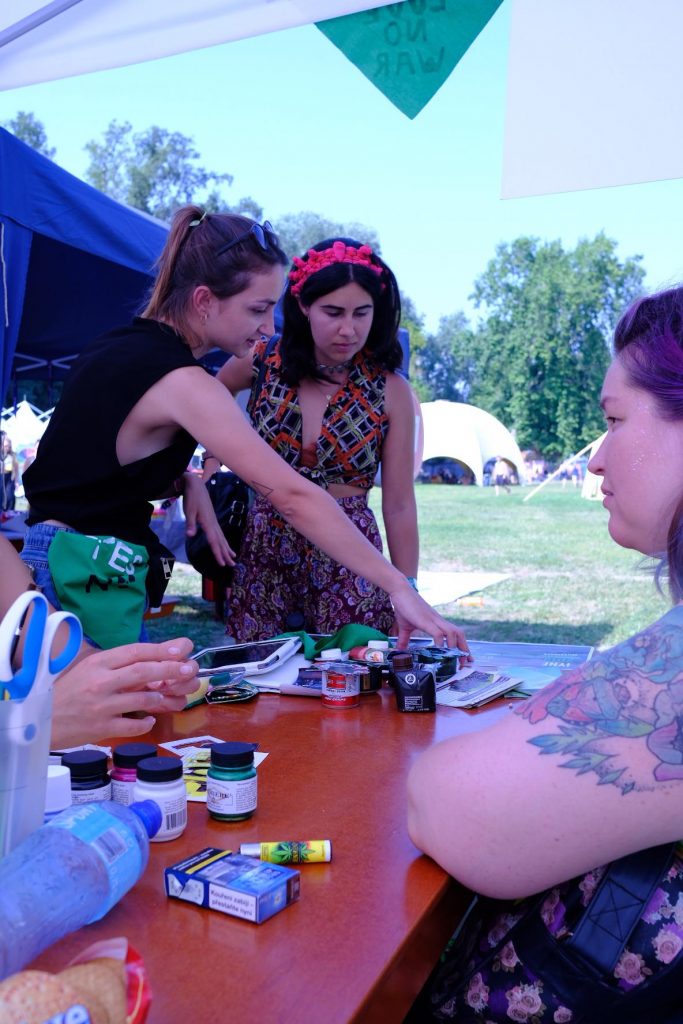 We admire Sziget for supporting NGOs and green initiatives, but the reality is that there is still so much to improve if we want festivals like this to continue in the future. If they use big statements like "Love Revolution", "Island of Freedom" and "Green Planet" – why can't we attribute that not just to one another but also Mother Earth we inhabit and in this case literally the Island (Sziget means island in Hungarian) it is on? We believe it is not the place for the festival to install more recycling bins, but rather change the culture of the festival – take care of what you bring and take it away when you go back.
But IYNF office didn't just make things at the NGO island, we also had fun ->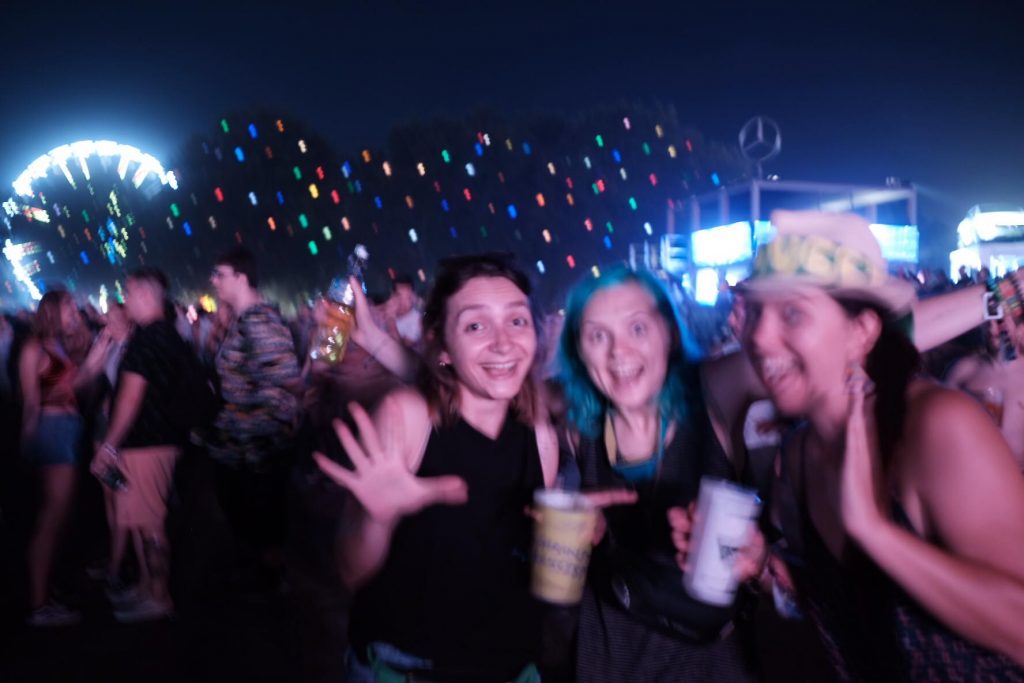 Thank you to all the people who were there to help us with our stand at Sziget, it wouldn't be possible without you!
Sina Franz
Anna Luīze Bērziņa
Esma Çakır
Anna Mayfat
Lena Lotte Nytz
Charlotte Borghorst
Eva Candelas Serra
Valentina Várhelyi
Zoltán Lehoczki