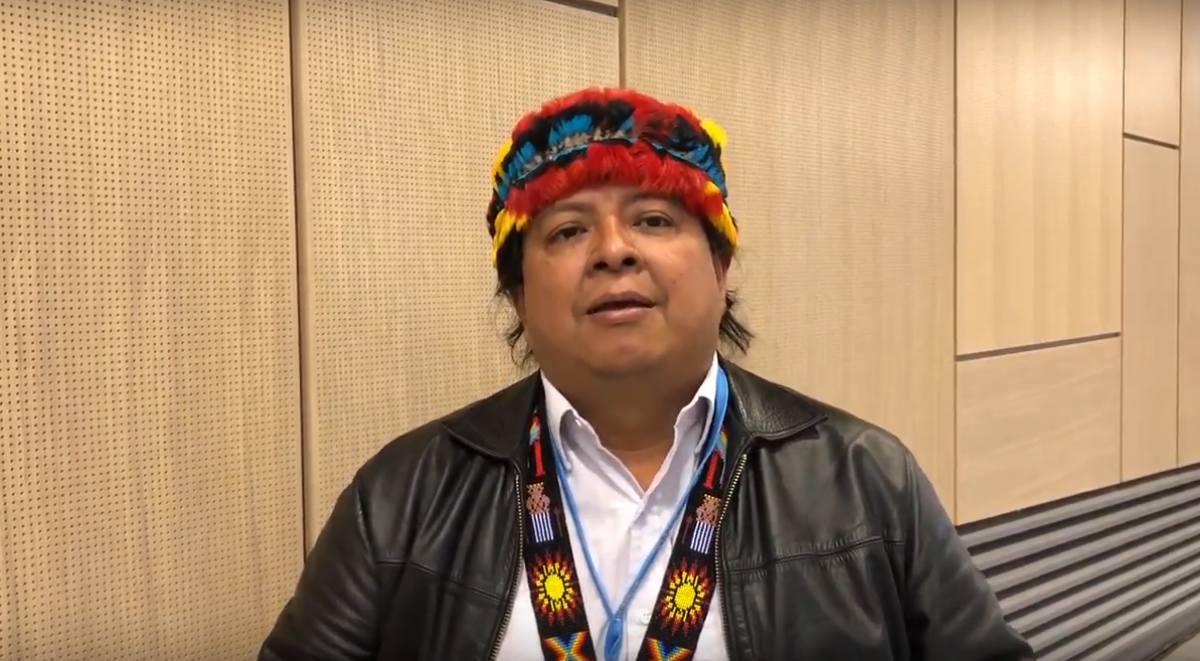 Interview with indigenous leader Juan Carlos Jintiach
By: Miriam Candelas & Lisa Hofmann
The UN Climate Summit – COP25 – is currently taking place from 2nd until 13th December in Madrid. After civic unrest the event had to be relocated from Chile with an organizational effort of just one month. COP stands for "Conference of the Parties" of the UNFCCC and is a political high level event about the causes and consequences of climate change. In the focus are the Sustainable Development Goals (SDGs) and their implementation in the Paris Agreement (2015), which has been signed by all 197 nations of the UN framework. This year's COP holds its 25th edition and will set the direction of how the rulebook of the Paris Agreement will be implemented in the national realities from 2020 on.
IYNF is sending delegates to the COPs since 2014. They are representing youth rights on the international level about climate issues. Also in this year IYNF together with German Young Naturefriends (NFJD) are representing the Naturefriends movement on the UN Climate Summit.
One of the topics during the event is targeting the rights of indigenous peoples worldwide. Given the industry driven globalization homes and habitats of indigenous people are impacted in many ways and destroyed by deforestation, agribusiness, land grabbing, mining, forest fires, killings and so on. Given the catastrophe of losing more rainforest than ever before the urge of climate action is now.
During the COP24 in Katovice (Poland) IYNF spoke with an indigenous leader about issues and solutions for the Amazon habitat.
Translation: Sara Muçaj & Blitz Rayo
(Spanish version below)
My name is Juan Carlos. I am from the Shuar tribe of Amazon in Ecuador. Today we are here to represent COICA*, which is the organization of the indigenous people of the Amazonic Cuenca. We are following the matters about various themes such as human rights, the platform of indigenous knowledge and traditions, finance and adaptation, agriculture and soil. We have different methods and the idea is to come here in order to show our proposals and work. There are different activities to present what the indigenous territories are doing, who they are working and what they are fighting for.
* COICA (Coordinadora de las Organizaciones Indígenas de la Cuenca Amazónica) is the umbrella of the indigenous organizations of the Amazon Basin. Since its founding in 1984 in Peru it has been advocating for indigenous peoples' rights.
What are the biggest issues related to Climate Change nowadays?
In Amazon there are a lot of problems, especially about forest fires in the indigenous territories because of the global warming; it exists in the areas where there is scarcity of water due to excessive increase of heat.
There are new types of diseases that are getting more present due to temperature changes. It does not rain normal anymore, sometimes it rains too much and this causes floods as a consequence.
In summer time temperatures go beyond normal level. We notice that the climate has altered. We are looking at the territory of Amazon in different ways. There are so many animals being affected by this change. This affects directly the indigenous people, because we live in the forest. Under this theme there are many other problems, other pressures, that our territory has to face pressure on illegal mines, deforestation, petroleum, threats on indigenous leaders. We should also strengthen the concept of development. Because of all this I think that various themes convocated us to bring our problems not only about environmental and health issues, but also about factors of pressure or reasons against deforestation.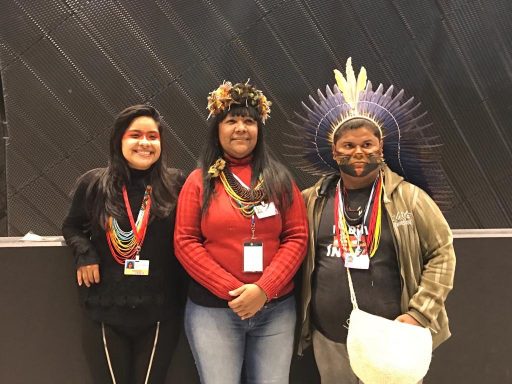 The UN structure is a very complex high level event and the decision making process takes a long time. What can western people learn from indigenous peoples and viceversa what can indigenous peoples learn from these structures – Where are the synergy points?
Well, the COICA indigenous movement has connections firstly with countries of Latin America such as Ecuador, Peru, Colombia, Guayaquil, etc. We look for a dialogue with the governments, because the United Nations Framework Convention on Climate Change is based on the participation of the members, which are the countries themselves, that make decisions. But our indigenous movement keeps requesting to recognition of the rights of the indigenous. At COP 2007 in Bali they have proposed REDD+, which didn't include local regions and communities of the indigenous. That is why we decided to declare and talk about our issues.
As you know, we have the Declaration of the Rights of Indigenous People. Afterwards, we went at COP in Copenhagen, which was a terrible COP, because of the impossibility to work. But the indigenous people have a global Caucus, a global joining of 7 regions of the world: Latin America, Caribbean, Artic, Asia, Africa, etc. All the member countries get together at COP to make preparations and each region has its own work and requests. The principles we put together are contained in the Universal Declaration of Human Rights.
China, Canada and EU not very collaborative
In Cancun we proposed environmental safeguards for the indigenous people. What do they do? The safeguards are practices focused in the concept that 'without rights there is no way to converse'. If there are no rights, there is no guarantee to talk about REDD+, adaptation, etc. In the Paris Agreement we have set the language and we have worked on the framework of the rights and safeguards. It is important to mention that the Paris Agreement (paragraph 136) has the intention that the member parties consider and recognize the needs of the indigenous under the framework of local and ancestral knowledge. We have worked on this together with those countries that have helped us. It is difficult to talk with China, Canada and European Union. But we have sensible countries like Ecuador and Bolivia that support our dialogue and human rights. These countries approved the platform, which vindicates our struggle in this process in order to be able to share our experience of the ancestral knowledges of all the indigenous people of the world and look for the way to fight back together for this theme. We have achieved up to here. Obviously, there are many themes that we have to touch, but I consider that this is a significant accomplishment, but also we must continue our fight to achieve what is written in the Paris paper and other themes as well.
And when we see the current impact of economy in the rainforest, that is destroying the landscape, the nature, the local communities, that are living in the Amazon. When we see all the global forces for the impacts, how big is the chance, that the indigenous knowledge is being kept, what are the mechanisms for that?
Look, it is important to recognize the concept of the territorial governance of the people and nationality of the Amazon Basin: their own organic structures, their organization, their own life plans. What is a life plan? It is a proper instrument of each people to save, protect, recover, strengthen knowledge issues for future generations. We must sustain this knowledge. Without the land and territory and without the forest, this knowledge is useless. All will end. You kill people. The people are destroyed by the western development or by the pressure from foreign countries. We are very organized so are others. But there are still people who are not organized like us. Therefore, it is very difficult to take in consideration that these organizations and indigenous peoples need to collaborate with the whole society.
We collaborate with universities, with human rights systems, with other institutions to protect this knowledge, yet we must not forget that there are still indigenous peoples who haven't been in touch with us. Those are the people who have no contact with the civilization. We must watch them over, although the pressure from the illegal mining, the illegal deforestation, and other illegal activities that the states do not notify us make it difficult. That is the main subject. We want to mention that, in the framework of solidarity, we work and think about how to carry the messages out to all levels. We have our own initiatives, our own projects, from our people, from our organizations, that need to be supported. And also, the governments need to protect the rights of indigenous people by amending the constitutions. Yet, I believe that this solidarity goes beyond and reach the outside world. You must carry out this message to reach out to the children, to the youth, to the students to have solidarity, since they are the one who will be the leaders of the nations tomorrow.
https://www.youtube.com/watch?v=OxUQ3f0Am1c&t=2s
What can young people do to help indigenous communities to build up their rights and keep their cultures? How to get engaged? Is it about technologies, internet or projects for example for working together?
It is important to carry out these messages. La COICA is an international organization, containing of 9 different countries. Each member country has its own structure with many partnering organizations. We are an association made of 511 villages, all together 5000 communities. It is also important to search the way to carry the messages out to an international level when we make a platform of a database. Inviting is the way to reach this way of interviewing and communicating.
We must connect. We must form alliances with young people, with children. So you all have go to schools. We must change the way of thinking.
I believe that there is no limit on this level of development we undertake. Nature already gives you many messages that our mother Earth, our forest, has been already very oppressed. We must change direction. It is important to sow and give key messages to young people and children so that when they grow up they make very good decisions to protect this planet. For this reason, I consider in that it is good to coordinate, be in touch and support the youngsters. Once we communicate, we have the initiatives of various peoples to move forward.
---
Spanish Version
Mi nombre es Juan Carlos. Yo soy del pueblo Shuar de la Amazonia de Ecuador. Esta vez estamos acà representando la organizacion de la cordinadora indigena de toda la Cuenca Amazonica, que es la COICA*, en toda la Bacia Amazonica. Estamos siguiendo las negociaciones sobre varios temas como el tema del marco de los derechos humanos, de la plataforma de conocimiento indigeno y tradicional, de financiamiento y adaptacion, de agricultura y suelo. O sea tenemos diferentes lineas y la idea es llegar acà y dar seguimiento a nuestras propuestas y nuestros trabajos. Tenemos eventos para presentar lo que los territorios indigenas estan realizando, como estan trabajando y que estan defendiendo.
* COICA (Coordinadora de las Organizaciones Indígenas de la Cuenca Amazónica) es el paraguas de las organizaciones indígenas de la cuenca del Amazonas. Desde su fundación en 1984 en Perú, ha estado abogando por los derechos de los pueblos indígenas.
Cuáles son los principales problemas relacionados con el cambio climático en la actualidad?
En la Amazonia hay muchos problemas especialmente por los temas de las quemas / de los incendios en los territorios indigenas por el calentamento que existe; existe en zonas donde las aguas han reducido por el excesivo aumento de calor. Hay muchos pocos en toda la Cuenca Amazonica en varios pueblos.
Hay nuevos tipos de enfermedades que estan saliendo por el cambio de las temperaturas. Ya no esta lloviendo normal, a veces llueve demasiado y como consecuencia hay muchas inundaciones.
Cuando hay verano es muy caliente y sobrepasa el nivel, entonces los climas estan demasiado alterados. Hay muchas maneras que nosostros estamos mirando en los territorios en Amazonia. Los mismos animales estan siendo afectados. En todo esto, vemos que la Cuenca Amazonica esta sufriendo muchos cambios en el ambiente. Esto afecta de maniera directa a la poblacion indigena, porque nosotros vivimos de los bosques. Bajo esa tematica hay muchos otros problemas, otras presiones, que nuestros territorios tienen que afrontar. Presiones sobre minerie ilegal, deforestacion, temas de petrolio, para no oldivar la amenaza para los lideres indigenas que depienden del territorio. Tambien tenemos que dar seguimiento al concepto del desarrollo. Bajo ese principio creo que varios temas nos convocan a traer nuestros problemas tanto en tema ambiental y de salud, cuanto en tema de los factores que presionan o los motores contra la deforestacion de los nuestros bosques.
La estructura de la UN
es un evento de alto nivel y muy complejo y el proceso de toma de decisiones lleva mucho tiempo. Qué pueden aprender los occidentales de los publeos indígenas y viceversa qué pueden aprender los publeos indígenas de estas estruturas? Dónde están los puntos de sinergia?
Bueno el movimiento indigena de la COICA tiene articulacion, primero, en Latino America con los paises, como Ecuador, Peru, Colombia, Guajaquil, etc. Buscamos un dialogo con los gobiernos, porque este espacio de la Convencion Marco de las Naciones Unidas sobre el Cambio Climatico, es un espacio donde las partes (los paises) son miembros y toman deciciones. Pero nosotros del movimento indigena, siempre estamos reclamando que reconozcan nuestros derechos. En la COP de Bali 2007 presentaron una propuesta sobre el mecanismo de REDD+ , pero en ese contexto no estaban hablando sobre pueblos indigenas y comunidades locales. Entonces nosotros decidimos reclamar y hablar sobre las questiones indigenas.
Como tu sabes nosotros tenemos una Declaracion de los Derechos de los Pueblos Indigenas. Luego tuvimos una COP en Copenhague, fui una COP terrible, no se pudo trabajar. Pero los pueblos indigenas tienen un Caucus global, un articulacion global de 7 regiones del mundo: Latino America, Caribe, Artico, Asia, Africa, etc. Todos los paises articulados nos encontramos acà para hacer una preparatoria y cada region tiene su proprio trabajo y su proprio reclamo. Los principios que articulamos sono contenidos en una Carta Universal de los Derechos Humanos.
China, Canadá y la EU no son muy colaborativos
Por eso luego en Cancun presentamos el tema de la Salvaguardas para los pueblos indigenas. Que tiene que ver la Salvaguardas? La Salvaguardas son practicas enfocadas en el concepto que sin derechos no hay nigun tema para conversar. Si no hay derechos no hay la garantia para hablar de REDD+, adaptacion, etc. En el acuerdo de Paris hemos puesto un lenguaje y hemos trabajado en marco de los derechos y salvaguardas. Por eso es importante mencionar que desde el acuerdo de Paris el parrafo 136 tiene intencion que las partes tomen en cuenta la creacion de un espacio sobre el mecanismo de los pueblos indigenas y el conocimento local en el marco de conocimento ancestrado. Este espacio lo hemos trabajado vários años con los paises amigos que apoyan nuestras propuestas. Es muy dificil hablar con Cina, Canada, la Union Europea pero hemos tenido paises como Ecuador y Bolivia que son sensibles, que apoyan el lenguaje y los derechos humanos. Hemos conseguido que los países aprueven la plataforma. Hemos tenido logro. Esta plataforma reinvindica la nuestra lucha en este proceso para poder compartir la experienca de los conocimientos ancestrales de todos los pueblos indígenas del mundo y mirar como podemos combatir juntos este tema. Obviamente hai muchos temas que tenemos que ir hablando, pero considero que esto es un logro imporante, pero tambien debemos seguir trabajando para seguir luchando sobre el libro de Paris o en otros temas mas.
Y cuando vemos el impacto actual de la economía en la selva tropical, eso está destruyendo el paisaje, la naturaleza, las comunidades locales que viven en la Amazonía. Cuando vemos todas las fuerzar globales para los impactos, qué tan grande es la posibilidad de que se mantenga el conocimiento indígena, cuáles son los mecanismos para eso?
Mira yo creo que es importante reconocer el concepto de la gobernanza territorial de los pueblos y nacionalidades de la Cuenca Amazonica, sus próprias estructuras orgânicas, su organizacion, sus proprios planes de vida. Que es un plan de vida? Es un instrumento próprio de cada pueblo por salvaguardar, proteger, recuperar, fortalezer los temas de conocimiento para las futuras generaciones.
Hay que cuidar ese conocimiento. Pero sin tierra y território y sin bosque no sirve nada. Todo se acaba. Tu matas un pueblo. Un pueblo se destruye por el desarollo occidental o la presion de afuera. Nosotros estamos muy organizados, otros pueblos se estan organizando, otros no. Pero es muy difícil poder tener en concideracion que las organizaciones, los pueblos indígenas necesitan trabajar articuladamente con toda la sociedad. Con las universidades, con el sistemas de derechos humanos, con otras instituciones que vinculamos como proteger estos conocimientos. Pero tambien no hay que olvidar los pueblos indígenas no contactados. Los que no tienen contacto con la civilizacion. Nosotros tenemos que velar por ellos. Pero hay mucha presion con la minería ilegal, con la deforestacion illegal, y otros negocios que los estados no nos consultan. Eso es el tema. Queremos y es importante mencionar que en el marco de la solidaridad trabajamos y estamos pensando como llevar los mensajes a todo nível. Desde nuestros pueblos, desde nuestras organizaciones tenemos iniciativas próprias, projectos próprios que tienen que ser apoyados, y los gobiernos tienen que trabajar para proteger los derechos indígenas en las constituciones. Pero yo creo que mas alla de eso la solidaridad va en el mundo de afuera. Hay que dar los mensajes y llegar a la niñez, a la juventud, a los estudantes para tener solidaridad. Porque ellos seran mañana los lideres de las naciones.
Qué pueden hacer los jóvenes para ayudar a las comunidades indígenas a construir sus derechos y mantener sus culturas? Comó comprometerse? Se trata de tecnologias, internet o proyectos, por ejemplo, para trabajar juntos?
Creo que es importante llevar los mensajes. La COICA es una organizacion internacional de 9 paises, pero tambien hay organizaciones en cada pais y cada uno tiene su estructura. Somos como 511 pueblos, 5000 comunidades y la cuestion es que cuando tu haces una base de datos, una plataforma, buscas como llevar los mensajes en un nível internacional. Esta manera de intervista, esta manera de comunicar, es invitar.
Tenemos que conectarnos, tenemos que hacer unas alianzas con los jovenes, con los niños.
Y ustedes ir a las escuelas. Hay que cambiar otro froma de pensar. No creo que este nível de desarollo que vamos, tiene un limite. La naturaleza ya te brinda muchos mensajes y nuestra madre Tierra, nuestra selva, esta muy presionada. Creo que tenemos que cambiar de direccion. Es importante sembrar, dar mensajes claves a los jovenes y a los niños para que ellos cuando sean mas grandes tomen decisiones muy buenas para proteger este planeta. Considero que es bueno cordinar, estar en contacto y apoyarse. A vezes nosotros nos comunicamos, tenemos iniciativas de vários pueblos para poder avanzar.