European/Prague Spring 2020 webinars
25. – 26. April, 2020
---
IYNF was one of the co-organisers of the webinars that took place last weekend (25.-26. April) as the replacement of the conference that is bearing the same name and has been postponed to 5.- 6. December 2020. The aim of the European/Prague Spring conference is pretty clear: emphasize and build on the important connections between social and environmental movements.
---
The conference will take place (as it is obvious from its name:) ) in Prague, Czech Republic. The main organisers are UNITED!, transform!europe and the Prague Spring 2 network. This network against right-wing extremism and populism (PS2) started 2010 in Prague among people active in the European Social Forums. You can find more information here: https://www.facebook.com/praguespring2
The reason for the postponement of the conference is obvious. The recent Coronacrisis is opening many questions and it's definitely showing us our weak spots (either as individuals, governments, countries, or even EU itself). How can we solve the crisis from a peace and environmental/health justice perspective?
The organisers were keen to hear youth perspective too and they are aware of the lack of youth activists involved in World Social Forum. The webinar was a great opportunity for intergenerational dialogue and the main goal is to come to the common statement that will be proposed at World Social Forum in Mexico.
What happens now?
Many youth organisations are curious how can the crisis slow down the UN SDGs or how can it affect the European Green Deal. We are also very aware of its political and social impact. It is already scary to see how some world leaders are reacting and how easy can it be used against us with the risk of irreversible impacts on our future. We can't let this crisis be the reason for any kind of repression or to be used as a tool to decrease freedom of speech or movement. We don't have to go far for the example as Hungary introduced a really restrictive media law, criminalising intentionally spreading of false information. This brings logic concerns towards press media freedom in its future.
The first day of the webinar was focused specifically on the repression of movements in Russia, Ukraine and EU. The turnout was pretty good and the 50 participants and various speakers were trying to reflect in the recent situation.
…so what about youth?
The second day was focused on Internationalistic answers to the Coronacrisis. The sessions hosted by IYNF and UNITED offered an interesting bunch of guests:
Michel Diaz Nocetti (NO to NATO Sweden)
Kristóf Nagy (Fordulat Hungary)
Nathan Metenier (YEE and GCE)
Marija Mileta – (Zelena akcija/Friends of the Earth Croatian)
Alina Aflecailor (Greenpeace Central and Eastern Europe)
Joel Holmdal (Via Campesina Sweden)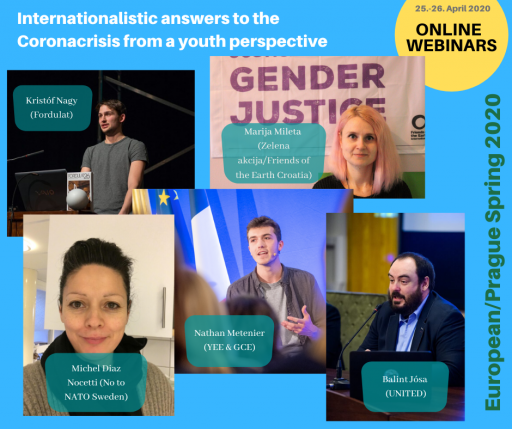 The whole discussion was really inspirational and constructive. We all agreed that the pandemic is showing how fragile our economies, democracies can be. The EU and national governments should protect the vulnerable, but the governments are trying to protect big polluters and bail out big companies, not having people in the center.
Also, the free trade market system is suffering and we can see how ridiculously is set. Western countries are struggling with increasing unemployment but they are bringing thousands of cheap workers to help with harvesting even during the crisis while locals have no jobs.
The health care system has been exposed crucially too and it is naive to think that it was not in crisis even before. It is just more clear now.
We also tried to find positive sides as there are many solidarity initiatives e.g. supporting medical workers or people suffering food shortage. However, these initiatives are only replacing the existing order of things but these problems needs to be addressed as soon as possible. It is also important to address Women's rights and as we are witnessing that they have suffered during the pandemic, and there has been an increase of domestic violence. Another big issue is either limited or no protection for vulnerable groups – refugees, migrants. Many are stuck at the border and living in inhumane conditions. Deportations (i.e. from Serbia) have not stopped during the pandemic either.
It was interesting to see so many various perspectives coming from people with different backgrounds. One would also realize that the crisis can be tackled from so many angles while the world leaders and governments are mostly discussing economic impact. We are not trying to deny that there won't be any, we know it will be massive. On the other hand, that is not all that matters.
We, as youth movements/organisations are affected big time too. Our international activities have been canceled or postponed and sometimes it can be pretty demotivating and it might seem that it's hard to find a purpose in your work now. However, the positive fact is that youth movements are very adaptable and we are already witnessing great things and ideas coming out ow this. We also cooperate more with each other now. That is a great start on how to address this situation. So we believe that the brighter days are coming and we all will be ready for that. To be successful, we need to everybody – environmental, social movements, young or old, it doesn't matter, we have to come together.

The whole program of the webinars here. In case you missed it, you can still join the conference in December and while you are in Prague, stop by our office and say hi! : )