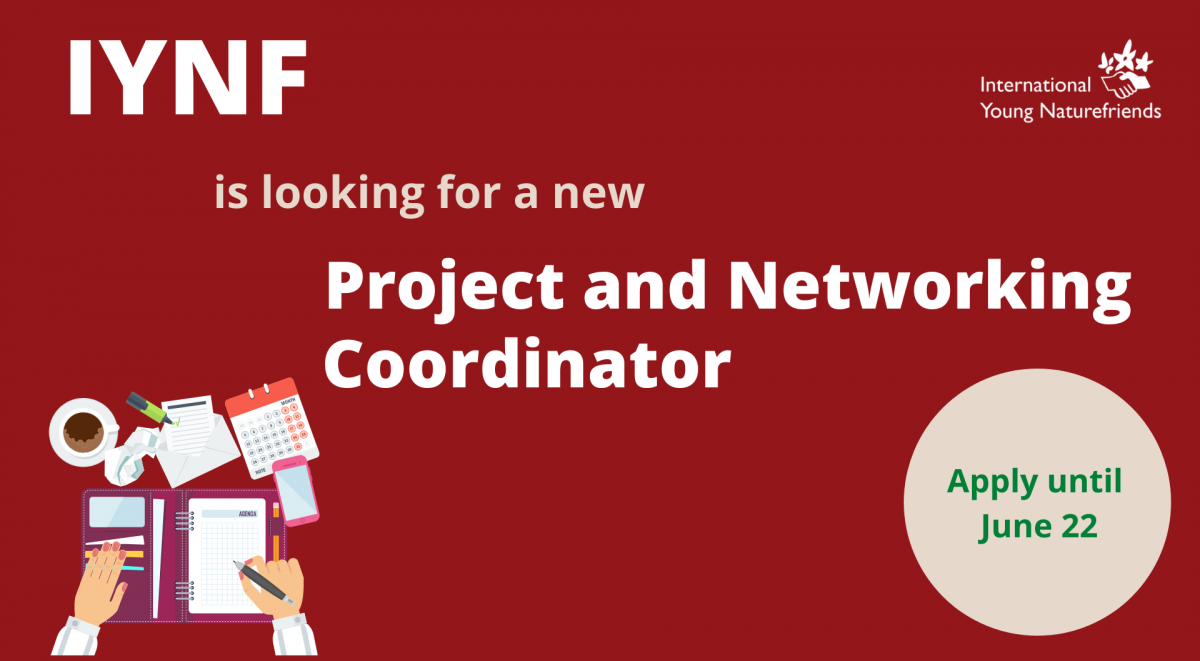 Are you interested in organising international activities? Are you good at networking? Do you like to work with young people in an international context? Do you want to work in a small international team?


You can answer all the questions with a positive answer? Then you might have found a great opportunity for you as right now we are looking for a Project and Networking Coordinator at International Young Naturefriends.


International Young Naturefriends is a well-established international youth umbrella organization with more than 45-years of tradition and impact in more than 20 European countries. We are currently looking for a full-time Project and Networking Coordinator willing to contribute to our mission and become a significant member of a small young team. The job placement is in Prague, Czech Republic.
IYNF gathers over 30 member and partner organisations, that are further structured in local and regional groups and associate about 120 000 young people. Our main field of activity is experiential education based on the values of respect, equality, solidarity, sustainability and love and care for nature. The Project and Networking Coordinator is responsible for organisational support of the IYNF activities, the support and supervision of the European Solidarity Corps volunteers as well as the communication with the IYNF member and partner organisations in consultation with the Secretary General.


We require:
Experience in project management ideally in youth work or the NGO sector
Computer literacy (MS Office – at least intermediate MS Excel knowledge, Google tools)
Ability to work in English
Accuracy, independent thinking, focus on detail, good organisational skills and systematic way of working, good time and resource management skills
Ability to work independently and under pressure (stick to deadlines, deal with deadlines)
Willingness to work flexible hours and travel for meetings and trainings abroad
Proof of clean criminal record
EU citizenship or work permit
Willingness to commit to a long term cooperation
The start is 01st July 2021


We prefer:
Experience in the coordination of volunteers
Experience in one of the following fields: international youth work, non-formal education, facilitation of youth meetings
Experience with Erasmus+ Programme and/or the European Youth Foundation of the Council of Europe
The ability to communicate in Czech
An adequate degree is an advantage
Affiliation with the values of the Naturefriends movement


We offer:
A job in a young and progressive team working for a value-based organisation
Workplace in Prague
Remote work during the pandemic
Training opportunities for constant professional and personal development
A chance to meet interesting people from all around the world and having fun during our international activities :)
Flexible working hours in consultation with the Secretary General
One year contract with three months trial period with the aim of the extension
40 working hours per week for a gross salary of 32.000 CZK
25 days of paid holidays


If you are interested in the position please send your CV and motivation letter in English to the IYNF Secretary General Sina Franz (sg@iynf.org) until the 22nd of June. Please note that only online applications are accepted and that only candidates who fulfill the job requirements will be shortlisted and contacted within the week after.