By Jules Lecoq, IYNF intern February - April 2022
As a student in the field of sustainable development and ecology in France, I joined the IYNF team for a 2 month internship. The desire to discover the Czech Republic and the desire to work for an NGO pushed me to come here. After a warm welcome, I was immediately considered a full member of the team. This was one of the things I liked most during my internship, I was integrated in all the projects of the organisation.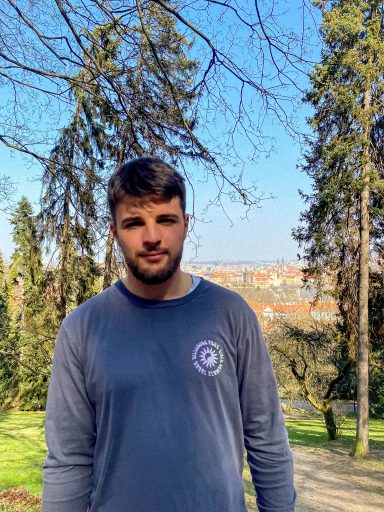 Prague is an incredible city, where the atmosphere is very pleasant and calm, which is also the atmosphere I found in the organisation's office. The working atmosphere is just perfect. I started my internship by creating a design to communicate the activity that took place at the beginning of March in Greece. I was able to participate in the elaboration of this activity, I discovered how an NGO was organised to gather participants from different European countries.
Together with Francesco and the IYNF team, I participated in the preparation of all the necessary logistics for the activity. It was a real discovery for me, I helped to create notebooks and stickers to give to the participants during the activity.
I also joined the activity that was taking place in Greece. My main tasks were to take pictures in order to document the activity when we returned. I had the opportunity to participate in the activities in the wilderness. It was also a great discovery because I had never participated in activities like this. It is an incredible opportunity to meet and exchange with people from different countries and cultures. It was a really enriching experience.
This internship allowed me to participate fully in the missions of an NGO and it made me feel useful. It was an experience that I would recommend to anyone who wants to broaden their knowledge and meet new people.
Respect, sharing and discovery are the three words that best describe my experience within the organisation.
So if you are looking for an amazing experience, don't hesitate to join the team for your internship ! You won't regret it !
Jules