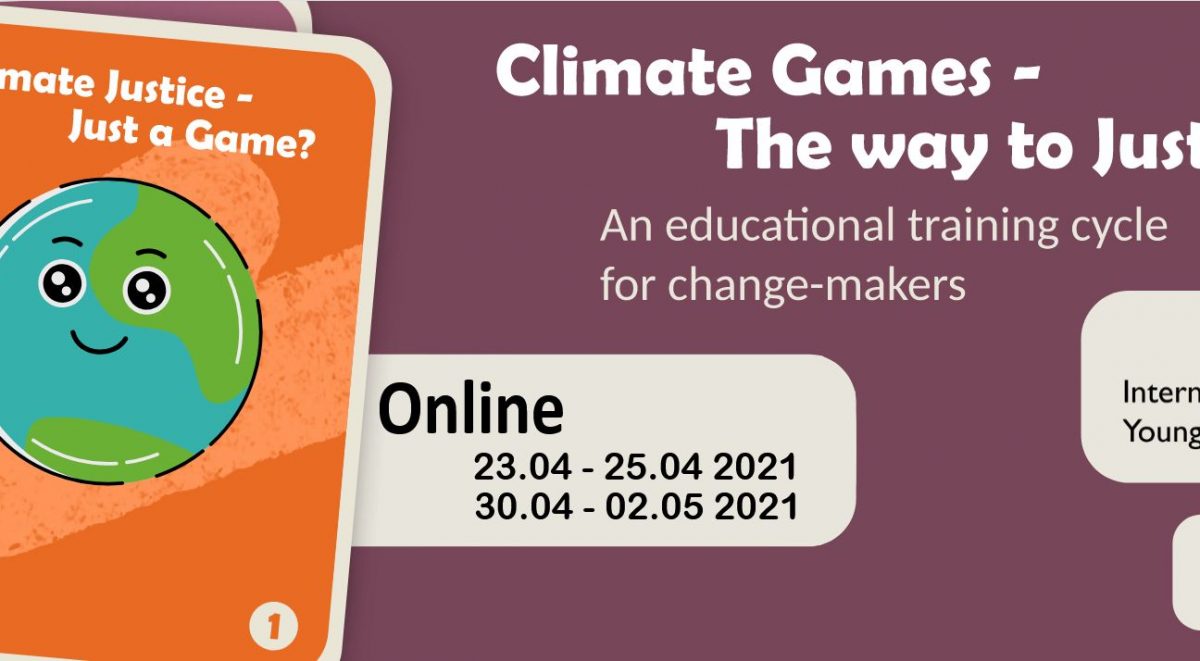 ---
The global climate emergency is the most urgent environmental problem we, as humankind, are facing now. The action we take now is directly connected to the kind of future awaiting the next generations. Have you thought about: What can you do for climate justice? Is climate justice education included in school plans? Is climate justice a priority for our leaders?
---
International Young Naturefriends have decided to dedicate the year 2021 to climate justice education. We will welcome international participants during 3 international activities. We are looking for passionate individuals who are keen on learning more about climate justice and will join us in the journey of learning more about educational games. You don't need to be an expert on the topic of climate change and climate justice. We will work on these topics together via non-formal education methods. Climate Justice – just a game? is the first part of 3 international activities focused on climate justice, education and gamification. During this cycle, we will create a card game together! Cool, right?


Learning experiences
The general aim of the international educational cycle "Climate Games – the way to justice!" is to empower its participants with a thorough set of both soft and practical skills needed for becoming agents and multipliers of educational games in the field of climate justice, providing them with the necessary theoretical knowledge as well as practical skills needed in the field of gamification. The trainers will guide them through the development of an educational card game. During the first activity – "Climate Justice – Just a game?" we will start with climate change knowledge using non-formal education methods. This is a great base that will help us to find a connection between climate change (its consequences and impacts) and climate justice.
This activity will give you a chance to:
learn about climate change and climate justice in connection with the potential of educational games as a tool to work with these topics
get theoretical knowledge of the sources, causes and consequences of climate change
gain a complex knowledge of climate justice principles
elaborate on the topic of climate justice, regional differences in contribution and effects, cross-sectional issues such as health, human rights, peace and social justice and gender dimensions of climate change
create an initial plan and concept for the card game connected to the topic of global/climate justice


Practical info
Who?
This project will welcome young, people, youth workers and youth leaders, social workers and activists sharing IYNF goals and values, interested in enhancing their skills and knowledge of climate justice and learning more about using games as an educational tool for topics like climate change and climate justice advocacy. We appreciate your:
A genuine interest in climate justice and motivation to approach this topic in new and creative ways
Motivation and willingness to take an active role in the development of the game
Motivation to join following activities that are part of the cycle and an interest in learning practical tools for getting continuous expertise of climate justice education through games
Nationality or resident of countries listed below are eligible:


Austria

Azerbaijan
Belgium
Czech Republic
Finland
France
Georgia
Germany
Hungary
Italy
Netherlands
Latvia
Romania
Poland
Portugal
Senegal
The Republic of North Macedonia
Turkey
How much does it cost?
Participation fee – 25 EUR
If you have economical constraints covering the course fee, please contact us to find a solution.
Participation rules
Participants are expected to be present at least 80% of the program. If you are not able to fulfil this condition, please discuss it with the Secretariat prior to your application. Not following this rule might result in IYNF not being able to accept your application.
Where and when?
Online
The training course will run on these days:
23.4. – 14:00 – 17:45 (+ evening program)
24.4. – 9:00 – 17:45 (+ evening program)
25.4. – 9:00 – 17:45 (+ evening program)
30.4. – 14:00 – 17:45 (+ evening program)
1.5. – 9:00 – 17:45 (+ optional evening program)
2.5 – 9:00 – 17:30

How to apply?
Please fill in and submit the APPLICATION FORM (closed), until 31/01/2021 23:59 CET. If you have any questions, please contact the coordinator of the project, Viktor Koren (viktor@iynf.org).

This project is kindly supported by the European Youth Foundation and The Council of Europe.