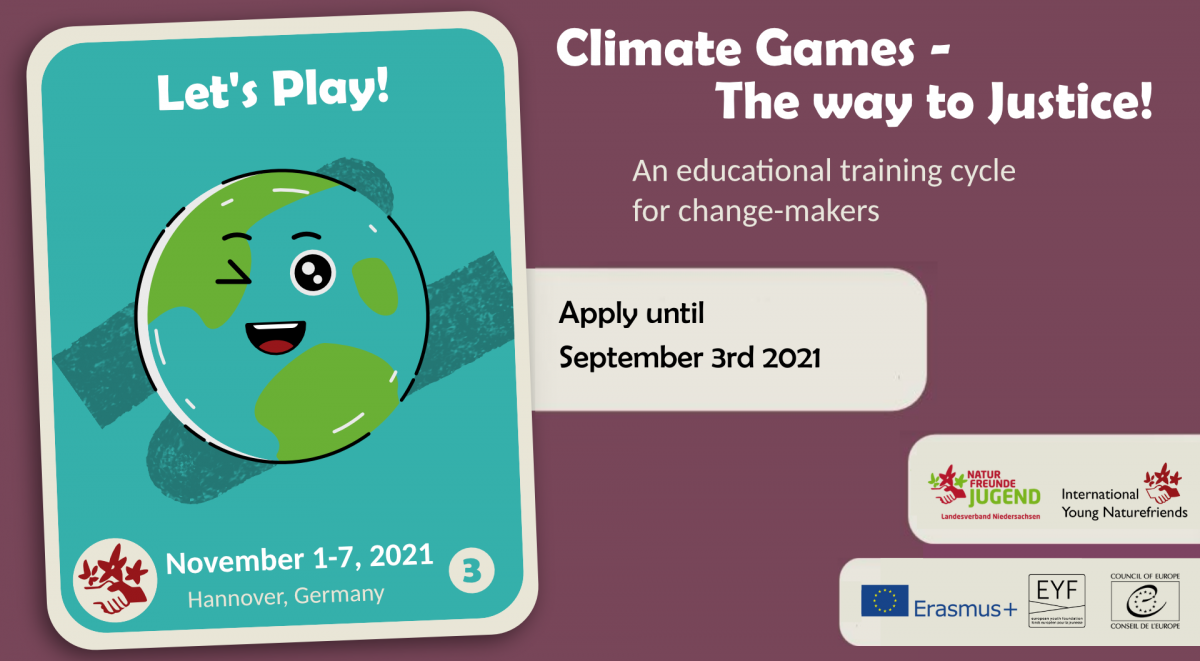 ---
We do believe you can play a significant role! This time it happens by bringing in the educational tool, climate justice "awareness booster" – our card game – to the table and introducing it to schools, organisations, leaders. How does it sound to you?
---
It might be an overwhelming question but it is the actual one: what can you do for climate justice? Because you CAN! Definitely it is about showing up, speaking up, building a team – community, saying NO to the old world, saying YES to the new world, understanding intersections. These ways of active involvement you can achieve by participating in upcoming IYNF activity.
Therefore we are looking for individuals who are interested and at least as thrilled as we are!
Climate justice education is being chosen as a main theme of International Young Naturefriends' projects throughout 2021. International participants during 3 activities (two of them have already taken place spring/summer 2021 – applications closed). "Let's play!" as the cycle closure activity of 2021, being performed after: "Let the climate game begin!" and "Climate Justice – Just a Game?" is elaborating on a burning issue that is climate justice, combining it with education and gamification. During this cycle, an educational card game has been created and now it is high time it would be presented, bringing activities' outcome to the table to a broader audience such as: local politicians, representatives of education institutions, NGOs, NFE trainers, a local municipality in Hannover.
Are you eager to get engaged in shaping the final activity of the cycle, this time not only to present our results but to get involved and stand up in the panel discussion on the conference amongs 70 participants and experts, activists, trainers, politicians?
If you answered positively, met the criteria (you can find them below), mull over it and apply!
Learning experiences
The activity is divided into 2 sections: sessions for 25 participants of this activity + 2 days of public conference and a conference.
During first days there will be the opportunity to:
to develop and implement a climate education workshop making use of the game developed during the previous stages of the cycle

to develop competences in the field of workshop facilitation, moderation and public speaking

have an insight in digital games treated as educational tools (e.g. VR games development)
During the two day conference there will be the opportunity to:
raise awareness of the importance of climate justice to combat climate change holistically

obtain the knowledge that different genders are affected differently by climate change

gain knowledge about climate justice in different countries – you will get to know different causes and consequences of climate change and its impact on other countries

advocating for the importance of non-formal climate justice education towards local, regional, national and international stakeholders and decision makers

elaborate on effective methods of implementing games to climate justice education

present the card game concept to the broader and diverse audience (the game that has been created and also developed as the main outcome of the second activity in Lahti Finland)
Who?
This project will welcome young individuals, youth workers and youth leaders, social workers and activists sharing IYNF goals and values, interested in enhancing their skills and knowledge of climate justice and learning more about using games as an educational tool for topics like climate change and climate justice advocacy.
We appreciate if you have:
a genuine interest in climate justice and motivation to approach this topic in new and creative ways

intermediate knowledge of climate change related matters and climate justice

(or attendance in one of the previous activities that and part of the Climate Games – Way to Justice cycle)

motivation to join following activities that are part of the cycle and an interest in learning practical tools for getting continuous expertise of climate justice education through games

age 16-30 (we can also accept a limited number of participants older than 30 years old)

good level of English accompanied with communication skills (you should be able to express yourself both orally and in writing)
Nationality or resident of countries listed below are eligible:
Austria

Belgium

Czech Republic

Finland

France

Germany

Hungary

Italy

Netherlands

Latvia

Romania

Poland

Portugal

The Republic of North Macedonia
How much does it cost?
Participation fee –

50 EUR

Food and accommodation are

100%

covered

100%

of the travel costs covered (up to a limit of

275 EUR

)

COVID-19 test reimbursement if needed (after consultation with the IYNF team)
If you have economical constraints covering the course fee, please contact us to find a solution.
Participation rules
According to IYNF's Travel Policy you are asked to choose the most sustainable way of transportation, e.g. only 2nd/economy class tickets can be reimbursed. For flights and travelling by car prior approval of the project team will be needed.

Participants are expected to be present at least 80% of the program. If you are not able to fulfil this condition, please discuss it with the Secretariat prior to your application. Not following this rule might result in IYNF not being able to

accept your application.
Where and when?
It takes place between 1st and 7th of November 2021 in Hannover in Germany. Hannover, capital of Lower Saxony Land (state) has its reputation as the "garden city", famous for the Great Garden (laid out in the 17th century in geometric fashion).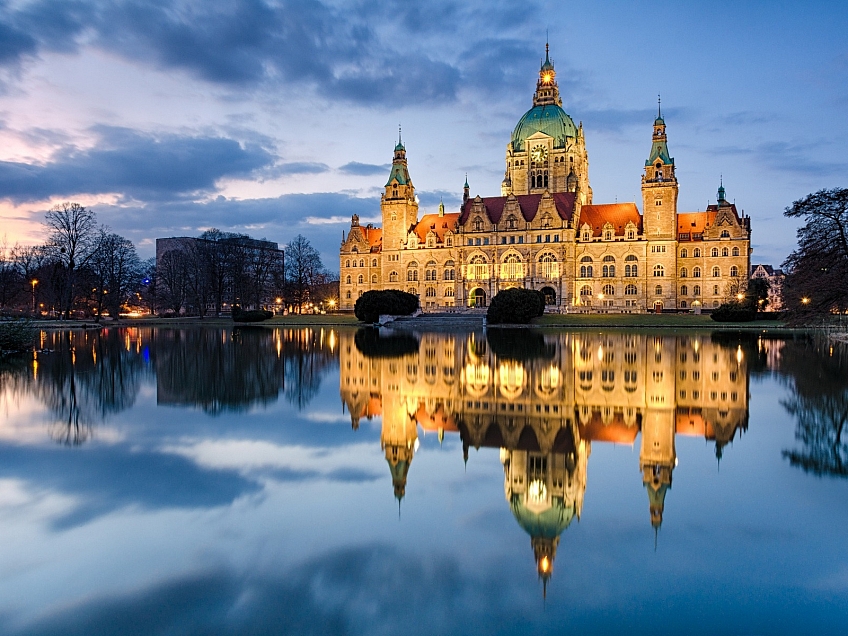 The venue is situated close to the city and at the same time in the middle of the countryside. Naturefriends' house is surrounded by greenery, between allotment garden colonies and the city forest, with good connections to the city center by train.
The venue functions as a guesthouse with organic food served and also as the educational center for children and for green meetings.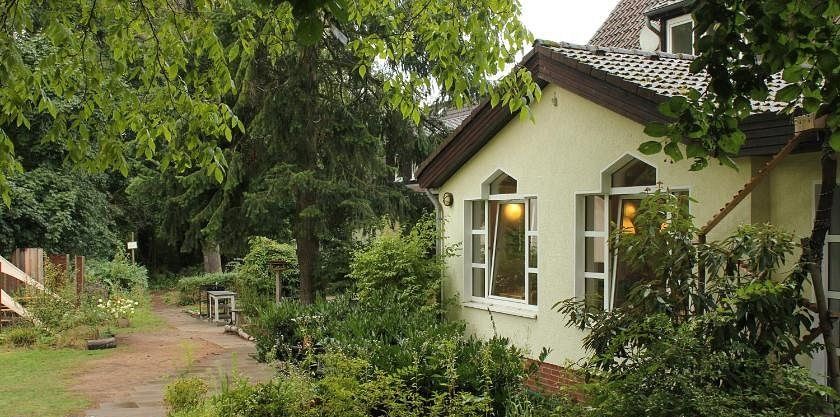 A note: In case of unforeseen circumstances (affecting travelling within Europe) we will keep all the participants updated regarding any changes.
How to apply?
THANK YOU FOR YOUR INTEREST. UNFORTUNATELY, THE DEADLINE HAS PASSED SO WE DON'T ACCEPT MORE APPLICATIONS
This project is kindly supported by the European Youth Foundation, The Council of Europe, Erasmus+ and the local support will be provided by Naturfreundejugend Niedersachsen.