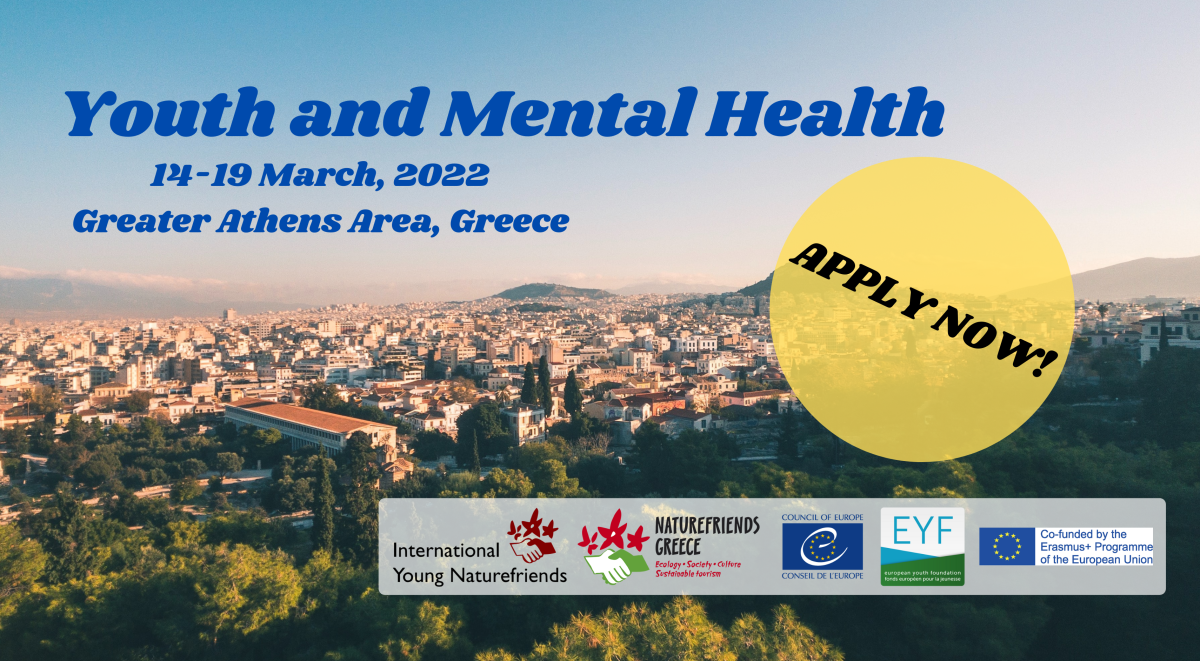 Training Course
"Youth and Mental Health"
International Young Naturefriends have decided to dedicate the year 2022 to the topic of mental health, especially among young people. We will welcome international participants during 3 international activities. We are looking for people who are interested in learning more about mental health and who would like to get confident about tackling this topic in their work and personal life.
"Youth and Mental Health" is the first activity of the cycle "Let's Get Outta Here – Outdoor Education as the Path to Mental Health" focused on mental health, youth work, and outdoor education. Cool, right?
Learning experiences
You will learn about mental health-related issues through non-formal education methods while staying in the Greater Athens Area, in Greece! You will get to experience different outdoor education activities and learn how to get connected to these topics. You will gain significant knowledge about different aspects of mental health. You will be able to reflect on how you can deal with it and apply this knowledge in your local communities back home.
You will be able to:
Gain knowledge and experience in outdoor education and non-formal education methods
Gain knowledge about youth mental health for your personal life and community
Use the tools and methods of community-building and volunteering projects
Encourage young people to volunteer and play an active part in their local realities
Who?
This project will welcome young individuals, youth workers and youth leaders, social workers and activists sharing IYNF goals and values, interested in enhancing their skills and knowledge of climate justice and learning more about using games as an educational tool for topics like climate change and climate justice advocacy.
We appreciate if you have:
a genuine interest in mental health and motivation to approach this topic in new and creative ways
motivation to join following activities that are part of the cycle and an interest in learning practical tools for getting continuous expertise of mental health through outdoor education
age 18-30 (we can also accept a limited number of participants older than 30 years old)
good level of English accompanied with communication skills (you should be able to express yourself both orally and in writing)
Availability to participate in all parts of the cycle is an asset, including
"Outdoor Education Advisors for mental health of youth" in Romania from the 9th to the 13th of May
"Youth 4 Resilience" in the Czech Republic, from the 20th to the 24th of September
This activity is open for young people from Erasmus+ programme countries. Please take a look at the list of countries here.
Where and When?
The activity will take place from the 14th to the 19th of March 2022 in the Greater Athens Area, Greece.
How much does it cost?
Participation fee – 50 EUR
Food and accommodation are 100% covered
100% of the travel costs covered (up to a limit of 275 EUR, or 320 EUR if you travel with sustainable means)
COVID-19 test reimbursement if needed (after consultation with the IYNF team)
If you have economical constraints covering the course fee, please contact us to find a solution.
Participating Rules
According to IYNF's Travel Policy you are asked to choose the most sustainable way of transportation, e.g. only 2nd/economy class tickets can be reimbursed. For flights and travelling by car prior approval of the project team will be needed.
Participants are expected to be present at least 80% of the program. If you are not able to fulfil this condition, please discuss it with the Secretariat prior to your application. Not following this rule might result in IYNF not being able to accept your application.
How to apply?
Please fill in and submit the APPLICATION FORM, until 23th of January 23:59 CET. The selected participants will be informed via email in the beginning of February.
Due to a big number of applications, we will contact only the selected participants.
If you have any questions, please contact Francesco at francesco@iynf.org.
ARE YOU READY FOR THIS BEAUTIFUL AND INTERESTING ADVENTURE?
APPLY NOW!!
This project is kindly supported by the European Youth Foundation, The Council of Europe, Erasmus+ and the local support will be provided by Young Naturefriends Greece.