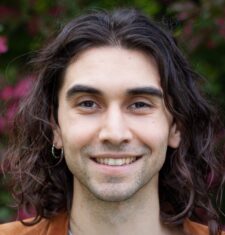 Can Çubukçu
European Solidarity Corps Volunteer
European Solidarity Corps Volunteer
Hello, this is Can!
I'm an advocate for animal rights, a language coach, a photographer, and a musician. I'm fascinated by finding ways of communicating with different animals. A few weeks ago, a chicken and I found common ground on our liking of apples. She didn't like the skin so much, so I was forced to eat that part while she rather preferred to munch on the juicier, peeled apple.
Other than that, as a language coach, it's a bliss to figure out barriers people develop that keeps them from speaking and help them find ways to demolish them. I also enjoy creating experimental techno music, sometimes using my voice and am in the process of finding an outlet for it to become more than my secret project.
I believe I have been strongly influenced by the Erasmus+ training courses I've been part of. Unfortunately they are not a popular form of non-formal education in my country. I had never heard about them until 6 years ago at the age of 21 totally by chance when someone sent me a 'call for participants' link. I read the info pack and found it hard to believe, but applied anyway. I got accepted, joined the training, learned so much and met tons of new and great people. When I told my people back in Turkey, "Yeah, there are these great organizations which organize trainings that are so comprehensive and captivating, where they cover everything for you to join including travel, accommodation, and food!" it was also hard for them to believe.
Now, as a European Solidarity Corps volunteer, I feel ecstatic to be given the opportunity to be on the other side, where those potentially life changing events are facilitated. I have a multitude of learning ahead of me this year and I'm forever grateful to IYNF for facilitating that. I'm ready to give my all.
I'm hoping to connect and collaborate with anyone who'd like to reach out, and looking forward to meeting you in upcoming occasions!