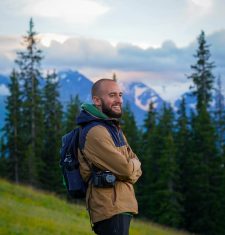 Francesco Mangiarini
Project and Networking Coordinator
Project and Networking Coordinator
In February 2021 I joined IYNF as a European Solidarity Corps Volunteer, and in October 2021 I was able to step up to the position of Project and Networking Coordinator.
The European Solidarity Corps Volunteering program was a great opportunity for me to grow personally and professionally, and I am grateful that I was given the opportunity to stay in the IYNF Secretariat, but with a different role!
This is my second time living in the Czech Republic, after I lived here between 2015 and 2016, as a high school exchange student, in the city of Hradec Králové.
Personally, I am interested in many different things, from serious to less so, for example: politics and human rights, but also rap music and Formula 1.
I believe that every human is inherently good and I try to live by that philosophy, I also love life and love living it.
I am particularly fascinated by Eastern European countries, languages and culture, as well as all the ex-Soviet Republics, and one of my biggest dreams is to visit them all in the future.