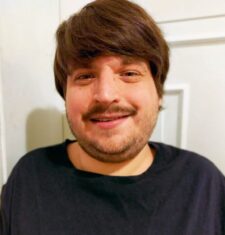 Jannis Gustke
Vice President
Berg Frei!
I'm Jannis. I'm 30 years old and currently a student of archaeology and media studies at Ruhr-University of Bochum. I'm a Naturefriend since my birth and because of that, the Naturefriends movement has always been a huge part of my life.
Starting with my first Pfingstcamp in the year I was born, I was a participant of many children's camps and longer activities of my state young Naturefriends group (Naturfreundejugend NRW) for many years. I also took my first steps in facilitation there. Starting with being a support facilitator at some Pfingstcamps I later went through the facilitation training program after which I facilitated some additional activities in NRW.
In 2012, I was elected into the board of Naturfreundejugend NRW. That was my first elected position. Later, I served in the board of Naturfreundejugend Deutschlands (2017-2022) where I worked both in climate advocacy (including being a delegate in COP23, 24 and 25) as well as organisation structures being in charge for coordinating the working group on that topic. Additionally, I worked as a spokesperson for people with disabilities at my university's General Student's committee (2014-2016) where I learned a lot about our needs as people with disabilities especially from my colleague Laura.
Politically, I'm currently mainly active in the fields of Youth, Peace and Security, Youth self representation especially on the European level and Climate action and PWDs.
Outside of Naturefriends, I'm an electronic musician (Drum and Bass, Electropunk, Industrial Metal) and also a part of Botschafter*innen der Erinnerung (Ambassadors of Remembrance) in Dortmund.