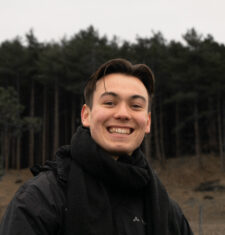 Juul Mous
Vice President
Hi! I'm Juul Mous, a Dutch brand strategist and designer, outdoor enthusiast and student of life. Even though most of what I've learned at College has slipped away, there's one term I'll never forget. This word is serendipity – the discovery of something valuable, without (actively) looking for it. Some, might call it luck.
As it turns out, this serendipity is something that you can increase. By playing an active role in society, opportunities open up. Wearing those weird barefoot shoes makes it easier for like-minded people to find you. And by joining one local NatureFriends activity, you might soon find yourself joining their next. And the one after that. Not much later, you apply for a position on the board of NivonJong (the Dutch Young NatureFriends). And now you're a part of the team that's responsible for bringing nature closer to the youth. And the youth closer to nature.
It was one of my colleagues there that directed me towards IYNF and their climate justice project, which made its introduction in the Netherlands. Naturally, I'd soon join 25 other international activists to work together as a team. It was here that Šárka noticed my input and where she invited me to get myself nominated for the IYNF presidium election, for which I'm forever grateful.
And now that I'm here, let's continue this spirit of increasing our serendipity at IYNF. Let's play an active role, wear those activist clothes that people will notice. And let's share the progress of this organization. Cus who knows what the future holds. I certainly don't. But I do know I'm pretty excited to find out along the way. You in for a ride?