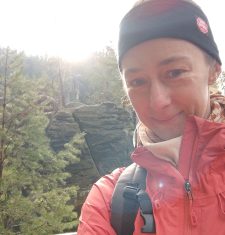 Šárka Bambasová
Vice Secretary General
Hello Naturefriends,
My name is Šárka and you may remember me from the years 2013-2016 when I was IYNF Secretary General. I'm back after taking a break to guide my son through his first years of his life.
I studied Czech and German language with the focus on pedagogy. I have been active in youth projects since my studies. I went through all roles this field has to offer – participant, mentor, organiser of activities, project manager and also evaluator of grant applications. I have gained international experience from working both for NGOs and private companies.
I'm passionate about self-development and learning new skills. I've been a yoga practitioner for several years and I have a yoga teacher certification too. I'm addicted to hiking, forest bathing, black tea, barefoot movement and cuddles with my little boy.
There is a side of me that cannot imagine not being able to spend time outdoors and then there is a side of me that cannot live without international work, so the work for IYNF represents the ideal combination for me.
I'm looking forward to connecting with you.
Berg frei!