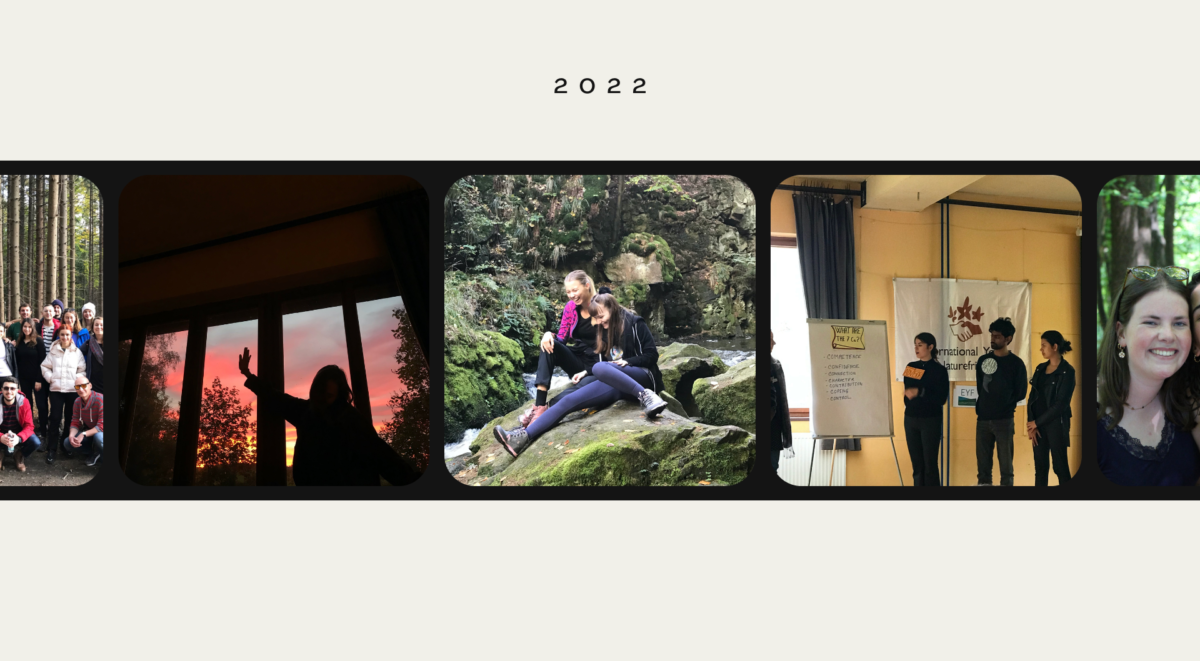 The year of mental health
This article will look back on this year´s cycle. In 2022 IYNF tackled one of the most important topics in our current times, the support of the mental health of young people. By hosting activities in Greece, Romania, and the Czech Republic we managed to create more awareness of the mental health benefits of outdoor education. The outcome of our second activity in Romania was a mental health toolkit "Take me outside" which has reached youth in countries such as Senegal, Uganda, Benin, and all over Europe. This year's activities gathered young people from all over Europe to create bonds and learning experiences that we hope will stay with them and that they can bring into their work with youth in the future.
Our first activity in 2022 "Youth and Mental Health" was located in Greece, where participants from all over Europe gathered to lay the foundation for the whole cycle. The activity in March was used as introductory training on the topic of strengthening resilience and supporting mental health in youth work by using outdoor education methods. The venue was located outside Athens and gave a perfect atmosphere for the start of the 2022 cycle. The participants shared their viewpoints on mental health and got new input from our facilitators. The activity was described as a great opportunity to discuss different methods and perspectives on mental health.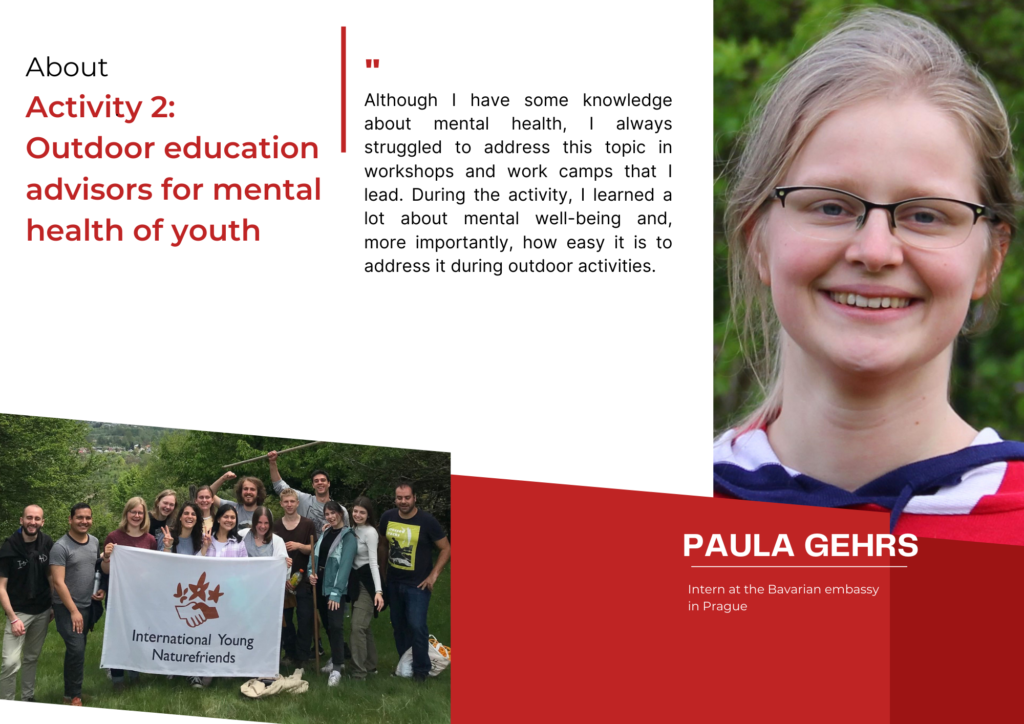 We further moved on to our second activity in the rural areas of Romania. This project in May was when our mental health kit "Take Me Outside" was born. Surrounded by mountains, cows, and pigs, the participants got to explore the 7C´s of resilience which became the base of our toolkit. They experienced the difference between doing activities outside in nature versus inside a venue. The power of reflection after an experience, which our facilitator Carlos explained, gave a deeper learning experience and was also implemented as a section in the toolkit. The group started the week with team-building activities, and hikes in nature and moved on to creating the kit. During the creation of the kit, the participants worked on different sections of the kit such as theory, activities, and design. The result of the week´s hard work was the finished toolkit which has now reached yoth around the world. We are proud and happy to see our toolkit being used in so many different countries. Hopefully, it is a useful tool to not only get youth out in nature but also strengthen their resilience.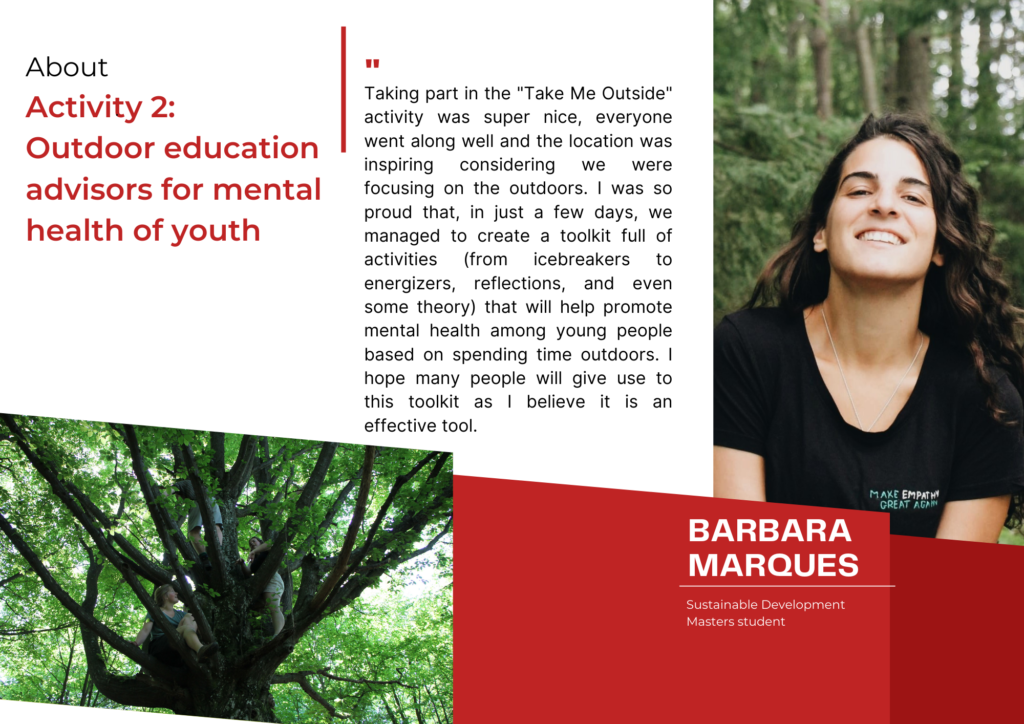 In August we followed up with the "Advisory Team Action" which was created to help participants from our activities in Greece and Romania to prepare for their advisory sessions where the end goal was to present our toolkit to different organizations who work with youth. These sessions were organized both in person and online and gave the participants the opportunity to ask questions, share strategies with each other and get ready to present the kit in the best way possible. Our participants shared our toolkit with organizations such as the UN in Norway, different NGOs in Europe, and high school students who are going to be youth workers. They experienced positive feedback and enthusiasm around the toolkit and this was an awarding part of the year. We loved seeing our product being used and presented!
Norwegian high school students with the "Take me Outside" toolkit.
We are pleased that our toolkit also was given to the participants at the youth exchange in Senegal in September 2022, where 6 different countries from both Africa and Europe were represented. We can now see the printed toolkit distributed in and spread to four continents and multiple countries around the world!
To wrap up this year, our final activity was located in the Czech Republic, close to our office in Prague. The venue was surrounded by a beautiful autumnal-colored forest and the participants got to tackle mental health, resilience, and outdoor education one last time. The participants worked, played, and hiked throughout the week and ended the activity with a movie night showcasing their statement videos, which were created that week about this year's topic. If you feel inspired to create a movie night of your own then all the videos can be found on our youtube channel. This activity was painted by the workshops of five different participants from earlier activities this year. Five earlier participants were invited to share their gained knowledge from the other activities and create workshops of their own. Creating and facilitating their own workshop was described as both a challenging and rewarding experience.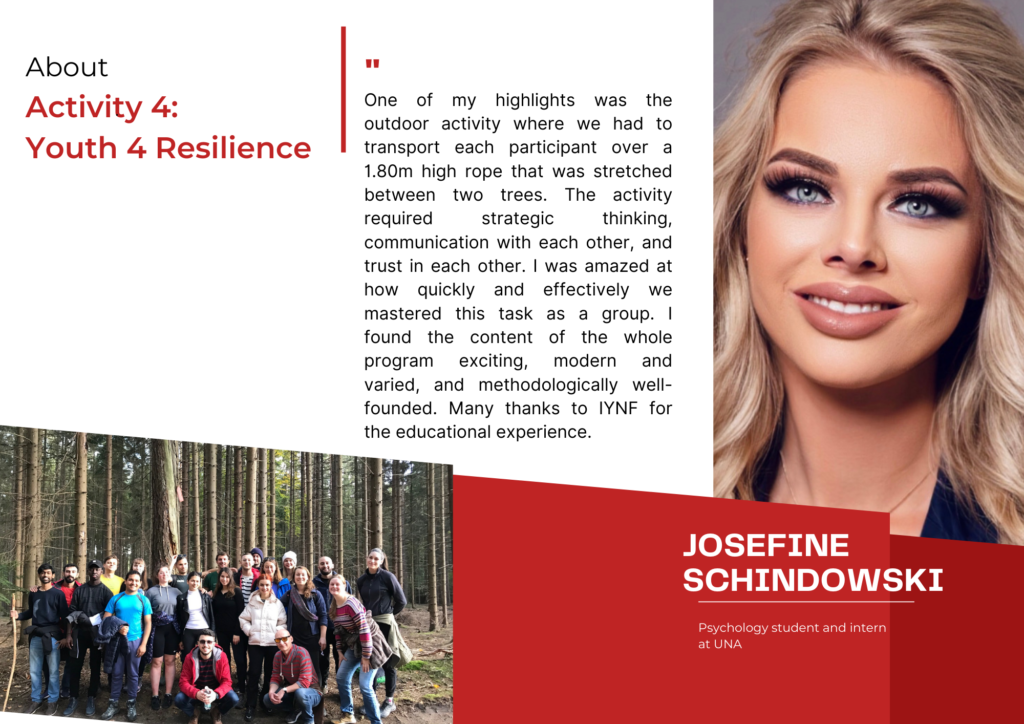 In conclusion not only for this article but also for this year´s cycle, we would like to thank all of the unique and wonderful people participating in all of our activities this year. We are looking back at this year with gratitude because of the opportunity to yet again after the pandemic to see each other in person and host activities about topics that interest people and can help to better youth's resilience and therefore also their life quality. We would like to thank our partnering organizations the European Youth Foundation of The Council of Europe and Erasmus+ for making it possible to create environments for discussions, creativity, and sharing of viewpoints and knowledge for young Europeans. This year has been a fruitful and productive year and we cannot wait for this upcoming cycle! Finally, we hope to see as many of you as possible at our future events.
Berg Frei!
Amalie Bjørnsen
This project is kindly supported by the European Youth Foundation of The Council of Europe and Erasmus+.